ABACHA LOOT: $2.5 BILLION STILL TRAPPED IN LONDON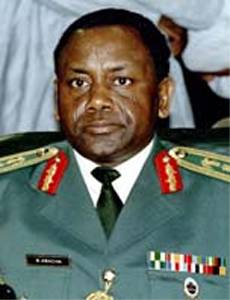 Late General Sanni Abacha
The British Government may have withheld further cooperation with Nigeria in repatriating an estimated $2.5 Billion part of the loot recovered from secret accounts belonging to late despot, General Sanni Abacha.
Sources are sighting the reluctance of Nigerian authorities in pressing charges against leading members of the Abacha family and remnants of the Abacha junta who played active roles in ferrying the stolen money to Britain.
According to a report contained in a 2007 edition of Business Law Report of London, questions were raised as to the propriety of assisting Nigeria to recover and repatriate its stolen wealth in view of the fact that Britain has not enjoyed unqualified support from successive administration in Nigeria to use existing bi-lateral protocols to extradite accused persons to the United Kingdom.
International Law experts, in relation to rules and regulations governing fraud and money laundering explained to pointblanknews.com that the onus rest on the authorities in Nigeria to cooperate with the Government of Great Britain to make sure that notable members of the Abacha Family are extradited to London and prosecuted so that the estimated $2.5 Billion now in possession of the British Government could be returned to Nigeria.
"It is hard to just say that that money should be returned to Nigeria without following due process," said one of the experts.
So far, Nigeria has recovered over $1.3 billion from various secret accounts in several countries as part of the money allegedly stolen by the late military ruler, General Abacha.
Tales of loot recovery from the family of Abacha abound. Not too long ago, a building on Sanni Abacha Way, Kano was said to have been discovered in Kano State, home town of the Abacha's. Allegedly, the building was said to have been used as a warehouse of money which was said to have been kept in different foreign currencies. After an alarm was raised about the money, unknown persons were said to have cleared the warehouse and no trace was left.
Yakubu Manfred Isah, a man who had worked as a Guard for the Abacha building was arrested and over N30 million, exotic cars, trucks and luxury buses were recovered.
-------------------------------------------------------------