OBASANJO, ONABANJO INCESTUOUS SCANDAL!
WHO GOT A 14 YEAR OLD PREGNANT?

Gbenga Obasanjo
The cycle of influential individuals being accused of incest and of varying degrees of sexual misconduct in relation to the allegations listed in the affidavit filed before a Lagos High Court by Dr. Gbenga Obasanjo is widening even as an underground campaign to discredit the media may have started. Chief Alex Onabanjo, his Eighteen years old daughter, Dunni Onabanjo, former President Olusegun Obasanjo and other notable Nigerian politicians are now in for rough times as more shocking allegations have come up.
Only recently, Gbenga Obasanjo and his estranged wife, Mojisola whom he met while she was a student in Boston, took the nation by shock when he alleged that his wife has been having sexual relationship with her father Chief Onabanjo and his father former president Obasanjo.
Sources told pointblanknews.com that Chief Onabanjo's young daughter, Dunni, suddenly got pregnant at the age of fourteen and could not identify the man said to be responsible. It was gathered that the young woman who is now Eighteen Years and resident in a mid-western part of the United States was told to pin the pregnancy on an allegedly innocent man. The attempt was said to have failed and Ms. Onabanjo had to be taken out of Nigeria and brought to the U.S where she has since lived with her little child whose paternity remains unresolved.
Mojisola Obasanjo
Also, a woman identified as a niece to the former Nigerian President, Chief Olusegun Obasanjo was said to have complained of being groped by the ex-ruler at his popular country home, Ota Farm in the early 1980's. The woman, identified as Mrs. Funmi Ololade (nee Obasanjo) was said to have fought her way and resisted given in to Obasanjo's unsolicited advances. Pointblanknews.com obtained a write up by Mrs. Ololade nee Obasanjo where she said: "Shame on you Uncle Segun. I believe you can do it. I still vividly remembered when you tried such with me at the Ota Farm back in the 80's and I nearly slapped you. I also remembered some ladies you tried to sleep with at Owu Baptist Church, Abeokuta, including your cousins. You should be questioned about this. Na wa ooooooooooooooo. Broda Aremu, you don dey grow old ooo. I Still can't get over this Uncle.....It's just shocking."
Interestingly, Obasanjo unlike most world leaders who would want to clear the air on any confusing allegation is neither confirming nor denying the allegations. Cornered at the Lagos Airport by reporters recently, he only said: "I bow, I tremble."
Alex Onabanjo
However, following recent court deposition by Chief Onabanjo's son-in-law, some family friends of the Onabanjo's speaking under anonymity for fear of reprisals are making deductive conclusions that the Chief said to have had an incestuous relationship with Mojisola Obasanjo, one of his daughters, may be responsible for Dunni's plight.
Chief Onabanjo who is said to be currently in the United States on an undisclosed mission had also being accused of impregnating the wife of a Staff of the Guardian Newspaper, Mr. Ganiyu Odusanya, who bore him his first male child sometimes between 1988 and 1989.
Chief Onabanjo and Mrs. Joke Odusanya were said to have met at Jubril Martins Kuye's office on 29 Town Planning Way, Illupeju, Lagos in the early 1980's and started having extra marital affairs. Their regular escapades at a rented property, maintained by Onabanjo for such illicit sexual relationships, at 16B Ologun Agbaje, Victoria Island, Lagos went on for a long time at a time Mr. Ganiyu Odusanya had no job or any means of survival. They never stopped seeing each other until Mrs. Odusanya became pregnant, then it became a big embarrassment.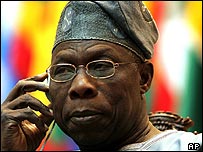 Olusegun Obasanjo
Sources told pointblanknews.com that the Chief initially did something juvenile by denying responsibility for Joke's condition. He was said to have attempted passing the blame to another friend. Nevertheless, his mother, popularly called "Mama Aladura" was said to have undertaken to take care of the expectant mother and her child. And Chief Onabanjo's sister based in London regularly provided financial support for the welfare of Joke Odusanya.
Meanwhile, Chief Onabanjo's wife, Chief Lanre Onabanjo, the Yeye Oge of Ago Iwoye, Ogun State was kept in the dark about the entire saga. The cat was let out of the bag when an angry friend of Chief Alex Onabanjo decided to produce the birth certificate of Joke's baby which had Chief Onabanjo as the father to the Chief's wife. The Yeye Oge was said to have been initially angry but later decided to be "stylish" about the whole event, because she too was caught in bed by the Chief when, after missing an air flight on his way to London came back home abruptly to the wife, comfortably in bed with another man.
Sources also told Pointblanknews.com that several Nigerian elected officials simply continue to take a cue from the bad example set during the military era and being perpetuated by ex-military officials now wearing the toga civilian democrats. Specifically, it is said that so called "personal assistants" to these elected public officials often got to the various campuses to recruit cash desperate young ladies for "brief sex parties."
Ex Governor Lucky Igbinedion's name featured prominently in the agonizing trend. Igbinedion allegedly was said to be in the habit of squandering Edo State tax payer's resources on girls from University of Abuja, University of Benin, Edo State University, Ekpoma and Igbinedion University, Okada wonderland.
Sources said that he usually splashed about $5,000.00 on each of such "aristo." He is said to have earned himself the nickname of "pay master" among ladies at the University of Abuja.
Sources close to Obasanjo's extended family said that an overture was recently made to involve the Olowu of Owu Oba Adegboyega Snaya Dosunmu to persuade Dr. Gbenga Obasanjo to deny knowledge of the widely reported court affidavit in which it was alleged that ex-president Olusegun Obasanjo and Chief Alex Onabanjo had filial relationship with Mojisola Obasanjo. In effect the media would be made to look stupid and irresponsible.
Ironically, former President Obasanjo's first daughter, Senator Iyabo Obasanjo Bello recently teamed up with Senator Chris Anyanwu to sponsor a Bill that has now scaled second reading on criminalizing incest and other forms of sex crimes. If the Bill passes, very strict punishment may await Nigerian randy elected officials and other reckless private citizens.
-------------------------------------------------------------