Date Published: 03/26/10
Profile of Mohammed Bello Adoke, FCIArb, S.A.N. General Counsel, M.A. BELLO & CO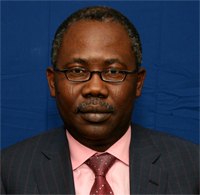 Mohammed Bello Adoke
Mohammed Bello Adoke S.A.N. was born on the 1 st day of September, 1963 and was educated at Ahmadu Bello University (ABU) Zaria, Kaduna State where he obtained a 2 nd Class (Upper Division) Degree in law in 1985. He was subsequently called to the Nigerian Bar in October 1986. He worked variously with Kwara State Schools' Management Board; Kano State Ministry of Justice as pupil Counsel; Messrs Zakari Yaro & Co; and I. M. Boyi & Co; before establishing Messrs M.A Bello & Co; a Law Firm being run as a tight – shift practice, with one internationally listed Arbitrator and a host of in house Solicitors as well as varying numbers of Pupils that are attached to the firm regularly. Mr. Adoke S.A.N has been in active practice since his call to bar in 1986.
Mr. Adoke, S.A.N holds a Postgraduate Diploma in International Tax Law from Robert Kennedy University Zurich, Switzerland; Diploma in International Commercial Arbitration from Keble College, Oxford under the auspices of the Chartered Institute of Arbitrators, United Kingdom and is a fellow of the Chartered Institute of Arbitrators, U.K in which capacity he has attended several seminars and conferences on Arbitration, Business and Law in Nigeria and overseas. He has acted as an arbitrator, severally, in England and Nigeria and is presently a party appointed Arbitrator by the Federal Government of Nigeria in the Investment Dispute before the International Centre for Settlement of Investment Disputes, Washington, D.C between Shell Ultra Deep Limited and the Federal Government of Nigeria. He is also the Federal Government appointed Arbitrator in the Global Steel Holdings Limited and Bureau of Public Enterprises Investment Dispute and AES Nigeria Barge Limited and Lagos State Government amongst several other important International Commercial Arbitrations.
He is a member of the International Bar Association. He has acted as a Receiver/Manager to several distressed Companies, many of which he successfully turned around. A Consummate Legal Practitioner, Chartered Arbitrator and Notary Public. Mr. Adoke, S.A.N was a member of the Board Peugeot Automobile Limited, Kaduna between 2006 and 2008 and Chairman of the Board Audit Committee of Unity Bank Plc, and currently a member of the Legal Practitioners' Privileges Committee. He is also an honorary fellow of the Institute of Business Executives of Nigeria and Institute of Industrialist and Corporate Administrators. He has served on the presidential Commission for the wholesale review of the Arbitration and Conciliation Laws of Nigeria.