Date Published: 02/28/10
Yar'Adua has few weeks to live -Doctors
...Develops acute brain hemorrage, may be moved to Katsina
...Jonathan to meet with Ministers before FEC meeting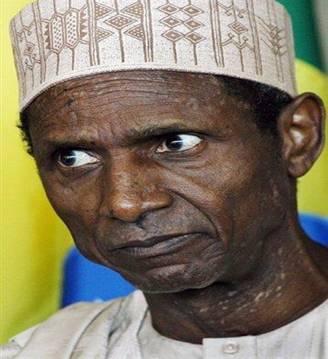 President Umaru Musa Yar'Adua
There were indications at the weekend that Turai Yar'Adua and her gang may have decided to move her terminally ill husband to their Katsina home, since his doctors at the Saudi Hospital had told them he has few weeks to live.
Sources disclosed that the cabal had wanted to move some medical equipment from Katsina to Abuja where Yar'Adua is still holed up in an ambulance, but changed tactics when it dawned on them that the drama is coming to a close.
"It is only Allah that can keep him because Doctors have already said in Saudi that he may not make it. They specifically warned that if he is moved, he may only survive for few weeks." A very close source to the Yar'Adua family told Pointblanknews.com
The move to ship the sick president to Katsina is also a ploy by Turai, CSO, Yusuf Tilde, who is fast becoming a new Major Al Mustapha on the block, to cut out the consistent pressure by some government for access to Yar'Adua.
"Hajia Turai Yar'Adua feels much pressured by those who want to see the President and because his condition is not what she would want anyone to know about and especially with the fact that the President condition has so much relapsed, she intends to cut the pressure and move him to Katsina," s source said.
The source added that, "as at last week Friday, they have already dispatched security operatives to Katsina in preparation for the President's movement and like I said, you know they know he has few weeks to survive."
Pointblanknews.com sources hinted that Ya'Adua had developed acute cerebral hemorrhage before his arrival from Saudi few days ago. This development, it was leant, is common with patients with Churg Strauss syndrome.
Sources said that Yar'Adua's German doctors reached a conclusion concerning how long he has to live, shortly after his kidney transplant that kick started several complications.
Meanwhile, sources hinted at the weekend that Acting President, Goodluck Jonathan may meet with ministers before the week's federal executive council meeting, just as the invocation of section 144 may not be on the table.
Pointblanknews.com gathered that while a large slice of ministers led by Information, Dora Akunyili are of the view that Yar'Adua should be declared unfit for the office, they are disposed to holding off that option and allow Turai and her group to run out of options.
According to our source, since Yar'Adua could die any time from now, invocation of section 144 would be like flogging a dead horse.