Date Published: 02/16/10
How Governor Geidam, SSG, squandered 80 billion in ten months.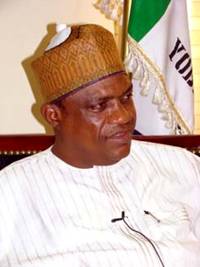 Governor Ibrahim Geidam of Yobe State
There was infectious hope and high expectation in Yobe State when Ibrahim Geidam took over the mantle of leadership in Yobe State after the controversial death of late Mamman Ali in Florida, USA, in 2008. Because of the former administration's much lamented politics of tribalism, vendetta and wanton corruption, there was wide spread jubilation throughout Yobe State when Mamman Ali died. However, barely about three months after Geidam took over, citizens of Yobe State realized with regrets, that despite his perceived crimes and excesses, their late governor was far better than their incumbent governor, Ibrahim Geidam. In less than one year, Mr. Geidam turned out to be the worst and most insensitive governor in the 20-year history of the rural, impoverished state. Indeed, Yobe State is adjudged as the poorest and most backward state in Nigeria despite the billions of Naira the state has collected as its statutory federal allocation and internally-generated revenue over the years. Conservative estimates say that since 1999, the state has generated from those two sources a whooping N400 billion.
Ironically, however, there is no project worth one billion naira today in this North-Eastern state while virtually all the infrastructure that were on ground before the state was created have dilapidated to an alarming degree. The worst cases of corruption, which have escalated to an unimaginable proportion during Gov. Geidam's reign, started during the eight wasted years of Mr. Bukar Abba Ibrahim, who after ruling the state for two terms and whose tyranny in the State secured for him the nickname 'Mobuto of Yobe', has manipulated the senatorial seat which he now occupies for himself, and the House of Representatives seat for his third wife, Khadiza Ibrahim Waziri. Yobe's new maximum ruler, Mr. Geidam, through one Sanda Goni Kusur, has given automatic tickets to Mr. Bukar Abba and his wife ahead of the 2011 polls. The unpopular deal is to enable Mr. Geidam secure his second term ticket in the ANPP amidst growing condemnation and unpopularity of Geidam's government due to outright thievery of the state's and LGs resources by a cabal that has made it impossible for the governor to perform.

Babagoni Machina, who retained the position of Yobe's SSG after the demise of late Mr. Mamman Ali, is generally adjudged as the biggest beneficiary of the rip-off of Yobe State. Prior to his appointment as the SSG, Mr. Machina was declared bankrupt and did not have a single car of his own. He was indicted for corruption and was made to refund the over N300 million he was said to have stolen when he was a member of the Petroleum Trust Fund (PTF) interim management committee. The authorities also recommended that Mr. Machina should not hold any public office because of the gravity of his culpability in the defunct PTF scandal.
From being a pauper, Mr. Machina is now a billionaire by all standards. Equally astonishing, his billions were accumulated in less than one year. He is now the owner of several choice properties in Maiduguri, Borno State. He is also among the first people that are usually contacted whenever there is any big property for sale in Maiduguri and Kano. Mr. Machina is believed to have recently bought an imposing edifice in Abuja. This is all happening at a time when Yobe's health and educational sectors are rated as the worst in Nigeria, all because of official corruption and lack of patriotism.

Even though Mr. Geidam was a deputy governor before he was elevated to the position of governor after the demise of his boss, the man popularly called Brah Brah was not known to be a rich man when he was a civil servant and when he eventually became the governor. It is being insinuated in Yobe State that Mr. Mamman Ali's death was not natural. A lot of people, particularly those considered to be very close to the late governor, like one Baba Ciroma and the former Commissioner of Finance, Mohammed Hassan Manu, are reported to be pointing accusing fingers at Mr. Geidam as the real culprit behind the death of the late governor. Although none of them has publicly accused Mr. Geidam, some insiders insinuate that Mr. Geidam hired several marabouts from his village, which is known for magic and spiritually instigated murders, allegedly to kill his former boss to enable him ascend to the top post.

It is well known to the people of Yobe State that as the deputy governor, Mr. Geidam was relegated to the background by his late boss and rendered redundant. Some sources even say there was an imminent threat of impeaching him hence the purported plot against his boss. They said Mr. Geidam had used the money given to him by Mamman Ali for the purpose of mobilizing marabouts to work for the court case instituted by Senator Usman Albishir which was then threatening to consume the former administration, against the health of Mr. Ali. "It was the money given to Mr. Geidam that was diverted and used for engaging marabouts to kill Mr. Ali," an inside source claimed.
Mr. Geidam inherited over N25 billion from his late boss and has collected over N70 billion in the last eleven months as the state's and LGs' revenue allocation. Under Mr. Geidam, over N10 billion was diverted into private pockets through the Yobe State Board of Internal Revenue by the governor himself, Mr. Machina and the Chairman of the Board who is a well known friend of the governor, Bukar Cidami. Mr. Cidami was appointed as the chairman of the Board soon after Mr. Geidam took over and since then the Board of Internal Revenue has not been accountable while its activities are shrouded in secrecy. Mr. Cidami reports directly to Mr. Machina from whom he takes instruction on how to divert whatever is generated as tax. Civil servants in Yobe State are the worst hit in this wanton criminality through fraudulent and unexplained deductions from their monthly salaries as "income tax".

Similarly, despite their huge allocation every month, local governments at all levels in Yobe State cannot execute project of up to N10 million under Mr. Geidam's watch. Local governments' resources in Yobe State are being diverted through the Local Government Joint Account while the Chairmen of Councils, who have been rendered impotent or rubber stamps, and who were not elected by popular votes, are being intimidated into making official requests and demands for money that ironically, never goes to them. That was how Mr. Geidam, the SSG, Ibrahim Tumsa, Auwal Lawan, Alkali Jajere and one Senator Abana made billions of naira within ten months while citizens of Yobe State continued to suffer in abject poverty, with lack of basic facilities in hospitals and schools across the State.
Contracts under Mr. Geidam are usually inflated by more than 400 percent to his advantage and that of his cronies. Apart from his Damturu and Maiduguri bungalows, Mr. Geidam didn't have any tangible asset when he became the governor of Yobe State in January 2009. But today he is not only a billionaire but a proud owner of multi-billion naira structures in Damaturu, Maiduguri, Kano and Abuja. Mr. Geidam also recently bought another edifice valued at over N1 billion in Dubai.


It is no longer news that Mr. Geidam had demolished, expanded and rebuilt his houses in Damaturu and Maiduguri, providing all of them with boreholes, even as acute shortage of potable water is threatening human existence in Yobe. This has, not surprisingly, occasioned the proliferation of water vendors in almost every part of the State. Against this background, Gov. Geidam is reported to have constructed two modern boreholes at his Damaturu castle for the exclusive use of his family that hardly stays in the State. And at a time the civil servant turned contractor, Ibrahim Tumsa, had woefully failed in the highly inflated roads construction contract awarded to him, and the roads in the entire state were consumed by dangerous potholes, Mr. Geidam awarded a contract for the construction of a four-kilometer road with public resources at his Gomari Airport residence in far away Maiduguri. The four-kilometer road, which has consumed a whooping N50 million from Yobe state's coffers, was handled by one Auwal Lawan. Auwal is allegedly the person that got the job of killing Mr. Tukur Mamu or ensuring that he is behind bars forever. Mr. Mamu is a threat to Mr. Geidam and his cohorts because of their belief that "he knows too much".
The controversial castle Mr. Geidam bought less 90 days after becoming governor is situated at Enyadema Street of Maitama District in Abuja. There is so much controversy about the house which will be explained at a later date. It was said to have been bought and renovated at over N1billion only three months after Mr. Geidam took over. It is therefore regarded as being among the many dividends of democracy he accumulated for himself. The deal for the house was reportedly perfected by Auwal Lawan and Ibrahim Tumsa. You may wonder who is the real owner of the house? The real owner is Mr. Geidam's late boss, Mamman Ali. The house was later manipulated from the heirs of the late governor with the active connivance of his blood brother, Danlami Ali, who is now the deputy governor of Yobe State. The first wife of late Mamman was deceived by Danlami Ali and Auwal Lawan. They took her and her children to Dubai for a vacation and before she came back the deal was perfected. The innocent woman is still ignorant about the real owner of the house because Danlami Ali had deceived her that the house doesn't belong to his late brother. Danlami Ali is believed to have diverted billions of naira belonging to his late brother which was put under his care on trust.

Another deal involving Danlami Ali, which has been verified by this reporter, is the diversion of over N2 billion from the Yobe treasury one week after the demise of Mr. Mamman Ali. The sum of N2.2 billion was earlier withdrawn from the state's account at the Damaturu branch of Afribank in January 2009, prior to his death, for the payments of projects in the Ministry of Works. The former governor dropped dead before the payments were authorized while the money was then in the custody of Danlami Ali. One week after the then governor's death, the gladiators that knew about the money perfected a deal and shared the money. Those that benefited from the N2.2 billion include Danlami Ali, Mr. Machina, Mohammed Hassan Manu, the then commissioner of works, Mr. Barau Sugum and the present Permanent Secretary and Director of finance and supply of the ministry of works, Engineer Maisanda Lawan and Mr. Yunusa Kaigama. But Mr. Geidam is morally incapacitated to take any action because of his own dossier and the fear of his own shadows.
Mr. Geidam has so far criminally removed over N500 million from Yobe's joint state-LGAs account and another N610 million from inflated contracts and frivolous claims from the state's treasury to finance the on going legal tussle that is rapidly undermining his position. Mr. Machina, Ibrahim Tumsa, the Chief Registrar of the Supreme Court, one Usman Musale and a Judge in Abuja are the beneficiaries of more than half of the money provided by Mr. Geidam to frustrate the case by all means. They have been extorting so much money from the governor and so far they have justified their huge expenditure. What used to go to the judges is usually less than 30 percent of the money they collected.
The case is expected to resume at the Supreme Court on Friday 19th February, 2010. Already, the sum of N250 million in addition to what was earlier withdrawn had been approved on 15th February, 2010 by Mr. Geidam through the state and LGAs account to facilitate transportation, accommodation and to give Usman Musale to handle the interests of judges. Eventually Mr. Musale may not give anything to the judges. Mr. Geidam is expected to come to Abuja today from Damaturu to coordinate and monitor the seating on Friday. He is expected to meet with Mr. Musale on Wednesday night (17th February, 2010) in a hotel in Abuja for update and to re-strategize.

Mr. Sanda Goni Kusur, on the other hand, is the spiritual adviser of the governor. His job is to co-ordinate marabouts and to ensure total victory by all means. The legal battle with Senator Usman Albishir will determine the face of Yobe politics in 2011.
While Mr. Geidam is battling to survive, his administration is also confronting a different morality crisis. Homosexuality is said to be on the increase among top government officials. Only recently, Mr. Geidam's Director of Press, Abdullahi Bego was caught pants down in sodomy with a reporter of a local paper at the state's hotel in Damaturu. Mr. Geidam had considered the option of removing Bego because of the damage the sodomy scandal had created, but was advised against it because of the possible implication. Bego is also considered as a double-faced agent that can adopt several strategies indirectly through the media so that the government will not have any option than to adopt whatever advice he gives it, as a solution. He has on several occasions outsmarted the top government officials because of their low intelligence, lack of exposure, and naivety about the intrigues and manipulations in the media industry. That is the only way they said one can get money from Mr. Geidam. You have to be wise, fast, calculative and work things out for yourself to be able to penetrate the cult in the Geidam administration.

Investigations also revealed that Mr. Geidam has awarded several inflated contracts that might have landed him in jail if Nigerian's anti corruption fight were genuine and sincere. BECCON Nigeria Limited, a company that belongs to his bosom friend, who happens to be a civil servant, Ibrahim Tumsa, is among the many companies that were used to divert billions of naira from the State's treasury. As a civil servant, Ibrahim Tumsa has had an encounter with the EFCC and was once arrested. GAAT Nigeria limited is also among the companies that were used by Mr. Machina to defraud the people of Yobe State.
The people of Yobe State have, therefore, been stridently calling for intervention from the EFCC and other relevant agencies to come to their aide and investigate the clear cases of looting and non-performance. A prominent lawmaker from the state, who had been consistent in criticizing the misconduct of Mr. Geidam's administration, Senator Adamu Garba Talba, has also called for the investigation of contracts awarded to BECCON Nigeria Limited, the award for construction of the Kaliyari-Baimari road at a whooping N4billion, construction of Damaturu water works at N2.3billion and how N1.3billion was released for the renovation of secondary schools across the state without any commitment on the ground.

Yobe Awareness Forum (YAF), a pressure group from Yobe, has also called for the investigation on the 27km road from Geidam to the governor's village, Bukarti, at a highly inflated sum of N3.4billion; N900 million for the supply of electricity to the same village with less than five hundred inhabitants; and the contract for Damaturu township roads, which are not up to 15kilometers, at over N800million. The group also accused Mr. Geidam of diverting 100 tractors and generators purchased by his predecessor for the use of hospitals, and for inflating the contract for the construction of a bypass road from N200million to N800million. The Geidam administration also mismanaged over N7.2billion excess crude oil proceeds in November and December 2009 through questionable claims and frivolous expenditures. YAF has also accused Mr. Babagoni Machina of personally benefiting N400million out of the N800million contract for the construction of the new Governor's office. The contract was awarded to another criminal by name Yusuf Dalo Katuzu.

Mr. Geidam has also allocated to himself and his cohorts' choice plots of land in Damaturu which had been meant for the permanent site of the Ministry of Land and Survey.
The administration of Mr. Geidam is also embroiled in another scandal of supplying fake solar street lights inflated at over N700 million. Mr. Geidam had recently entered a deal with the rubber stamp Yobe State House of Assembly and approved another supply of Solar street lights at nearly N1billion. Yobe State lawmakers are adjudged to be the most uncivilized and illiterate in the country. They are benefiting very little compared to what officials of the executive branch of government are stealing and they have allowed wanton corruption to be committed with impunity. The lawmakers are generally seen as having woefully failed their people.

Despite his failure and greed—or perhaps because of them--Mr. Geidam has started using government resources to secure his second term by all means. But the challenges against Mr. Geidam are so many. He may face the biggest challenge from his own party, ANPP, and when the time comes he may have to convince the EFCC regarding the reasons why he should not be indicted. The government is presently facing morality crises and that is why it is believed they are after some other people like Mr. Tukur Mamu. Ironically, they have succeeded in making him more popular than ever.
There is widespread insinuation in Yobe State that Danlami Ali is gradually adopting the style, deceit and shrewd mind of his late brother in an effort to become the governor of the state by all means. Inside sources revealed that anything can happen to Mr. Geidam before or after 2011 that will enable Danlami to take over. They said Danlami believes that he is now in a position to plot the same sort of plot Mr. Geidam allegedly executed against his brother so as to get the state's most coveted seat. He is now "tactfully and wisely" loyal to Mr. Geidam and silently perfecting his intrigues that may eventually consume the governor's.
By Citizen Reporter