Date Published: 11/16/09
Oshiomhole has swindled Edo People -Orbih
…Says:
Oshiomhole blew N70 Billion on Chattered Jets
His Govt. is dirty
He is a noise-making Governor
His Khaki wearing is a deceit
Oshiomhole loves parties more than governance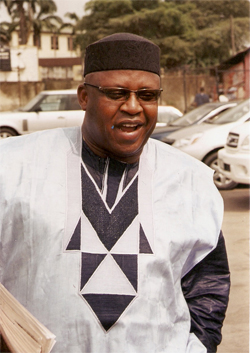 Dan Orbih
Chief Dan Osi Orbih is not a green horn in politics. Son of the late MCK Orbih, a First Republic politician of note in the pre-independence Western region and later, chairman of the defunct National Party of Nigeria (NPN) in Etsako Local Government Area in the old Bendel State, Dan Orbih was All Peoples' Party (APP) deputy governorship candidate in Edo State in the 1999 general elections. He was later elected APP National Organising Secretary and member of the party's National Executive Committee (NEC). As a national officer of the chief opposition party at the time, Orbih and the likes of Senator Olusola Saraki and Comrade Pascal Bafyau, led a very intense campaign to reposition APP. Sensing that the "altruistic" campaign to reposition APP had offended the some powerful interests in the party, Orbih, Saraki and Bafyau, among others, quit. He supported the likes of Admiral Augustus Aikhomu in founding the political association Fourth Dimension Nigeria (FDN). Shortly after the 2003 general elections, and following intense pressure, Orbih and his dad joined PDP. Before his recent election as the PDP chairman in Edo State, the University of Benin-trained businessman-turned politician had served as a member of the board of the Nigerian National Petroleum Corporation. Dan Orbih, who spoke to Pointblanknews in Abuja, blamed Governor Adams Oshiomhole's "one year of poor performance" on what he said was the governor's lack of a blueprint, his preference to work with the same people he claimed ruined Edo State, his "know-it-all" attitude, and the governor's penchant for making unguarded and reckless utterances. Excerpts
A couple of days ago, Governor Adams Oshiomole celebrated his first year in office, and rolled out the drums to celebrate. What does PDP in Edo State make of this?
For PDP in Edo State and for majority of the people of the state, there was nothing to celebrate about. Anyway, celebrations are usually intrinsic; they are a feeling that wells from the heart. They are not celebrations simply because you 'organise' televised lectures, and flood Benin with area boys from neighboring states-all at the expense of Edo taxpayers. Anyway, we are only being prayerful for his term to quickly come to an end so that we can affect the desired change.
Don't you think the only reason you claim there is nothing to celebrate about is just because he doesn't belong to your party, the PDP?
No. The issues are quite clear. You need to analyze the budget he came out with for his first year and its performance level. This is less than 20%. The only thing we have seen is the resurfacing of a few township roads in Benin and the planting of flowers, which he calls the beautification of the Ring Road. Well, we are talking of a state government that is now engrossed with the beautification of one ring road. One is beginning to think that it takes a whole year to beautify with flowers which, in any case, we hear cost about N30, 000 per stand making it the most expensive beautification project anywhere in the world.
Listening to Governor Oshiomole, he tends to blame the PDP-dominated House for the poor implementation of his budget. How much blame do you think the Assembly should share in this?
It is common knowledge that bad workmen always blame their tools for their inefficiencies. Oshiomhole is one man who loves to spend all of his life talking and talking, but never wanting to listen. And one of the hallmarks of a good leader is the ability to listen, no matter how dumb such talks may seem. As far as Oshiomhole is concerned, and from what we know, nobody around him has an opinion. They must all listen to his boring tales, the reason his failure isn't a surprise. Check how much he has received and place the money against what is on ground. They won't match. One thing he doesn't seem to know is that Edo people are tired of this broken record of his. They want music in terms of roads, schools, water projects, security of life and property, to mention a few of their expectations.
But some argue that Oshiomhole may not be able to deliver if you don't reduce the distractions which your criticisms may be causing him.
As of today, Oshiomole is the one solely running the show in Edo state, so what has PDP got to do with his failures? He should be able to take credit for his achievements, if any, and in the same vein, take responsibility for the failures of his administration. There is nothing that Oshiomole has done that is remarkable different from what he met on ground. The more billions he spends to de-silt the drainages, the more lakes the roads become, making us wonder if these de-silting projects have not become one huge conduit pipe on Edo State's treasury? The more you de-silt, the more the roads worsen. How then can you justify the billions blown on de-silting the drains?
But we have heard Governor Oshiomole promise to tackle the roads when the rains abate. Don't you in Edo PDP think the heavy rains may have contributed to the seemingly slow pace of work on the roads?
I hope the rains are not restricted to Edo State? I just hope it is not the same rains in Rivers, Lagos or Enugu States, and why have these governors not folded their arms, and like Oshiomole, wishing for the rains to stop. Why are the governors not telling us they cannot do any roads because of the rains? The truth is that I see Oshiomole as a man who was just aspiring to be governor without having the slightest idea of what to do with the position. There is no well-thought out policy by Oshiomole, so we cannot really assess him. When he came into power, he was making general statements, cleverly avoiding specifics. So, you cannot rel y on a ny template to assess his performance because Oshiomole promised nothing and has achieved nothing. All we are seeing is a noise-making governor who likes delivering speeches at the slightest opportunity. He jumps from one function to another. It likes the saying, all sound and fury, signifying nothing. There is no substance in his government. He has not been able to deliver on anything good. And it is interesting to note that he came into power when there were high expectations because of the deceit in the khaki he used to wear, pretending to be on the side of the masses. How wrong! Today, Oshiomole rides in the most expensive bullet-proof vehicles you can think of while the masses slug it through the flooded streets of Benin. Now, please tell me: of what relevance is this khaki he puts on? Please, beg Oshiomole to put on the most expensive designer wears in the world because his conduct, his actions have shown that he is not a man that has the interest of the people at heart. There is only one man ruling in Edo today and that man is Oshiomole, nobody else is running the show with him. He should be man enough to take responsibility for the failure of his administration. One thing though is that we in Edo state must have to endure the flipside of democracy. We must have to endure Oshiomole's mis-governance until the end of his tenure when we shall send him packing. The people, I know, can't wait a day longer to send him packing simply because they have seen through his devices, that he is just content with the title "Governor," but definitely has no idea about what to do with the office to further the interest of the people of Edo State.
In a recent interview, Governor Oshiomole blamed his inability to do more than he's already done on the global financial meltdown, saying the trend dipped Edo's monthly allocation by as much as 300 percent. What is PDP's take on this?
You need to look at the chart of what the 36 states get from the federation account on a monthly basis. Edo state can definitely not be said to be the worst or lowest in terms of allocation. Take Zamfara, for example. How much is their allocation? But go there and see the development going on there. Go to Bauchi and see what is going on there with very meager allocation. To now heap the blame of your failure on alleged dwindling federal revenue can only be symptomatic of a man who has nothing to offer. How has Oshiomole applied the over N70 billion that has accrued to Edo state? Is it not on chartered jets to even areas where commercial airliners fly? Does that reflect the economic situation of Edo state? That is the issue. You need to ask yourself how much Oshiomole pockets as estacodes each time he jets out? And you know this is one man who loves travelling. In fact, Oshiomole loves birthday parties and burial ceremonies more than official assignments, little reason he is never short of parties to attend even when he was not invited. Any ceremony you have, you just tell anybody close to him and Oshiomole is sure to attend. He is never around to attend to state matters, and this is very worrisome.
But don't you think he could say, as governor, he has delegated duties and, therefore, does not need to be physically present to discharge his functions as governor?
Well, at the end of the day he will tell us that he failed because he wasn't physically present.
What, in your opinion, is the source of the raging face-off between Edo PDP and Governor Oshiomole?
There is none per-se. What we are saying is, hey, you have done one year in the saddle with nothing to show for it.' Oshiomole on his part doesn't want to be criticized at all. He is a man who likes opening his mouth wide criticizing people. But when you point out his failings to him, he feels so bad and resorts to abusing people. I have a lot of respect for the office of the governor of Edo state. But I have lost respect for him as a person because of his motor park utterances since he came into power. This is an office the younger ones look up to draw inspiration from, but here you have a governor who doesn't have any qualms about using gutter language.
Do you have particular instances where he used, to borrow from you, gutter language?
Oh, yes! Take the jamboree he had a couple of weeks ago, for instance. I was bewildered to see a governor with a coffin on the podium, spiting venom and nailing the coffin as if he were an undertaker. This is definitely not good for Edo state. Many believe that the utterances of a man are a reflection of his upbringing. As an occupier of such an exalted office, many expect him to exercise restraint and engage in civility in making your points. All the same, we have to wait for his tenure to run out before showing him the door.
The nailing of the coffin he brought was said to be symbolic of doing away with such political godfathers in your state as Chief Tony Anenih, your party's leader in the state and a member of the PDP Board of Trustees.
I don't know if he has any personal problem with Chief Tony Anenih. All I am saying is that, as a governor, there is a minimum standard of decency expected of holder of such an office. This, Oshiomole should try to understand.
Some are of the belief that PDP's attacks came a little too early. That Oshiomole should have been allowed to clock one year in office before literally opening fire on him?
To o early in one year of the life of such an administration that has nothing to show? Do you know how many billions he has collected and those that were allowed to just go do wn the drain during this period of 12 calendar months? Oh, that was more than sufficient. If you had said, one, two or even three months, we would have said, well, let's wait and see. But one whole year with nothing to show for it? We gave him more than enough time. A child that was born one year ago would have been weaned and most probably be crawling. You see, if Oshiomole was doing well, we would not have any cause to talk. We want to avert a situation where, say, in two, three years we mount the rostrum to point out the failures of this government, people would counter, "but where were you people all the while?" But with this, we have absolved ourselves of any blame or culpability in his ineptitude. We have also by this roused him from his slumber and therefore, put him in a better stead to buckle up. So, nobody can wake up tomorrow to blame it because as a party we owe the people of Edo state the responsibility of putting him on his toes so that he can work for the people of Edo state. We cannot fold our arms and after four years lament, oh, the man failed! What efforts did we make to correct him so that he can work for the people? All these are for the interest of Edo State. So, if out of our constructive criticism Oshiomole wakes up and starts working in a manner that our people will benefit, we in Edo PDP would have contributed our quota to the development of Edo State.
But the same Oshiomole has accused Edo PDP of habouring people whom he said, for eight years, grounded the state. By this, we guess he was talking of former Governor Lucky Igbinedion who was of your party?
We have made our point. Who are the people with Oshiomole? Look at that rally, who were with him? The same people who were in government for the eight years he is talking about. Who destroyed that government? Lucky Igbinedion was a good man who surrounded himself with such characters. Today, Oshiomole has surrounded himself with the same characters. Look at somebody like Ize-Iyamu. He was around for the eight years Oshiomole is talking about. Yet he was the one who read the welcome address at Oshiomole's get-together. He was the one who introduced Oshiomole. So what are we talking about? He was even chanting "No man is God!" as if there is anybody claiming to be God. In Edo State today, there are two sets of people in both parties. A PDP that is purified of the elements that held Edo State down for eight years, and those who have left to form AC and join Oshiomole. They brought him to power and they are very much with him, the reason we don't expect anything good out of his government. Who is Oshiomole's SSG? He was one of the chiefs in the government in question. But, thank God the people are beginning to know.
Since becoming party chairman, how well would you say you have been able to reconcile the factions in Edo PDP?
Well, those things are normal in a political party, even in a family. When there is a compelling need for all interests to come together for a particular purpose, these interests are subsumed. And that is what has happened in our case. We are now convinced not to allow our people suffer in the hands of this man who is in Edo Government House.
How do you hope to achieve that, given the rivalry between Chief Tony Anenih and Dr. Samuel Ogbemudia?
I don't know what you mean by rivalry. Both men are two great friends. The little differences they had sometime have been resolved. We all pray to God to sustain the friendship. We were together at the Owohinmi rally and other rallies. This points to the fact that we are as united as ever.
All the members of the National Assembly from Edo State were elected on the platform of your party, PDP, ditto for more than half of the members in the State Assembly. Until a few weeks ago when Action Congress 'snatched' six council chairmen, PDP controlled the entire 18 councils. Is this a sign that PDP may be losing control of Edo State?
Absolutely not. Five council chairmen and one vice chairman defected. There is nothing spectacular about what happened. The people in question had issues with PDP; they had questions to answer, so it was an escape route for them. Be that as it may, losing five chairmen out of 18 cannot be considered a big deal, does it? That is about 36 percent. You cannot make noise about it if you are an Oshiomole, whom we all know to be a noise maker. Considering that Oshiomole became governor without having a single council chairman, how then do you think that five chairmen in AC will stop PDP from producing the next governor? And don't forget that this noisemaker had boasted on end that at least 11 council chairmen were defecting from our great party. Where are they, please? He had also boasted that at least six assemblymen would be joining AC at the jamboree. None turned up. All the things we take for granted in PDP call for so much noise and fuss with Oshiomole. But we should also not forget that empty vessels make the most noise.
How prepared is PDP for what may prove to be a long fight ahead?
The past few weeks have exposed Oshiomole as a man who, despite his failure in leadership, is ready to cling to power at all cost. We have however begun to dismantle him. We had two rallies; he has only been able to concoct one. All he did was a response to our wakeup call on him, because we cannot allow a failure he is, continue in government. But no amount of blackmail would allow us soft-pedal in our bid to send him packing.
Since Oshiomole's tenure began to run only last year, it can be assumed that he would preside over the elections of members of the National and State Assemblies from Edo State. Don't you think this may compel more members of your party seeking re-election to dump PDP for AC?
That will not happen. All we are going to do is to consolidate our position and use the broom he loves to wield to sweep him out of office. I don't know, but it is common belief that the name one answers largely determines your character. What I have seen about Oshiomole and his broom is that his government is a dirty one. Since he loves sweeping, we shall be taking over from him and consider appointing him an assistant on environmental sanitation.
What do you make of this fear amongst your party faithful that your many business concerns around the country may not allow you sufficient time to discharge your duties as party chairman?
I see the position of party chairman as a challenge. A challenge to reposition the party and take over government from Oshiomole. This task has been made easy by Oshiomole's dismal performance. Going by that, I am more than convinced that my business concerns shall not stand in the way to deliver PDP in the next general elections.