Date Published: 11/14/09
Super Eagles Shamed Critics, Qualify for 2010 World Cup
By Hakeem Babalola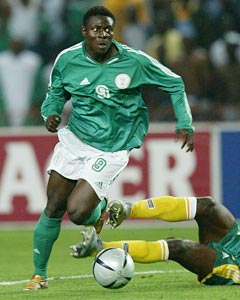 Obafemi Martins
Nigeria has qualified for the 2010 World Cup football tournament in South Africa.
The Super Eagles representing Nigeria defeated their Kenyan counterparts by 3-2 in what many Nigerians have termed the miracle of the year.
Before today's game which is the group last match, the Super Eagles were trailing Tunisia who has two points advantage over Nigeria.
Nigeria needed to beat Kenya and hoped that Tunisia lost to Mozambique, a feat many analysts had predicted impossible.
In fact, Nigerians had written the Super Eagles off after their poor performance in Abuja when they played 2-2 draw with Tunisia.
Since then Nigerians have been showing their disappointment to the extent of booing their national teams anytime they played. Football officials had to appeal to their compatriots to reconsider such unpatriotic decision.
Things got worse for the Super Eagles in Nairobi when they were trailing 1-0 in the 50 minutes of the game. However two quick goals restored some hope.
And then Kenya equalised. At 2-2, Nigeria's hope of participating in the first ever World Cup to be hosted by any African country seem dashed until Obafemi Martins scored the third goal which eventually demoralised the Kenyans.
Of course a win won't be enough for the super Eagles. But the miracles came from unexpected place, as Mozambique defeated Tunisia who had boasted of dying on the field by 1-0.
It is indeed the luck of the year for Nigerians and football lovers, and especially coach Saibu Amodu who had been vilified many times by critics notably Ayo Akinfe who once said that Amodu did not have what it takes to beat Kenya in Nairobi.