Date Published: 08/06/09
Journalists are the least celebrated Professionals in Nigeria -Chris kehinde Nwandu (President, Nigera Media Friends-NWF)...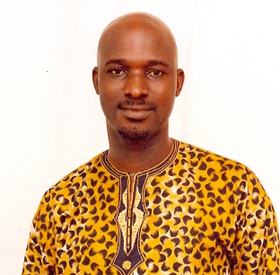 Chris Nwandu
The Nigeria media has over the years remained the conscience of the Nigerian society. It has (probably) more than any other profession been in the vanguard of the pursuance of excellence, equity, justice and fair play within the society. It has also been in the forefront of celebrating achievers. Now is the time to celebrate its own, through a coalition of distinguished members of the industry under the aegis of the Nigeria Media Friends led by its President and founder, Chris kehinde Nwandu who also is the CEO Ikenga Entertainment Inc.In this interview he spoke on the rational behind the organization, its objectives and the ten editors to be honored at its second edition this month.
Who are the Nigeria Media Friends and what is their set out objectives?
The Nigeria Media Friends is made up of key members of the Nigerian society who are out to recognize and celebrate excellence within the Nigeria Media. It was borne out of a desire to identify and appreciate members of the fourth realm of the Estate who have distinguished themselves in their chosen career. The key objective here is celebrating and appreciating excellence through handwork.
Why did you start such an Annual Event?"
The decided on the annual reception in order to honour and celebrate excellence in a profession that is good at celebrating others but forgets to celebrate itself.
The mandate of the profession is to educate, inform and entertain. This we have discharged effectively with all sense of modesty. The media as the watch dog of the society has also been part of social, political and economic reform of the Nigerian society. Over the years some of them have put their life on the line in the course of their duty.
We celebrate muisicians, actors and actresses, politicians, other professionals but in the course of doing this have forgotten or has taken it for granted that we also need to celebrate our own shining stars, I have not seen anything in our ethics of profession that is against that.
This is why we deemed it necessary that from time to time, there is the need to identify and celebrate our key members, to show appreciation for what they are doing for the profession and to position them as role models for others.
Is this the maiden edition?
This is the second edition. The first edition was in November 2009 at the Lagos Sheraton Hotel. Three editors were honoured, they are Steve Ayorinde –Editor, The Punch, Steve Nwosu-Editor, The Sun and Olumide Iyanda, Editor, Saturday Independent.
The event was chaired by Akogun Segun Osoba, while the Rivers State Governor was the Special Guest of honour.The inaugural lecture was delivered by Mr. Anthony Ubani, Director General, People's Democratic Insitute, Abuja
How do you choose those you honour and what are the criteria for qualification?
The first criteria is that you must be a practicing Journalist or in related fields of communication or information management.
Secondly you must not be below the equivalent rank of an editor in an establishment. we also look at your pedigree and contribution to the growth of the media industry in Nigeria and most importantly you must be seen as a good ambassador of the media profession..
Is an Award and are you guys constituting a pressure group?
Its not an award, that is not our focus, media awards is been organized by some organizations like the Nigeria Media merit award, DAME etc.Neither are we a pressure group, the Nigerian Union of Journalists and the Nigerian Guild of editors are firmly in control of that.
Ours is a social group out to add value and excellence to a profession that has over the years remained in the forefront of setting the pace and it is quite unfortunate that this took too long in coming, but as they say, it is better to be late than never.
What has been the response so far, from within and Outside the Industry?
The response has been overwhelming, infact we didn't know that the event will generate this level of attention. What we initially thought was going to be a small gathering of friends is now turning out to be a major event. It was like the whole Industry has been waiting for this for so long. Last year event was well attended, we exceeded our attendance projection by over 200%, and this year, is going to be bigger.
We have also received a lot of commendation from a lot of people, especially key stake holders in the industry, most importantly older generation or veterans as we call them.
Who are the honorees for this year and how did you choose them?
We have upped the honorees by about 300% from last years'. There are then honorees this year broken into three categories, the print, broadcast and service to the industry.
In the print categories, we have Simon kolawole,Editor Thisday,Mideno Bayagbo,Editor Vanguard,Mrs funke Egbemode,Editor,Sunday Sun, Casmir Igbokwe,Editor,Sunday Punch and Loye Amzat,Editor in Chief, News of the people.
In broadcast we have Chris Ubosi, MD/CEO, Classic FM and Beat FM Lagos and Ademola Adeoye of NTA.
Under service to the industry, there is Vin Martin Ilo formerly of Daar communications now, the Special Adviser to Enugu State Governor on Media, Idowu Ajanaku, Senior Special Assistant to the Governor of Lagos State on public Affairs and Bola Ononuga former Managing Director, National Mirror Newspaper.
At the last count we had over a hundred people shortlisted but we have agreed not to exceed ten honorees each year.
Are there other areas of the profession you think you have not taken care of?
Yes in future, we are looking at also those in specialized media like Sports writing, the Magazines, and more women as honorees as well key media practitioners from the Northern part of the country. That we have not been able to do this year. We will also recognize distinguished media owners as well as senior colleagues and veterans in the industry in our subsequent editions.
When is the Event and who are the People you are expecting?
The Nigeria Media Friends Annual reception and gala nite comes up on Saturday 22 nd august 2009 at the Lagos Sheraton Ikeja at 4.00pm.It will be chaired by Barrister Jimoh Ibrahim OFR, Publisher, National Mirror Newspaper, and the Special Guest of honour is Governor Olusegun Mimiko of Ondo State. The Guest of honour is Engr.Ernest Ndukwe, the Executive Vice chairman, Nigeria Communications Commission, Mr.Gbenga Adefaye, The president Nigerian Guild of Editors will give the key note address, while the NMF Annual Lecture will be delivered by Bashorun Dele Momodu, and Publisher Ovation Internation.Governor Babtunde Raji Fashola SAN is the chief host.
The event will be attended by key stakeholders in the media at home and oversea.
Notable organization that has confirmed attendance apart from the Nigeria media community is the CNN International and BBC amongst others.
What are the key features for the Nite?
The event will be anchored by Deji Balogun of Lagos Television, Ms Azuka Ogujiuba of Thisday and Tunde Adeleye, a London based Nigerian media practitioner.
Citations will be read by Namure Edomoiya of AIT, Gbenga X adebija and Kunle Job of Biscon.
Performing acts includes Tunde Kuboye Jazz 38, Weird MC, Nigga Raw, Inyanya, frank deniro, Singaholic, Black Saint, J.Young, Malaika and many more.Koffie will lead the comedy train.
So you can see that it will be a well loaded unforgettable night for the media.
Now to the real question: who is bankrolling all this?
As of the time I am speaking with you, the event is still been powered hundred percent by my organization Ikenga Entertainment Inc, but there are prospect of organizations coming to support us.
I am quite passionate with this; the rationale is not for commercial venture. We have never asked and will never asked for anything from our honorees, you can ask them.Infact we don't even ask them to suggest sponsors. We had deficit from the last edition, but that did not deter us. We believe with time, organizations will realize the importance of what we are doing and identify with us.
What advice do you have for the Nigerian Media and your honorees?
For the Nigerian Media, we should learn to appreciate and celebrate our own. This is the only profession that knows everything about every other profession. Its only the media that knows everything about law,medicine,engineering,politics,education,ecomony and finance,science,music,arts,movies,sports ,security ,Aviation, name it. So we have a very big platform to operate.
To most of our colleagues who have been calling, with time, everyone will be duly recognized; we can only but take it one at a time.
To the honorees, they should see this as a call to duty and to always give their best to an Industry that truly appreciates them.
The best honour anyone could get is the one from your immediate constituencies and peers. To be singled out of so many equally qualified colleagues is a great honour.