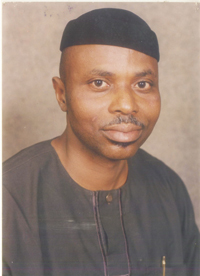 Dr. Rahman Olusegun Mimiko was born on 3rd October, 1954 , to Pa and Mrs. Atiku Bamidele Mimiko of Ondo, Ondo State . His great, great grandfather was the High Chief Adaja Gbegbaje of Ondo. His great grandfather, Chief Akinmeji, was the distinguished Ruwase of Ondo. His grandfather, Pa Famimikomi, was an accomplished man. His gallantry in those long years attracted great respect, some of which rubbed-off on his own son, the late Pa A. B. Mimiko, himself an accomplished manager of men and materials, a cocoa plantation farmer, an avid reader and monitor of global developments, an erudite social commentator and a compassionate leader of men. Dr. Mimiko's mother is of the eminent Ogunsulie family of Ondo Kingdom .

Dr. Mimiko entered St. Joseph 's College, Ondo, in 1966, and left with the West African School Certificate in 1970. Between 1971 and 1972, he was a Higher School Certificate (HSC) student at the popular Gboluji Grammar School , Ile-Oluji. Dr. Mimiko entered the University of Ife (now Obafemi Awolowo University ), Ile-Ife in 1972. In 1976, he bagged a B.Sc. Health Sciences Degree; and the MB; CH.B in 1980. He is appropriately registered with the Nigerian Medical and Dental Council as a Medical Practitioner.
As a medical doctor, Dr. Olusegun Mimiko has worked in different establishments over the past 26 years. Between 1980 and 1981, he was a House Officer with the Ondo State Health Management Board under which auspices he worked at the General (now State Specialist) Hospital, Ado-Ekiti. He had a stint with the Nigerian Naval College (NNS Onura), Onne, Port Harcourt , between 1981 and 1982, from where he returned to join the services of the Ondo State Health Management Board as Medical Officer in the General (now State Specialist) Hospital, Ondo, in 1982.
From late 1983 to 1984, Dr. Mimiko had his initial taste of private medical practice by working at different times as a Medical Officer at Apagun Clinic, Yaba, Lagos; and as Acting Medical Director, Alleluyah Hospital, Oshodi, Lagos. He returned to public service for another year between April 1984 and February 1985 (again with the Ondo State Health Management Board) before finally going into full private medical practice with the setting up of the MONA MEDI-CLINIC with headquarters at Ondo. Beyond his professional and business callings, Dr. Olusegun Mimiko has an abiding interest in politics. He predicates his political engagement on the conviction that responsible leadership through a social democratic process provides the basis for the resolution of Nigeria 's crises, and the emancipation of the African.
Dr. Mimiko's many years of involvement in politics dates back to his university days at Ile-Ife where he was at various times a member of the Students' Representative Council (Parliament), 1975/76, and Chairman of its Special Honours Committee. For a period in 1976, he was elected Chairman (Speaker) of the Students Representative Council. Outside the students' legislative house, Dr. Mimiko served on the University of Ife Students ' Union Electoral Commission, 1976/77; and was the Public Relations Officer of the International Students' Association of the University between 1977 and 1978. As a full-fledged politician, Dr. Mimiko served as the Publicity Secretary of the Ondo Local Government chapter of the Chief Obafemi Awolowo-led Unity Party of Nigeria (UPN) in 1983. During the Third Republic , he was elected twice as ex-officio member of the Social Democratic Party (SDP)
Executive Council in Ondo Local Government Area. He also served as a member of the Party's Disciplinary Committee. In recognition of his extensive involvement in grassroots mobilization during the Third Republic , Dr. Mimiko was appointed Commissioner for Health and Social Services in January 1992. By the time he was leaving office in late 1993 as a result of the military coup d'etat that terminated that Republic, Dr. Mimiko had left his mark as a performer. In that short period, he facilitated the setting up of the Pharmacy Shop System under which 24-hour pharmacy services were being provided in the main hospitals around the State. He also conceived and brought into reality the idea of what came to be known as Accident and Emergency Centres in some of the State Hospitals in the then Ondo State (now Ondo and Ekiti States). These were centres furnished with state-of-the-art equipments to attend to accident and other emergency cases confronting government hospitals everywhere in the country.
Again, in recognition of his extensive contribution to the victory of the Alliance for Democracy (AD) in the 1999 governorship election in Ondo State , Dr. Mimiko was appointed the Honourable Commissioner for Health in the State, making the second time he would hold the office. Before he resigned his position in the State Executive Council on November 7, 2002 , Dr. Mimiko had greatly enhanced the quality of health care delivery in the State. He brought real innovations into the health sector. His Ministry completed and equipped the Millennium Eye Centre, Akure, which still ranks among the best in Nigeria , within the first 100 days of the civilian administration. The Festivals of Surgery, under which auspices hundreds of free surgical operations were carried out to restore the sight of blind and partially blind patients and to relief those with hernia, were widely received across the State, and copied in many others. Needless to state that these brought succour and joy to the hearts of thousands of indigenes of Ondo State. Also though the instrumentally of his Health Rangers Scheme, Dr. Mimiko facilitated the delivery of health services to the innermost parts of Ondo State, providing thousands of rural dwellers with their real first contact with government.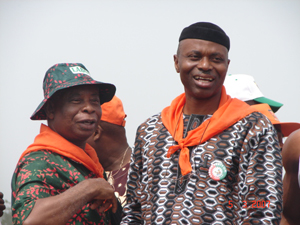 The undeniable truth, attested to by citizens of Ondo State , is that the State Ministry of Health under Dr. Mimiko definitely added value to the Alliance for Democracy (AD) government in the State. In his characteristic modesty, Dr. Mimiko is always quick to give the glory to the Almighty God. On November 7, 2002 , Dr. Mimiko resigned his appointment as State Commissioner for Health, "for strictly personal reasons". In the conviction that he would be in a better position to facilitate more quality governance in Ondo State, and in response to calls across the State that he should join the gubernatorial race, Dr. Mimiko formally announced his intention to contest the governorship election on the platform of the AD on Tuesday, November 19, 2002, at a crowded Press Conference in Akure, the Ondo State capital. He gave vent to his conviction that for Ondo State , there certainly were BRIGHTER DAYS AHEAD, a catchphrase which coined from the name of his Group, BRIGTHER DAYS NETWORK!
Dr Mimiko had to leave the AD when it became obvious that the basis for democratic engagement was no longer in the Party. He the adopted the Peoples' Democratic Party (PDP) as a preferred platform for the continuing struggle for enthroning good governance in Ondo State. After the victory of the Peoples Democratic Party (PDP) in the April 2003 polls, to which he massively contributed, Dr Mimiko was appointed as the Secretary to the State Government. He held this position until July 2005, when he was appointed by President Olusegun Obasanjo as a Minister of the Federal Republic in charge of the Housing and Urban Development Ministry. In the latter position, Dr. Mimiko coordinated the Obasanjo Administration's Reform Programme in the Housing and Urban Development sector, bringing about a major shift in policy from direct construction of houses to increased involvement of the private sector; redevelopment of government landed properties through private sector real estate developers to increase housing stock; and a focus on the mortgage sector in the on-going re-organization of Nigeria's financial system. The Ministry under Dr Mimiko was able to for the first time in the history of the nation produced the first ever National Building Code. He also ensured the gradual withdrawal of government from direct provision of residential housing to public servants through the monetization policy; the re-organization and re-capitalization of the Federal Mortgage Bank of Nigeria for more robust operation; and the enhancement of the operations of the National Housing Fund (NHF). The re-positioning of the Federal Housing Authority (FHA); the creation of an enabling environment for sustainable mass production of houses through the National Housing Data Bank, and a framework for housing delivery and urban management through co-operatives, and the Social Housing Programme were also accomplished under Dr Mimiko's watch.
In December 2006, he resigned his office as Minister, effective December 8, 2006 . He thereafter took up membership of the LABOUR PARTY and formally announced his decision to run for the office of Governor, Ondo State , at a well-attended rally in Akure on December 14, 2006 . He later emerged as the Party's gubernatorial candidate for the State.

When sworn-in as Governor, Dr Mimiko intends to be guided by his deeply thought out Mission Statement, i.e., "to mobilize the people of Ondo State to harness all our God-given resources, create and use wealth for the ends of individual happiness, collective fulfilment and peaceful cohabitation in an environment of transparent and honest leadership". His 12-point Agenda calendarized programmes tagged: A CARING HEART is focused on Health Care and Housing Development; Education, Employment and Empowerment; Agriculture and Integrated Rural Development; Road and Infrastructural Development; and Trade, Tourism and Industrialization.

Speaking on the translation of his vision into reality, Dr Mimiko had this to say, "I must say that as a public officer, I do not need to convince the people of Ondo state about my capacity to deliver on promises. I also consider my life an open book that is available to be examined by all. I say this because I am aware that critical to success in governance is leadership. I have seen enough of governments to know that whosoever is short on integrity and character should just not be entrusted with the position of leadership". It is these twin qualities, integrity and character, more than anything else, that Dr Mimiko is bringing into government.

Again in Dr Mimiko's words, "I certainly have had enough experience in government. I can therefore claim that I am not going to be a novice in government. Rather, I already have a clear idea of where this State should be headed. I know what possibilities we have, what pits, both structural and human, we must avoid, and what ploughs we must sharpen to excel. Our strategy is to position our government, your government, as a catalyst of development. The critical ingredients that would make it possible for our people to be gainfully engaged shall be put in place. We do not subscribe to a trickle-down economic policy of just letting only the remnants to go down to the masses. Rather we shall adopt a bottom-up approach to development with a view to engendering community ownership and sustainability".

Confident of his report card, Dr Mimiko once asserted, "Those who know me know that my personality is already made up. I am therefore not likely to misbehave in office. Good enough, it has pleased God to commit something into my hands in the past. I therefore would wish that I be assessed based on how well or how badly I performed in those official capacities that it has pleased God to allow me to serve. It is on this platform that I stand to offer you a promise of great performance that would make Ondo State second to none in Nigeria".

Dr. Olusegun Mimiko has authored many research papers and published articles focussing on issues as wide-ranging as Medicine, International Relations and national socio-political developmental strategies. A December 1981 edition of the New Nigerian carried his "Troops Withdrawal: Reagan's Destabilisation Ploy". He wrote on "Wind of Change in Eastern Europe: Lessons for Africa and the Third World", in the Daily Sketch of April 10, 1990 , where he predicted the subsequent break-up of the then USSR .
At his leisure, Dr. Mimiko engages in writing and reading. Way back in 1971, the young Olusegun had won the John F. Kennedy Essay (School Level) award, underscoring his creative capabilities. Dr. Olusegun Mimiko, (appointed a Justice of Peace in 1993), is a lover of exquisite art works. He has won several awards in recognition of his excellent performance. Significantly, less than six months after he left office as Health Commissioner in 1993, the Ondo State chapter of the Nigerian Medical Association (NMA), his professional colleagues, conferred on Dr. Mimiko an Award of Meritorious Service. Some of the other awards he received at different times in the last five years include:
1) Gboluji (Anglican) Grammar School Excellent Career and Outstanding Contribution to National Development Award (Sept. 2002).
2) National Council of Yoruba Students Distinguished Odu'A Students Great Ambassador Award (Oct, 2001).
3) Nigerian Institute of Public Relations ( Ondo State Chapter) Distinguished Diamond Award, (1999/2000).
4) Nigerian Union of Journalists (Ondo State Chapter) NUJ Chairman's Award, (Dec. 2001).
Dr. Mimiko is a patron of many organisations, amongst which are the Obafemi Awolowo University Medical Students Association, and the Adeyemi College of Education, Ondo Students' Union. A widely-travelled man, Dr. Mimiko speaks Yoruba, English, and some smattering of French through the efforts of his wife Olukemi, a French Language graduate of Obafemi Awolowo University . Together, God has blessed their marriage with four children.
-------------------------------------------------------------