NOTES ON THE SECOND EDITION
Since I wrote the first edition of MKO Abiola: The Authorized Biography exactly five years this month, a lot of concatenations of events have occurred both in Nigeria and across the globe. But none of these events have altered the fundamentals that informed this pioneer work. Indeed, revelations from Nigeria and abroad have strengthened the political events of MKO Abiola's life presented in this book. What I have done in this new edition, the second impression, was to flesh some of the accounts of the early life of MKO and add copious information to authenticate some controversial areas of Abiola's life. However, two events occurred which changed forever the way information is now being processed and packaged across the world and book publishing too has been affected by these two phenomena: the births of the World Wide Web and the invention of the Internet by those two geniuses; Tim Berners-Lee and Robert Cailliau in 1990.
Karl Marx once said "History is shaped by the forces of the means of production." Well, if the German philosopher were alive today, he would be stupefied to learn that history is now being shaped by the forces of the means of news and information controlled by the new gizmos of our time: the World Wide Web and the Internet. The astounding rise of two pan-Nigerian news websites: Pointblanknews and Sahara Reporters based here in the United States poignantly illustrate this point. The patriotic men and women at these two Internet sites are revolutionizing the way Nigerians both at home and abroad receive information on daily basis. They are sending signals to the Old Media in Nigeria that they shape up, innovate or die. They are empowering millions of Nigerians both at home and abroad to know exactly what is truly happening in their country and very soon, as more Nigerians in the country have access to the Internet, these websites that have really given vent to serious communitarian journalism will be where Nigerians want to get the real news about their country.
Since 2003 when the first edition of this book came out, I hesitated to allow any Nigerian newspaper serialize any portion of the book. The reason is obvious: no Nigerian daily or weekly newspaper has the guts to serialize any portion of this provocative book because many of the names mentioned in the book are owners or co-owners of media outfits in Nigeria and many of them stand indicted by history because of the ignoble roles they played in some of the events recounted in this book. With the exception of just a few, most newspapers and magazines in Nigeria are owned by the same agents of retrogression that are messing up that country. The Nigerian dominant media are owned by few wealthy and mostly corrupt Nigerians who ensure that certain things do not reach the Nigerian public. I believe that those of us outside Nigeria would eventually be the catalysts that God would use to trigger series of events that would finally lead to the much-awaited change in Nigeria. That is why I am happy to be identified with these two Internet websites in the vanguard of changing the way information is processed and consumed by Nigerians.
As with all book serials, only certain portions of the book will be on the Internet and I wish my readers, whether online or hard copy to learn from the events that surrounded the death of Chief MKO Abiola and ponder seriously on the future of Nigeria nay Africa.
Thank you
Moshood Ademola Fayemiwo, BA, MA, MS, PhD (Candidate)
Chicago, IL, USA
September, 2008
CHAPTER ONE
"LET'S SEE IF THIS ONE WILL SURVIVE"
"From the very day a child is born into the world, the clock
of life begins to tick until the cock crows signaling the end of life"
--Yoruba Proverb
Abeokuta, the present day capital city of Ogun State, Western Nigeria is both an ancient town and historic city. Situated about seventy-eight kilometers Southern flank of commercial Lagos, it is one of the earliest towns to embrace commerce and western education in Nigeria. While most adjoining towns and cities were still slumped in fetish ignorance and underdevelopment, the city was already bustling with commercial activities and sophisticated urban elites. It has become a first-class cosmopolitan city compared with other towns in southwestern Nigeria of the nineteenth century, perhaps with the exception of Ibadan. It's proximity to both the Atlantic Ocean and the Ogun River coupled with the opening of the railroad from Lagos in 1899 ensured the city's early contact with European missionaries.
"Egbas" as inhabitants of Abeokuta literarily "people who take refuge under the rock" are called, just like other Yoruba-speaking stock of Nigeria traced their origin to Oduduwa, the father of the Yoruba race who migrated from the Middle East to Ile-Ife, the cradle of the Yoruba race. Founded by a peripatetic hunter called Sodeke, history recorded it that modern day Egba grew from the ashes of the disintegrated Oyo Empire of the nineteenth century. As the power of Basorun Gaha of Oyo Empire began to wane in the 19th century, a remnant of Alaafin's Ilaris or palace courtiers began to carve powers of influence for themselves. Sodeke was one of these potentates and led most of the Oyo chiefs from Oyo-Ile southward. On their way, they got into battle with an Ife prince and the prince was shot and killed by Lamodi, one of the generals on Sodeke's entourage The party, fearful of reprisal from Ife people continued their journey further southward. By the time Sodeke and his band of itinerant refugees departed Oyo via Ile-Ife to the present Abeokuta in 1830, a group of villages, clans and hamlets were at war and out of these warring parties Sodeke and his men conquered with the help of mighty rocks hence the name "Abeokuta" literally "under the shadow of the rock." Some of the earlier settlements of Sodeke and his men were near Ijaye town which was west of Olokemeji and the Ogun River and eastern part of Ijaye to Ibadan. When Sodeke died fourteen years after the soldiers arrived from Oyo, his second-in-command, Okukenu who was the head of the Ogboni Chief stepped into his shoes and adopted the title Sagbua in 1845. In order to create a lasting town and legitimize their authority on the conquered territories, the Alake or Paramount title like that of the Alaafin was instituted in 1854 and Okukenu was made the first Alake of Abeokuta.
Abeokuta was later subdivided into three townships in order to forestall the overbearing influence of a paramount king as it was in Oyo which led to the fall of the Oyo Empire. The three towns or quarters were Egba Agbeyin, Egba Oko-Ona and Egba Gbagura or Gbagura for short. The new leaders were intent in learning from the demise of old Oyo Empire and proceeded to appoint kings in the newly-created sub-divisions namely: Alake was to oversee administration of Egba Agbeyin, Oba Osile for Egba Oke-Ona and Oba Agura for Gbagura. These sub-divisions were followed with the creation of 153 villages such as Iporo, Ake, Igbore, Ijeun, Oko, Ikereku, Ikija and Odo in the Agbeyin and Oko-Ona respectively. Villages like Ilugun, Ojo, Agura and Ibadan were created in Gbagura Quarters. To maintain law and order, each of the quarters had their own Ogboni Confraternity Lodges. Indeed, the Ogboni Confraternity was very central to maintaining law and order in Yoruba land in those days but in Abeokuta they were given more powers than any other Yoruba town such that the Apena or Chief Ogboni could topple an Alake and install himself the head of the executive. Okukenu laid the foundation in 1854. The Iwarefa as the deputy to the Apena steps into the shoes of the Apena in the event of the latter becoming an Alake. It could be safely surmised that the Ogboni was the judicial arm of the town. Two other secret societies assisted the Ogboni in this task: Eluku and Oro. The military wing which protected the town from external aggression was led by the Balogun or army chief followed by the Seriki or deputy chief of staff and Sarumi, the cavalry commander.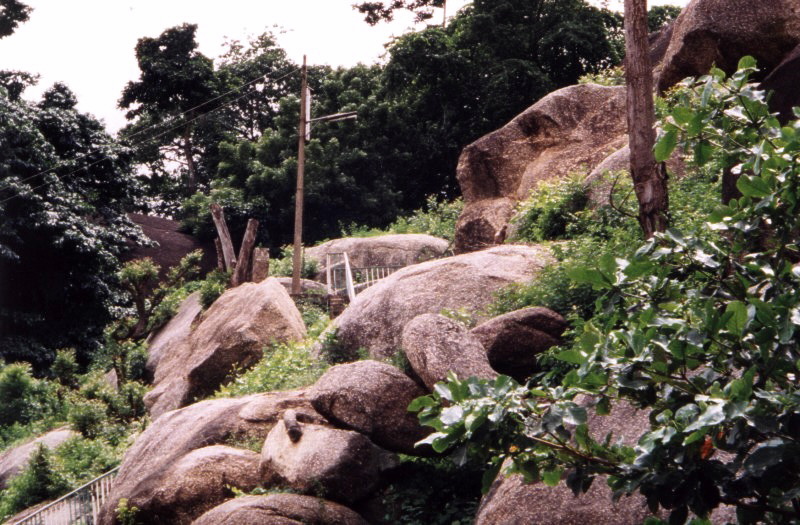 Pix 1: The Legendary Olumo Rock, Abeokuta
The arrival of Sodeke and his men coincided with the abolition of slavery and slave trade when some freed African slaves brought from Europe and the Americas to Liberia and Sierra Leone were able to trace their origins back to Abeokuta. Consequently, Abeokuta was later to become a melting-pot of aborigines and freed slaves known as Creoles who introduced new ways of life and international flavor to the ancient city. These new arrivals also brought new names of their erstwhile slave masters to the ancient town such as Lawson, Ransoms, Peters, Macaulay, Beecroft, Williams, Fernandez, Moore, Johnson and such foreign names notable Abeokuta indigenes are noted for. With the past and present inter-mingling, the freed slaves brought also foreign cultures from Europe, the Americas and the Caribbean. It is noteworthy that Abeokuta was the first city in Nigeria to institute a modern form of government in Nigeria after Lagos and perhaps Calabar and Port Harcourt in southeastern Nigeria. The Egba United Government (EUG) formed between 1863 and 1914 led to the promulgation of the town's first constitution and the town later wrote its own national anthem and finally adopted a national flag. It is the first town in the whole of Nigeria to have its own newspaper; "The Iwe Iroyin" first published in 1859 by a British clergyman; The Reverend Henry Townsend.
"Egbas" are renowned warriors; they are also "rebels." Abeokuta has been a hotbed of radicalism from its birth. Between 1851 and 1864, the Egbas routed out the Dahomeyans-present day residents of the Republic of Benin-whose novel battle warriors of women were known as Amazons was legendary. With its strategic importance as the link in the then lucrative oil palm trade between Lagos, Ibadan and Dahomey, King Gezo and his fearful Amazons had besieged Abeokuta to displace her but Gezo and his armies were soundly defeated by the Egba soldiers albeit with the assistance of European missionaries. Years later, the European missionaries too were later to taste the fury and rebellion of the Egbas when they were expelled from all Egba towns and villages during the Lagos rebellion of the 1860s. The Yoruba Wars of the 1880s also saw the Egbas fiercely opposed to the Ibadans with the British colonialists compelled to enter into an agreement with these fearsome, independently-opinionated and no-nonsense people. By the time Frederick Lugard took over as Governor-General of Northern and Southern Protectorates of present-day Nigeria, the British colonialists were to incur once again the wrath of these "people under the refuge of the rock" over the introduction of Indirect Rule System in the administration of Nigeria. Abeokuta was placed under Lagos Colony and the Southern Protectorate in the 1914 Amalgamation of Northern and Southern Protectorates to become what is known as Nigeria but when Frederick Lugard decided to make "Alake", the King of Abeokuta as the Paramount Ruler of all Egbas under his Indirect Rule System, Egbas became contumacious. They resisted the British and the Indirect Rule System ended in a fiasco forcing the British colonialists to retreat once again. By 1918 when the colonialists decided to introduce taxes, hell was let lose again in the whole of Egbaland. Even before the famous Aba Women Riot of 1929 which paralyzed socio-economic activities in Eastern Nigeria throughout Christmas in 1929 into the New Year in 1930 leading to the deaths of50 Ibo women protesting tax levies, especially income tax on women in Southeastern Nigeria, Egba Women Union under the leadership of Madam Adunbi had gone to war in 1918 to protest tax levies on Egba women. After the death of Adunbi, the legendary Funmilayo Ransome-Kuti took over the leadership of the Egba Women Union at the young age of 21 in 1921. Funmilayo, the granddaughter of a Sierra Leonean slave who had retuned to Abeokuta after the abolition of the obnoxious trans-Atlantic slave trade had her elementary education in Abeokuta. She later went to England for further studies before she returned to Nigeria as a teacher. While an elementary teacher in Abeokuta, she met Rev. Israel Oludotun Ransome-Kuti, then a teacher at Abeokuta Grammar School and both got married on January 5, 1925. Mrs. Ransome-Kuti was the mother of late Afro-beat King, Olufela Oluwasegun Oludotun Ransome-Kuti (popularly known as Fela Anikulapo-Kuti) and Dr. Beko Ransome-Kuti, two "rebels" in Nigeria who need no introductions. Madam Funmilayo Ransome-Kuti was the fiery leader of the Egba women who later orchestrated the abdication of Oba Samuel Ladapo Ademola III the Alake of Egbaland in 1949 by using women artisans and market women against the king.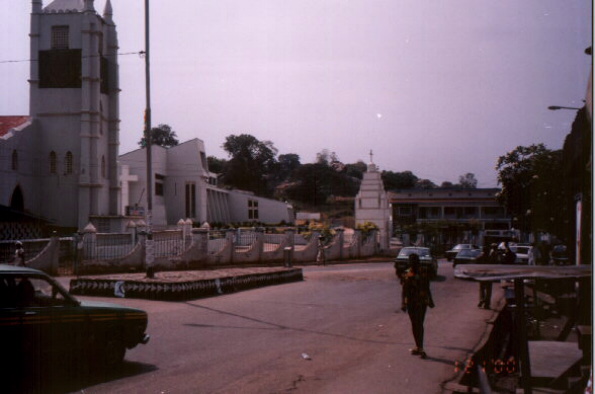 Pix 2: The popular St. Peter's Cathedral, Abeokuta. It's often referred to as the oldest church in Nigeria but there is another church in riverine Badagry in Lagos State where Christianity was first preached and possibly should be the oldest church in Nigeria.
The town of Abeokuta is primarily a municipality with other precincts maintaining their own semi-autonomy. Egbas are basically republicans and every town or precincts holds dear to its independence. There are the Owu sub-ethnic stocks from where Olusegun Obasanjo came from; the people of Gbagura ethnic stocks of Ibarra people; the Imalas, the Oke-Onas and several others. All these sub-ethnic groups are all from the ancient city of Abeokuta and are all referred to as the Egbas. The pedigree of Moshood Kasimawo Olawale Abiola came from the Gbagura sub-ethnic Egba and belonged to the Agbon warriors of Gbagura who lived in the outer boundaries of Abeokuta.
One of the legacies of the returning African slaves from the Americas, Liberia, Sierra Leone and other parts of the world to Abeokuta was Christianity. Christianity was introduced to Abeokuta on January 3, 1843 by the returning African slaves. One of the most important freed African slaves was the legendary Bishop Samuel Ajayi Crowther (1809-1891). Born in the village of Osogun near Iseyin in Western Nigeria, Ajayi was captured by itinerant slave dealers and sold to the British at the age of 12. He was first transported to Sierra Leone and later ferried to England. After the abolition of slavery, Ajayi became a Christian and was ordained a Bishop by the Church of England. When Rev. Henry Townsend was planning to come to Southern Nigeria for missionary activities, he had no better company at his side than this freed slave. Both arrived in Abeokuta in 1843 and established the first church in the historic city. Bishop Crowther, who was conferred with the Honorary Doctorate Degree in Divinity by Oxford University later translated the Holy Bible into Yoruba, Nupe, and other local Languages in Nigeria. He was also instrumental in the translation of Anglican Book of Common Prayer. He teamed up with his benefactor, Henry Townsend to establish the first Nigerian newspaper, "Yoruba Iroyin" or "Yoruba News" in Abeokuta.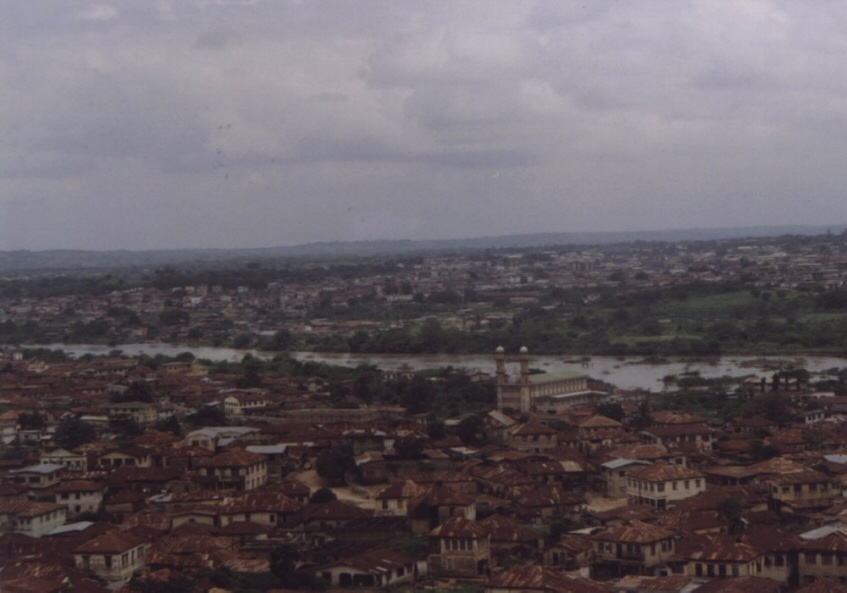 Pix 3: A Panoramic View of Abeokuta Township
The birth of Moshood Kasimawo Olawale Abiola came about this way. In 1886 during the reign of Oba Oluwaji as the Alake of Egbaland(1885-1889), one of the soldiers who came from Oyo Empire with Sodeke to conquer what eventually became Abeokuta consorted with one of the women the invading refugees subdued and a baby boy was born out of that relationship. This soldier who had earlier converted to Islam while in Oyo Kingdom gave the name Alao Salaudeen to the new baby boy. The soldier; Adenekan Abiola had difficulty in the course of time in repairing his house at the Adatan area of Abeokuta as a result of the internecine wars of the Yorubas in the 1880s when most Egba towns and villages were ransacked and destroyed by the invading Ibadan soldiers.. Pa Adenekan Abiola had to approach a wealthy man in Abeokuta to obtain a loan to effect the needed repairs to his dilapidated house but he had no collateral to give to the money-lender as surety for the loan but in those days, the Yorubas had a tradition known as Iwofa. Iwofa resembles our modern day "collateral" or surety that one gives as security to secure a loan from a money-lender or creditor. Since Pa Abiola had no tangible material collateral, he entered into an agreement with the wealthy money-lender that in case he was not able to repay the loan, the wealthy man should marry his daughter, Salaudeen's junior sister when she reached puberty. Iwofa culture, as a practice was very popular in pre-modern era throughout Yoruba land. Women put under Iwofa arrangement had no future since they were at the mercy of the money-lenders and creditors used as collaterals or sureties for loans. Even when families who were compelled to enter into such obnoxious arrangements out of desperation eventually overcame their financial hardships and difficulties, their money-lenders and creditors could still insist on carrying out the terms of the traditional contract by opting for the women instead of taking back their loans. This age-old tradition resembles the way of Shakespearean Shylock in Merchant of Venice. Many women had been forced to abandon their homes and even rum away from their lands of birth to completely new towns just to escape from these money-lenders and loan sharks. Odium had been brought on many homes because of runaway "Iwofas" In most cases, these were innocent women who never knew their futures had been mortgaged by their parents only to grow up and discover that they were "Iwofas." That was why some of them ran away. Because of the chauvinistic nature of ancient Yoruba cultures, Iwofas were mostly women.
Between 1915 and 1918 when Pa Adenekan Abiola had passed to the great beyond, the money-lender showed up. By this time, the little Abiola daughter had grown to maturity ready to be "redeemed" by the money-lender but the lady refused to be "sold" to the shylock. Her elder brother and the family could not convince her to fulfill the agreement already entered into by their deceased father. The lady, as most Iwofas were known to react in those days simply left town and nobody knew her whereabouts. When the money-lender discovered he had been outwitted by the Abiolas, he seized the house that his loan was used to repair. Most, if not all of Yoruba families were (and are) still closely-knitted. The Abiola neighbors too were financially-handicapped to offer succor so the family house of the Abiolas would not be seized. The younger Abiola found it difficult to put up with the opprobrium of seeing his deceased father's house seized and confiscated by the money lender and was incapable of doing anything about it. In Yoruba land, it was a shame in those days for one to rent a house in the same town one was born, more so when one's father's house was seized for debt. Such a person or family would become the butt of jokes, scorn and gossip all over town. Consequently, in the wee hours of one of those days of Adunbi war-the struggle of Egba Women Union against imposition of income tax by British colonialists on women-Alao Salaudeen at the age of thirty-two quietly slipped out of town with his wife in order to save himself and his family from the embarrassment and ridicule of seeing his father's house seized for non-repayment of loans. According to Moshood Abiola himself who was to be born thirty-four years later after the ugly episode, his father headed to the sleepy town of Ikire in present day Osun State, southwestern Nigeria to start life afresh.
Ikire is a small town between Ibadan and Ile-Ife in the present-day Oyo and Osun States in Western Nigeria. The main occupation of the people of Ikire, as other Yorubas of those days was farming. Some engaged in the cultivation of food crops such as yams, corn, cotton, cassava, maize and palm-oil while others were fully engaged in cocoa production. Pa Salaudeen plunged into the latter becoming a produce buyer in the process. He had got married late as a result of the financial situation of the family but had befriended a young lady in the Adatan area back in Abeokuta. The young lady; Wuraola Abeni had lovingly and graciously agreed to follow him to Ikire. The woman even though did not receive a dowry from the indigent Alao had also decided to convert into the Islamic faith to demonstrate her love for the poor Salaudeen. She later adopted the Islamic name of Zukifiliat as a converted Muslim. At Ikire, Pa Salaudeen Adenekan Abiola fortunes began to grow. He managed to conquer poverty and lived a prosperous life within the standard of those days but he had a problem of fathering kids.
The Yorubas and the Ibo ethnic stock of Eastern Nigeria have these mythological beliefs in destiny, predestination and the afterlife or hereafter. They also believe in children born repeatedly at different lifecycles by the same parents. These children are given birth to numerous times and after spending few years on earth, they die only to come back to life again to the same parents. The Yorubas call such children; "Abiku" while they are known as "Ogbanje" to the Ibos. These cultural beliefs of both Yorubas and Ibos have featured in some of the literary works of prominent Yoruba writers like Wole Soyinka, Africa's first and only Nobel Laureate in Literature and Ibo writers like Chinua Achebe, Africa's foremost wordsmith and Flora Nwapa and several others. Before the advent of Western education and the coming of European missionaries, "Abiku" and Ogbanje" were considered abnormal children sent to families as punishments from the gods. These children were often demon-possessed with weird or extraordinary behaviors and mannerisms. If a mother gave birth to three or more children who died young in quick succession, people's belief among Yoruba and Ibos of sub-Saharan Africa was "Abiku" and "Ogbanje" spirits are at work. Even in modern time, these beliefs still persist today.
This was the situation Pa Alao Salaudeen Adenekan Abiola found himself in Ikire where he had relocated after the Abiola family's unfortunate slur in Abeokuta. He was now a community leader and an Islamic cleric, his modest house and cocoa processing shop at Ikire were fast becoming meeting place for both locals and visitors. But with all his modest prosperity, he had no child of his own. While in Abeokuta, his wife Wuraola Abeni had given birth twice, both had died at infancy. The couple did not make much deal about these two deaths ascribing these deaths to the traumas the family was going through in the hands of the moneylender and other financial problems. By the time they set out from Abeokuta to Ikire, Wuraola took in again, unfortunately the baby died again the first year the couple arrived at Ikire. As a Moslem, Pa Salaudeen's religion permits him to marry more than one wife so on getting to Ikire, he acquired his second wife. Trying to unravel the mystery behind the loss of his children from his wife, Abeni; he convinced himself that a second wife would break the Gordian knot. Not really. The second wife lost two children in quick succession too as Madam Abeni prompting Pa Salaudeen to seek spiritual help.
In those days, ignorance reigned in the land, superstitious beliefs permeated the fabric of the society; diseases and poverty abound. Every misfortune was ascribed to spiritual forces and seeking answers to life's mysteries and misfortunes took people to spiritual agents. Again, the beliefs of Yorubas and Ibos coalesced when it concerns the Great Eternal Alone. While both cultures believed in the Supreme Being Whom the Yorubas call Oluwa- Olorun Olodumare, and the Ibos refer to as Chineke, both cultures see The Great Supreme Being as too Awesome, Big and too detached to approach except through lesser gods and goddesses who act as intermediaries between the esoteric and the natural. On the other hand, these lesser gods and goddesses do not live among mere mortals instead pass God Almighty's messages through human messengers. In Yoruba Land, these human harbingers of the gods and goddesses are known as Babalawo while Ibos refer to them as Dibias. In spite of missionary activities in those days to convert African natives to Christianity and the activities of itinerant Arabs to convert those in Northern Nigeria to Islam, Africans' beliefs in these godly messengers was primordial. The African converts would go to church to worship the Judeo-Christian Jehovah God on Sunday and those who have converted to Islam would go to mosques to worship Allah on Friday but would also seek spiritual guidance from these Babalawos and Dibias. There was an undeniable belief in the powers of these gods and goddesses in the affairs of human beings. "Ifa" for instance, was the Yoruba god of divinity whose powers extend to predestination and destiny. To the Yoruba people of Western Nigeria, West Africa, whatever happens to men and women in life have already been ordained by the gods and goddesses. "Kadara or "Ayanmo" are two predestination beliefs of the Yorubas. And who could better explain to us our Kadara or Ayanmo than these human godly amanuenses: Babalawos? To one of these "Ifa" priests Pa Salaudeen headed to in Ikire to find out what the gods and goddesses had for him.
Ifa priests were famous men and women in those days throughout Yoruba land. They were highly revered and people show courtesy to them for their wisdom and spiritual prowess. No one became an Ifa priest by choice but must be chosen by the gods and goddesses. As spiritual guidance for the people, they were regarded as seers, the go-betweens between human beings and the gods/goddesses. The instrument of their trade were stringed cowry beads known as "opele" and with it, they could see into the future and unravel mysteries. Every village, town, city, street corners in Yoruba land had them in those days. Even in today's modern times, they are still available although they have been modernized now as spiritual companies which advertise in newspapers, radio and television.
Pa Alao Salaudeen Abiola was warmly received as he entered the house of one of the Ifa priests who coincidentally was also a friend. Greetings over, the Ifa priest brought out his Opele and began his incantations and at times songs usually mumbo-jumbos understood by the priests and the initiates. This took few minutes before the message came: an Abiku spirit had entered into Pa Salaudeen's family. It was not surprising to the cocoa produce buyer for he had suspected and thought of that all along. So what to do?
"You must return to the land of your birth," so the Ifa priest said.
"How can I return to the town I've sworn never to go to again?" Pa Salaudeen replied. "Why can't I have children in this land where I've been blessed and have now thrived?"
Well, the Ifa priest told him as long as he remained in Ikire, he would continue to prosper materially but no child born in his house would live beyond one year old.
"This is what Ifa said," the Ifa priest reiterated. "I cannot tell you what Ifa has not said, this is the message from Obaluwaye" Obaluwaye is another name for Yoruba God of heaven and the universe.
The price of Ifa divination was paid which often consisted of live chicken and some reasonable sum of money. Then Pa Salaudeen left for home. On his way, he began to turn over in his mind what the Ifa priest had just said. He was very displeased with the priest's disclosure. He made up his mind never to enter Abeokuta again. Where would he stay if he retuned to his land of birth, he asked himself? Although he had begun to make it in Ikire but did not have enough money to repurchase his father's property back from the money lender way back in Abeokuta. Granted he had the wherewithal to re-purchase the property back, there was no guarantee that the shylock man would be willing to let go except at a higher price. The money lender may even have died and his relatives would have taken over the house so the chances of reclaiming the property back were altogether a mirage. Assuming he was willing to return to Abeokuta in deference to the voice of Ifa, he would have to build his own house because of his large family. If he went back to Abeokuta, how would he be able to withstand his neighbors' taunts, boos, jeers and gossips? He made up his mind to tarry in Ikire, perhaps the Ifa priest didn't see clearly or somehow, the gods and goddesses would change their minds after a while. In fact, he would acquire more wives since all the women could possibly not be suffering from the demonic spirit of Abiku. Again, Pa Salaudeen acquired his third wife in Ikire that month. Since the first two wives desperately wanted their own children, they too became pregnant at the same time as the third wife. Lamentably, the wives delivered safely but none of the kids lived beyond their first birthdays. By this time, Pa Salaudeen had been convinced the "Abiku" curse was definitely on him not on any of his wives. He was the one to do what the Ifa priest said so he decided to return to Abeokuta.
In 1928, ten years after Pa Alao Adenekan Salaudeen Abiola left Abeokuta for Ikire, he decided to come back to his ancestral home. His seized father's house had now been taken over by members of the extended family of the moneylender so he went to live with his in-laws until his own was completed. He had brought substantial sum of money from Ikire so he resumed his cocoa processing business in the small house of his in-law until his own house was completed. He acquired more wives on returning to Abeokuta in line with his religion of Islam. When his newly-married wives in Abeokuta became pregnant, he was elated but when their own children died under one year, the old man began to doubt what the Ifa priest had told him back in Ikire. Now he began to blame himself for leaving his lucrative cocoa processing business in Ikire for Abeokuta. Meanwhile, news had spread all over Abeokuta about the plight of the old man. His first wife, Wuraola Abeni could not hide all that had befallen her at Ikire from her family members so in late 1936 when she took in, she decided to do "something" about it. Abeokuta was her birth place, she must seek spiritual help. This time, she would not go to an "Ifa" priest instead she would go to an Islamic cleric, a "mullah" to enquire about the fate of her pregnancy.
To her surprise, Mama Wuraola Abeni was greeted with good news. "Mama would give birth to a child, a baby boy to be exact" the mullah predicted. The boy would live to adulthood unlike previous ones and his birth would put a stop to the demonic spirit of Abiku in the family and also pave the way for other children to survive in the Abiola clan. Moreover, the child would be great, famous, rich, popular, and renowned and his light would endure. It appeared that Mama Abeni was dreaming as she listened to the mullah. On her way back home, she began to ruminate on the eventual fulfillment of the revelation of the Islamic cleric. Pa Salaudeen Adenekan Abiola was already waiting for his eldest wife Abeni to disclose the news she had from the mullah. The old man listened patiently as his oldest and eldest wife narrated the whole story and prediction to him. After she finished, he heaved a deep sigh of relief mingled with doubts and disbelief.
"Is that all?" the old man asked disinterestedly
"Yes," his wife replied rather weakly.
"Well, let's see," he replied rather unconvinced
On a rainy day in the summer of August 24, 1937, a bouncing baby boy was delivered in the family compound of .Pa Alao Salaudeen Adenekan Abiola and Mama Wuraola Abeni Zukifiliat Abiola in the Adatan area of Abeokuta, Western Nigeria. The birth of a new child should normally bring joy to any family, but unfortunately this was not the case with the Abiolas. What should ordinarily elicit joy both from them and their neighbors was obscured by the quick reverses the Abiolas had suffered both in Ikire and Abeokuta in the area of childbirth. None of the Abiolas was happy not the least Pa Adenekan and his wife, Wuraola. The fear that this new child would end up like the previous ones was responsible. How many children had come and gone? What assurances that this new one would survive? How many naming ceremonies had neighbors celebrated with them and how many of the babies had lived beyond their first birthdays? Nevertheless, the old man grudgingly assembled his co-Islamic clerics in his living room on August 31, 1937 to the child's christening on the seventh day in accordance with Islamic tradition.
Mama Wuraola, buoyed up by the prediction she received from the Islamic "mullah" she had earlier visited gave the name "Olawale" meaning "prosperity has returned" to the new child in keeping faith with the prediction. Her husband, assisted by the chief Imam or priest of his mosque who was officiating at the "Sunna " naming ceremony opened the Qura'an and picked a prophetic name for his new baby boy. The name "Al-Masssoud" meaning "Allah's wisdom, the enlightened one," other renditions of the name are: "El-Massud," "Moshood," "Mashud," "Mooshood" etc. However, to Pa Alao Salaudeen Abiola, the fear that the tragedy of the past still gnawed at his heart could be felt by those present at the naming ceremony on that day so to gave vent to both his own fear and the cynicism of those present, especially his neighbors, he then informed the mullahs presiding over the ceremony this middle name for his new baby boy: "Kasimawo" meaning "Let's see if this will survive." Pity mixed with empathy quickly went out to the Abiola family from those present on that day. Even the other wives of Pa Salaudeen all waited with eagerness to see what would become of this new baby after twelve months. If this baby could survive, then they too had hopes. Thus, this new baby boy was named Moshood Kasimawo Olawale Abiola. When the boy eventually survived and grew to adulthood, he preferred to be called MKO. A white ram was slaughtered for the christening ceremony in accordance with Islamic tradition, a practice the Moslems traced to the Mosaic Law as recorded in the Holy Bible, Leviticus 12:1-7. Thereafter, all the guests departed to their various homes to wait anxiously for the usual news of bereavement the Abiolas suffered when their babies reached their first birthday. But true to the mullah's prediction, MKO survived. Profilers of MKO Abiola's history have always referred to him as the 23rd child of his parents who survived after the deaths of 22 earlier ones. Even MKO himself had not discountenanced this report but this is not correct. All we know was that several children were born into Pa Salaudeen Adenekan Abiola's home; MKO's mother gave birth to four dead children before MKO became the fifth who survived. MKO also have other younger brothers of the same father and mother with numerous half-brothers and half-sisters, from his father's other wives; his stepmothers.
The Americas was smarting from The Great Depression of the 1930s when MKO Abiola was born. Josef Stalin had succeeded Lenin as the leader of Communist Russia. In Europe, the Nazis had taken over Germany and Adolf Hitler had sent fears into the world community with his rabid Aryan nationalism. The world was short of twenty-four months away from the Second World War in 1937 when MKO Abiola was born. In Nigeria, nationalist agitations and politics were sweeping the length and breadth of the country. The Nigerian Youth Movement under Dr. Herbert Macaulay, the doyen of Nigerian nationalism was at the apogee of his popularity while the Zikist Movement was the darling of Nigerian youths with their radical ideas; Imam Dauda, Mokwugo Okoye, Tunji Otegbeye, TOS Benson, Adeniran Ogunsanya and the rest were the "enfant terrible" of those days.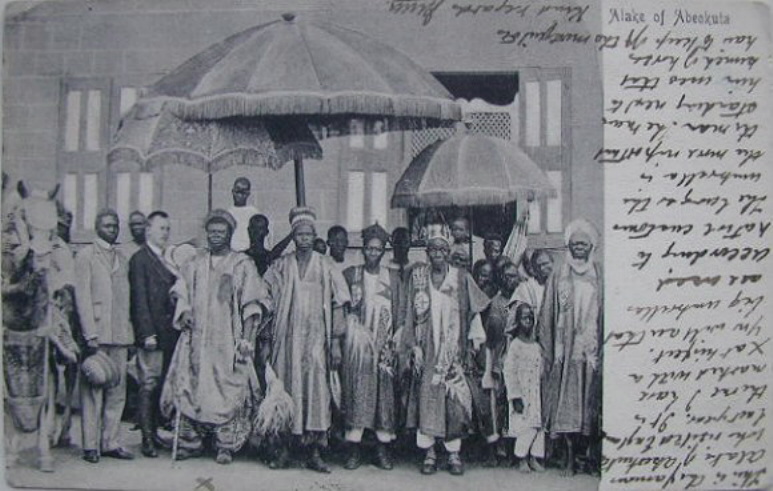 Pix 4 Oba Gbadebo I, Alake of Abeokuta (1892-1920 fifth from left) with his Chiefs and British colonial administrator. Picture taken in 1905
In Abeokuta, Oba Samuel Ladapo Ademola II (who was eventually knighted as KBE by the Queen of England) was in the saddle as the Alake of Egbaland. In Gbagura Quarters of Abeokuta where Abiola's people descended, Abolade was the Agura or Paramount Chief or Oba. Among Abiola's contemporaries born at this period were Wole Soyinka (1934), Olusegun Obasanjo (1935?), Fela Ransome-Kuti (1938) and numerous others whose paths were later to cross in life. Moshood was about seven years old when the legendary Madam Funmilayo Ransome-Kuti founded Abeokuta Women Union in 1930 as the apex body of female voice in Western Nigeria. This woman organization was the precursor of the National Council of Women Society. Chief Obafemi Awolowo's political career was still at inchoative stage at this stage when he was then studying for his Law degree at the University of London. The Great Zik of Africa was the political force in Southern Nigeria and the Cameroon. His papers; "The West African Pilot" was the vanguard for nationalist agitation at this period. The Great Zik as he was called by his teeming admirers had returned from the USA full of fervor and radical ideas, first as a journalist in former Gold Coast (now Ghana) and later Southern Nigeria and Cameroon. The Itoku Market in Central Abeokuta had just been ordered demolished by the colonialists two years earlier because it was becoming the hotbed of radical meetings by Abeokuta Women Union of Adunbi and later under the leadership of the legendary Funmilayo Ransome-Kuti. The British colonialists were incensed that the famous market was the meeting place for the radical women and were hell-bent in dispersing the women hence the order to demolish the market. Sir Henry Bernard Bourdillon was the then Governor-General of Nigeria.
This was the world, the Nigeria and the Abeokuta Moshood Kasimawo Olawale Abiola was born into. Things were tough in those days, illiteracy, diseases and poverty were rife, infant mortality and ignorance reigned while it was difficult for many to eke out a living. The British Colonialists were firmly in charge.
Mama Wuraola was an illiterate petty trader who made a living from the little food crops she could take to the market to sell after buying them from the wives of her husband's numerous farmers who sold their cocoa at the cocoa processing shop. Since Pa Alao Saludeen had other wives, the little profit he made from his cocoa processing business was shared among his family. As could be expected, all eyes were on little Moshood to see if he would make it. Family records have it that the day MKO marked his first birthday, his father called another gathering of Islamic mullahs for special prayer and another ram was slaughtered. Gradually, MKO Abiola broke the jinx of "Abiku" in his family. Not only did he live, he also paved the way for other children later sired by his parents and stepmothers.
MKO grew up in a culture where the only way to success and greatness was the acquisition of Western education. As a result of British Colonialism, most Nigerian striplings believed and rightly so that they must learn the "white man's" language; that is English Language in order to dialogue with the Colonialists and one day succeeded in wrestling political power from them. To their credit, the British colonizers ensured Nigerian youths had access to Western education ably promoted by Christian missionaries. First, the colonizers calculated it would be administratively cheaper to use few educated locals to man the colonial administrative offices in Nigeria than hire British nationals from home to work in Nigeria. Many of them were wary anyway of coming to sub-Saharan Africa because of the menace of malaria then which earned Black Africa the notorious sobriquet: "the white man' grave." Also, the Christian missionaries who accompanied political administrators from Britain to Nigeria knew their proselytizing efforts would be much easier when the natives could read and write. The Holy Bible could only be understood by the natives when they embraced formal education. Some of the earliest schools in Nigeria were built by Christian missionaries ably aided of course, by the political colonialists. Albeit, Islamic and Moslem missionaries also contributed to formal education but they emphasized Arabic teaching more than their Western counterparts and Western education especially in the Northern part of Nigeria where the Arabs first settled.
The tasks of Christian missionaries were easier in Southern Nigeria because of the republican nature of the inhabitants coupled with the region's proximity to the sea and early contact with the British. Northern Nigeria, on the other hand was a barren desert far from the Atlantic Ocean which opened the opportunity first to Arab Moslems who commenced their missionary activities first before the British. The latter encountered a lot of difficulties in spreading the Good News of salvation through Our Lord Jesus Christ partly because of this and also because of the feudalistic culture prevalent in that part of Nigeria even till today. Although the British Colonial Administrator, Frederick Lugard had annexed both the South and North into an Amalgamated territory in 1914 to become what is today Nigeria. Nigeria was then divided into three regional governments, put in place more for administrative and political conveniences of the colonialists rather than cultural affinity or linguistic ties of the inhabitants. The Northern Regional Government with administrative head in Kaduna, the Western Regional Government in Ibadan and the Eastern Government and the Southern Cameroon with administrative head in Enugu. The seat of the Federal Government where the British Colonizers held court was Victoria Island and Ikoyi in commercial Lagos.
As MKO began to grow, he discovered his parents weren't financially well-off and poverty was rife in their neighborhood. A typical day began at five in the morning when he had to wake up to the muezzin's call for early morning prayer in a nearby mosque where he accompanied his old father to worship. Pa Alao Salaudeen Adenekan was quite advanced in age when he had his first child/son, Moshood in 1937; when Moshood was born that year, the old man was fifty-one years old. As a religious leader, Pa Alao never missed his five times daily prayer to Allah as a devout Muslim and this tradition he promised to inculcate into little Moshood very early in life. It was the duty of the little lad to fetch water for the old man to perform ablution for the early morning prayer; "Zuhri." Thereafter, he had to join his father at the cocoa processing shop till late in the evening when the shop had to close to customers. At times, the little lad would accompany his aged mother to the market in central Abeokuta.
In December, 1943 at the height of the Second World War, Pa Salaudeen Abiola took little Moshood to Nawalrudeen Elementary Primary School, Abeokuta to be enrolled. A child could only be admitted into kindergarten in those days if he or she could touch his or her ears across the head and that would also assist the teachers to determine the exact age of such a child since most parents in those days were illiterates who did not know how to record the birth dates of their children. Some kids later grew up to be told that they were born so and so time during some memorable or landmark events which enable such children to guess their birthdates. Moshood was about six years old and was able to touch his ears across his head and his name was written down for the following academic yaer commencing in January 1944. Academic years were timed to make room for planting season for the farmers in the summer season thus school year began in January and terminated in September while pupils would be on holidays for three months (October to December) to assist their parents and guardians in the farms. Little Moshood began his journey to Western education as a kindergarten at the Islamic school in January 1944.
Nawalrudeen Elementary Primary School, Abeokuta was around the scorner to the Abiola family compound so it was easy for the lad to commute to and from school on foot like other kids of his age. At times, the old man could afford to provide a penny for a week while in most times when the old man was hard up, Moshood would have to make do with some food at home which he would conceal in his two pockets to serve as lunch at school. The family was so poor it could not afford a lunch bag for the lad, even then only children from very wealthy and affluent homes used lunch bags in those days and they were very few. Moshood himself once joked that he would put "gari" or dried cassava in his pockets with dried or smoked groundnuts which he would "soak" with water as lunch in school in those days. School uniform was thick mud khaki which could withstand dirt and the rigors of life in school. He only had that one pair to last him for whole nine months like other kids in his age from indigent homes. When school was over at 2.00 in the afternoon, little Moshood had to return home to attend to household chores with his brothers and half sisters and by 3.00 in the afternoon, he had to head for the daily evening Qura'anic teaching organized by the eldest son of the Chief Imam or Priest of the mosque where his father used to worship in the neighborhood. Here, Muslim kids were taught how to read and memorize the Qura'an usually by rote. The book was written in the Arabic Language and it was a laborious and painstaking task. It was very difficult for the young kids and the mullahs administering instruction often used floggings and whippings on the poor kids. Many lads who could not put up with such floggings, whippings and high-handedness of the teachers had been forced to abandon their homes altogether when their parents insisted they must stay at the Qura'anic schools. Some wise kids would leave home pretending they were heading for the schools only to go somewhere else to enjoy themselves all in their bid to evade the cruel punishments of the Islamic teachers. But Moshood was among those few kids who distinguished themselves in the Qura'anic schools that at the age of thirteen, he could read the Qura'an by rote from cover to cover. It was a feat only few kids could attain and the day he graduated, his father managed to slaughter a ram to celebrate his "Wolimat" or graduation ceremony. From the day Moshood began to notice things and be intelligent enough to tear apart right from wrong, his father never failed to tell him the prophecy about his birth given by the Islamic mullah his mother visited while carrying his pregnancy. Consequently, when Moshood grew up and conquered poverty, he resolved to devote all his resources to the propagation of Islam no mater what.
The poverty-stricken ambience of those days compelled most youths to work at early age to supplement their family incomes. Kids as young as eighth to ten years old had to device some means to augment their meager family resources their parents provided which could not cater to all members of the typical African extended family system. Little Moshood joined his peers in the neighborhood to chip in his own quota to the family meager purse. In the 1850s, a group of Creoles introduced cotton weaving and dyeing into Abeokuta using locally grown indigo. These traditional crafts required the use of specialized plants thus MKO and his peers used to go into the forests to provide these fire woods. They would also source for strings and threads usually in high demand by the manufacturers of mats at the Abeokuta Central Market. Wages in those days could be two days free lunch or paid for with modest grocery and food stuffs that would last three to four days. Moshood and some of his classmates at the Qura'anic schools took this as their job mostly weekends between Friday evening when they would be off immediately after "Juma'at" or Friday Prayer Service till Sunday evening when they had to begin preparations for school the following Monday. As Muslims, they had nothing to do on Sundays.
Moshood was a very brilliant pupil according to his old classmates who knew him al Nawalrudeen Elementary Primary School, Abeokuta between 1944 and 1950. Although he was not on top of his class, he was always in the first unit. Those who knew him described him as a very stubborn and rascally lad. He also had fits of anger because of his stuttering and each time he stammered, his colleagues would begin to taunt him, then the little lad would raise hell and bedlam would ensue.
"Hey, spell shogolongo bangoshe Moshood!" A colleague would shout while on line at the school assembly in the afternoon as they children were about to dismiss for the day.
Another rascally kid would hector at the end of the other line and before long; the stammering would become the butt of jeers and taunts from the rest kids. While some would be mimicking him, others would pull his right or left ears. Of course, Moshood had exceptionally large ears which earned him the nickname: "ehoro kekere" or little rabbit.
In his formative years, Moshood grew up like any normal boy of his age ready to take on any person of his age who dared to cross his path. He was also popular in the neighborhood especially among those elderly people who knew the antecedents of his birth. To these elderly people, they would not call him his real name instead they called him "Omo Baba" or literally "Papa's son." Of course, it fitted him off- pat since he was to his father at his old age. When Papa's son later became a billionaire, he extended his hands of generosity to these neighbors. Later in life while marking his 50th birthday in Abeokuta in 1987, Moshood Kasimawo Olawale Abiola volunteered to renovate and repaint all the houses in the entire neighborhood-about 100 of such houses-where he grew up. The house which the money lender seized from his grandfather was one of such houses which MKO was able to buy back by paying mouth-watering amounts thereby cleaning his family's name from disgrace for ever.
One incident that Moshood himself once recalled happened in the neighborhood. As kids love to play football or soccer as it is called, it happened that Moshood and his buddies were playing one day in the street adjacent to his father's family compound. The rounded leather was a very expensive toy to buy in those days and few kids could afford to own one. Any kid who owned football leather was always courted by the rest boys in the neighborhood so you would not be barred from playing with him. There was a boy who owned one and volunteered to produce it for all the kids in the neighborhood to enjoy. As the kids were having fun, suddenly one of the boys mistakenly fired a shot and it went directly into a room nearby. Now, this was no ordinary room. The occupant of that room was a no-nonsense man who feared no one and had the reputation of whipping any erring kid who would be audacious to move near his room not to talk of playing the rounded leather right into his territory. The man was notorious with whipping kids' right in their parents presence be it Papa's son or any for that matter. So when the only football the kids were having fun entered this lair, the boys concluded the game was over. All the .boys began to blame the particular boy who fired the shot. Now who among the boys had the effrontery to go inside that lair to beard the lion in his den and retrieve the football? The boys were speechless and were in quandary on what to do yet that was the only football they had. As the boys were discussing on what to do, suddenly Moshood volunteered to go inside the lion's den and retrieve the trapped ball. He headed for the room while the other boys waited with baited breath. After what appeared like an eternity, Moshood appeared with the football in his hand not with a swollen eye or weeping but with a smile. His colleagues burst into jubilation.
"How did you do it?" They asked in unison.
Moshood just smiled and the game continued.
In 1915, Moshood had to leave his parents to an aunt's place after the latter paid a visit and prevailed on Pa Alao Salaudeen to allow the little boy stay with her for a while. After much persuasions coupled with the incessant fights Moshood was always getting into, the old man grudgingly allowed Moshood to leave home for the first time. Although the aunt also lived in Abeokuta but it was a different precinct far from Nawaruldeen School. Consequently, Moshood at the age of 13+ had to transfer to African Central Elementary School, Abeokuta in 1951 where he finally obtained his First School Leaving Certificate.
There were fears in the hearts of Pa Salaudeen Abiola and Mama Abeni Abiola as Moshood geared up for post-primary education in early 1951. In Abeokuta at that time, virtually all post-primary institutions were owned or run by Christian missionaries thus the fear that the little boy would be converted from Islam to Christianity weighed heavily on their hearts. Besides, only those from moderately rich homes could manage to proceed from elementary schools to acquire the best Islamic education under the tutorship of the best mullahs in town but political events were changing rapidly in both Western Nigeria and the African Continent that acquiring Western education was the "in thing." Every parent in Yoruba land knew Western education was the key to the good things of life and every child's future depended on it. There was a popular song among kids in those days commonly sang by little Moshood:
"Bata mi a ro koko ka"? (2ce)
"Tinba kawe mi, Bata mi a ro koko ka"
"Moshudi kawe re."
Chorus: "Bata mi a ro koko ka."
"Jibola kawe re."
Chorus: "Bata mi a ro koko ka."
"Bata re a wo serere nile" (2ce)
"Ti nba kawe mi."
Chorus: "Bata re a wo serere nile."
Translation: You'll wear psychedelic shoes
If you're well educated and studious
Your shoes will be psychedelic
Moshood be studious.
Chorus: Your shoes will not be psychedelic
Jibola study well
Your shoes will be flat (2ce)
If you are not educated or an illiterate
Consequently, Pa Salaudeen Abiola and his first wife, Mama Abeni had to grudgingly support little Moshood to pursue western education. Albeit, they made sure he still had the time for Islamic studies. In 1951 at the age of 14, Moshood was admitted into Baptist Boys High School, Abeokuta.
Founded in 1923 by a European educationist cum missionary, the Right Reverend S.G. Pinnock, Baptist Boys High School, Abeokuta or BBHS for short as alumni used to call it; it was one of the best schools in Abeokuta. Like other Britons of his generation, Pinnock arrived at sub-Saharan Africa in the late nineteenth century. His first place of call was the towering Oyo Empire which later lost its glory and power during the internecine Yoruba Wars and the invading white colonialists. Pinnock had initially planned to establish BBHS in Oyo town but had disagreed with the then reigning Alaafin of Oyo, Oba Lawani Agogoaja. In 1907, Oba Agogoaja had written a letter to the colonial administrator in charge of Oyo Division requesting for clear definition on the powers of the Alaafin after the arrival of the colonialists and the conquest of the Oyo Empire. Among some of the powers the Alaafin used to exercise over his domain at the height of his apogee was allocation of lands anywhere in the empire. But now the power dynamics constrained the Alaafin to exercise such powers anymore. The Alaafin was granted concessions to control some residual powers over land allocations so when Reverend Pinnock asked for land to build his school in 1909, the land the Alaafin granted him was not only small but it was not the desired area that the missionary requested for from the Alaafin. It was on this question of a choice site for the future BBHS that made the missionary to clash with the Oyo Oba or <![endif]>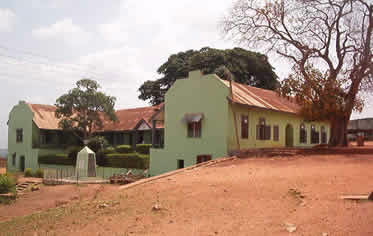 Pix 5: Abeokuta Baptist Boys High School (some clusters of school buildings) where MKO Abiola had his post-primary education between 1951 and 1956.
monarch. Reverend Pinnock left Oyo immediately after the First World War in 1918 and came to Abeokuta to establish his pet dream, Baptist Boys High School. Established as a secondary school for boys only, Reverend Pinnock, in consonance with the mood of that era was determined to inculcate Judeo-Christian values to young Nigerians. Baptist Boys High School, Abeokuta is a popular school whose alumni are scattered in all spheres of life both locally within Nigeria and abroad. The late sage, Chief Obafemi Awolowo was once a student until he left the school in the 1920s. As Premier of the defunct Western Region of Nigeria, he had paid a visit to his alma mater on May 10, 1955 when little Moshood was in his fourth year. In his lecture at that historic occasion titled: "The Sky is the Limit of your Ambition Now," Awo had enjoined the young men to sharpen their life ambitions early in life as there was nothing a determined soul could not achieve if he put his all he had into it. The premier did not end his speech without disclosing to the young lads the unfortunate incident that led to his exit from the school in the 1920s. According to Chief Awolowo, he had flouted the school regulations by riding on the back of a lorry tipper that was carrying sand from Oke-Egunya heading to the slope of the hill leading to Idi Aba Girls School which was then under construction. But he wanted to stop and get out before the driver's final destination which he wasn't aware of anyway. The driver on the other hand was oblivious of any unwanted passenger in his truck so he kept going. As they got to Ago-Oba Junction, the rascally Awo decided to jump off while the vehicle was still in motion. It was a costly mistake as he injured his legs and arms in the process. For fear of being disciplined by the school principal, he refused to return to BBHS the following term. As the sage finished his story, the school hall roared into laughter. Moshood was then the editor of the school magazine: "The Trumpeter" while his assistant editor was Olusegun Obasanjo who later became Nigeria's Head of State and President in 1976-1983 and 1999 -2007 respectively.. The Awo visit was prominently featured in the school magazine. Moshood was in his fourth year while Olusegun was in his third year. "The Trumpeter" seemed to be the dominant school newspaper supported by the school authorities and some students didn't like the way Moshood and Oluwasegun were running the newspaper so about ten students gathered together and set up a rival newspaper called "The Planless Times" They campus rag stated its mission was to run stories contrary to "The Trumpeter" and the mover of the radical group was Olufela Oluwasegun Oludotun Ransome-Kuti whose father, Reverend Israel Ransome-Kuti was the Principal of Abeokuta Grammar School. He also instigated his younger brother, Beko then a student at Abeokuta Grammar School to set up "The Planless Times" but Beko ran his own as a cartoon rather than a school newspaper.
Another memorable incident that Moshood could recall during his five years at Baptist Boys High School, Abeokuta was the Royal visit of the Queen of England, Her Royal Highness, Queen Elizabeth II and her husband, Prince Phillip, the Duke of Edinburgh to Nigeria in the 1950s. Moshood was in his final year and the Queen's visit was on January 28, 1956. The Royal Couple had a stop over at Lafenwa Railway Station on Sunday February 12, 1956 where the Colonial Governor of the then Western Region accompanied by the Premier, Chief Obafemi Awolowo welcomed the Royal Couple. Sir John Rankine, the then Colonial Administrator introduced Oba Samuel Ladapo Ademola II, the then reigning Alake of Egbaland to the August visitors. Thereafter, the Royal Visitors proceeded to Ibadan, the then administrative capital of the old Western Region. The Alake of Egbaland, Oba Samuel Ladapo Ademola II requested Deacon E.S. Akinsanya, the first Principal of Baptist Boys High School to select few matured students of his school to accompany the entourage of the Royal couple from Abeokuta to Ibadan. Principal Akinsanya who had just bought a new car, A Ford Zephyrs 6, a rare achievement in those days, quickly selected few Boys Scouts members to ride with him. Moshood was one of the students chosen both as a member of the Boys Scouts and by virtue of his position as the editor of "The Trumpet" the school newspaper/magazine. His deputy in the newspaper, Segun was also part of the entourage.
Baptist Boys High School, Abeokuta remained boys-only school for nearly fifty years until 1970 when it became a mixed school albeit briefly. The late Professor Adeoye Lambo, former Vice-Chancellor of Ahmadu Bello University, Zaria and former Director-General of World Health Organization (WHO), Prince Bola Ajibola, former President, Nigeria Bar Association, former Attorney-General of Nigeria under Gen. Ibrahim Babangida, Nigeria's Commissioner to the UK and Justice of the International Court of <![if !vml]> <![endif]> <![if !vml]> <![endif]>
| | |
| --- | --- |
| Pix 6: Obasanjo, ex-president, born in Abeokuta | Pix 7: Olufela Oluwasegun Oludotun Ransome-Kuti and MKO Abiola's junior at Baptist Boys High (a.k.a Fela Anikulapo-Kuit) was a classmate of MKO School, Abeokuta between 1951 and 1956 Abiola at Abeokuta Boys High School (1951-1956) |
Justice at The Hague, Netherlands, late Mr. Tunji Oseni, formerly at UNESCO and Obasanjo's Presidential spokesman, Chief Awomolo, Dr. TAO Shofolahan, Chief E.F Oke, Chief Gbolahan Aroyewun, late Professor Ojetunji Aboyade, Chief Olawale Ige, Minister of Communication under Buhari-Idiagbon regime, Justice Obadina, Mr. Ayinla Abioye, late Chief Sunday Afolabi, ex-deputy Governor of old Oyo State under late Chief Bola Ige (1979-1983) and Internal Affairs Minister under Obasanjo (1999-2003), Chief Oyesiku and numerous others were/are prominent alumni of this famous school. The political agitations of the nationalists were at its highest during the 1950s. The cultural club; "Egbe Omo Oduduwa," an umbrella organization for Yoruba sons and daughters formed in the United Kingdom later metamorphosed into a political party in 1951, the year MKO entered Baptist Boys High School, Abeokuta for his post-primary education. The party; the Action Group (AG) founded from the ashes of "Egbe Omo Oduduwa" in Owo in the house of late Chief Michael Adekunle Ajasin, first civilian governor of Ondo State and leader of National Democratic Coalition (NADECO) during the ignoble regime of late Gen. Sani Abacha. At the formal launching of Action Group as a political party, late Chief Obafemi Awolowo, unarguably the leader of the Yoruba race in modern Nigeria was chosen as its leaders to contest the Western Regional election slated for 1954.
Moshood, as a day student had time for both his studies at the Baptist Boys High School and Qura'anic school although he attended the latter once in a while when his hands weren't full with homework from BBHS. However, he still accompanied his father to mosque but his early morning duty of fetching a keg of water for Papa to perform ablution had now been taken over by one of his half-brothers. During the month of Ramadan, the Muslim's holy Month of Fasting for thirty days according to the Lunar Calendar, Moshood would assemble some of his colleagues in the neighborhood to organize "agidigbo" music. Since Muslims normally wake up at dawn between four and six in the morning to eat (sari) before commencing the day's fast, it was the duty of Moshood and his agidigbo singers and musicians to go from one house to the other to wake up known Muslims for this task. Normally, these "musicians" sang Islamic songs and poems and beat drums to rouse up Muslims at dawn. They were normally young boys in the neighborhoods who did this just for the fun of it and as people welcomed them around and about the Abiola's neighborhoods, fellow Muslims would give them grocery and foodstuffs just a tokens of the faithful appreciation of what these young lads were doing for Islam. For long, this aspect of Moshood's background has been distorted as if Moshood was doing this because of poverty which was entirely wrong. Of course, he was from poor parentage but "agidigbo" boys were amateur musicians who were doing it for the fun of it and most importantly to demonstrate their love for Islam. Yours sincerely was an "agidigbo" musician when I was growing up in Owo, Ondo State as a Muslim in those days. Abiola was the lead vocalist and for one who stammered, it was fun for people to watch him sing, and before long he became popular. People weren't drawn to his group because of their songs really but for Moshood's style of singing which sent people laughing. It was fun. By the time Moshood reached Form Three or 9th grade, he had become so popular that his "agidigbo" extended beyond the annual 30-day Ramadan fast. Soon, the group became regular feature in Muslim weddings; "Idana" Islamic or Qua'aranic School graduations; "Wolimat" requiem services "kusiyus" and many others including chieftaincy conferment. They would be fed and monetarily rewarded. All these Moshood was doing while still in school.
It was during one of these occasions that Moshood ran into a young beautiful girl called Simbiat from the Soaga family in Abeokuta. Simbiat was about a year younger than Moshood as she was born in 1938 and was also brought up from a Muslim family but a richer family than Moshood. When they met at a function, Moshood was attracted to her because of her beauty and their religious compatibility. Anyway, the two began to date and within five months, the girl introduced him to her parents. It was in Simbiat family house that Moshood Abiola, according to him that he first tasted fried eggs in his life. Since both were still schooling, they decided to face their studies until after their graduation. Simbiat later became Abiola's first wife, close confidante and inspirator and "mother" after he lost his own natural mother in 1956. While Moshood and Simbiat were dating, little Moshood who had now become a popular chap in many of Adatan neighborhoods because of his "agidigbo" music also fell in love with another beautiful young girl in town. The young lady; Mutiat Modupe was a beautiful damsel younger than Simbiat by three years He played the love game so well that both girls did not cross path until about five years later when both of them met face-to-face for the first time at Ibadan. Simbiat hardly had time to see Moshood frequently so she did not suspect him of having another affair. When Moshood lost his mother the day he got a job as a cashier at Barclays Bank (which later became Union Bank of Nigeria Limited), Ibadan Branch, Mutiat and Simbiat came at the same time to commiserate with him and they "jammed" each other. Simbiat was livid and wanted to call it quits with the relationship but Moshood was able to dissuade her with an assurance he would marry her instead of the other girl. But Mutiat, unknown to Simbiat was already pregnant for MKO. Even though Moshood did not officially marry her, the product of that union was a beautiful young girl named Omolola meaning "Child is wealth." That child is now Mrs. Lola Abiola-Edewor who was a member of the Alliance for Democracy (AD) and later became a member of the House of Representatives, Federal Republic of Nigeria representing Apapa I Federal Constituency, Lagos State between 1991 and 2003. She is the first child of Chief MKO Abiola. Mutiat Modupe later went to marry into the family of the Adebowales of Ikorodu and gave birth to two more children.
In 1956, Moshood passed out of Baptist Boys High School in flying colors. He had Grade Two in his over all West African School Certificate Examination (WASCE) results. These were the subjects he sat for: English Language, History, Mathematics, Economics, Commerce, Yoruba Language, Principles of Account and Biology. It wasn't difficult in those days for young school leavers to find gainful employment more so if the school leaver was brilliant like Moshood. He had always expressed his eagerness to be a rich man against the backdrop of the level of poverty in which he grew up. In 1956 while preparing for his final years examination, his mother had suddenly taken ill. The health of the poor woman began to deteriorate; meanwhile, he mother's business at the time had shifted to kola nuts hence she became Mama Olobi or Kola nut seller. As Moshood began to prepare for his WASC examination in summer 1956, he had to contend with studying for his examination and at the same time praying for the recovery of his ailing mother. For a poor family like the Abiolas, taking Mama Olobi to the hospital was a luxury so the family resorted to using local herbs. Although effective, local herbs could be unreliable at times, especially when an ailment is not diagnosed to enable the proper herbs to be administered
In later summer 1956, Moshood's joy of graduation with good grades was marred by his bedridden mother. Many in the family knew the poor woman should be taken to the hospital but the cost of hospital bills was un- affordable. The little savings he had from his "agidigbo" music had been used for other private matters as he was preparing for his WASC examination. Now that he had a certificate to secure employment, he would hit town quickly to find money to pay for his sick mother's treatment. He went round the city of Abeokuta looking for openings, but only teaching jobs were available because of the government policy of the Action Group in Western Region which had made free education in elementary schools compulsory in the entire region under Chief Obafemi Awolowo, securing teaching job was very easy since there was a high demand of teachers in both the nooks and crannies of the region. Moshood made it to GB Ollivant, a division of United African Company which had openings for a store attendant, and then he found openings for lower level clerical officers at the Federal Secretariat mostly occupied by British career officers. Moshood was desperate for money; he needed money so badly but all the advertised positions didn't pay well. If he took any of the jobs he had just seen, none would be abler to solve his financial worries. Then he discussed the matter with Simbiat who had now become his "steady" and close confidante. Simbiat was home on holidays, she had two more years to graduate at Idi-Aba Girls High School, Abeokuta. In October 1956 when Moshood passed out in flying colors at Baptist Boys High School Abeokuta, Simbiat was the first to congratulate him. The young lovers had discussed about their future plans. Moshood had told her he would love to be an Accountant but first he had to work for few years to save money towards university or college education. As the two were discussing Mama Olobi's sickness, Moshood was praying to Allah to spare his mother's life so she could "taste" his success and see her grand-child (ren).
When Moshood met Simbiat in the evening, he informed her of several job openings in town he saw but was not interested in any of them.
"Why aren't you interested in any of the jobs? Simbiat demanded. "GB Ollivant is good, at least for a start."
"No, I don't want that kind of job," Moshood replied
"Then where d'you want to work?" She asked. "You've just graduated, you've no experience yet, you've to start from somewhere."
"I want a job in a Bank." Moshood replied mater-of-factly.
The young lady looked at her young lover and both smiled. Simbiat knew what was in little Moshood's mind. She later advised him to try the Barclay's Bank, Abeokuta Branch since she overheard from her uncle the Bank was looking for young secondary school leavers as cashiers and clerks.
The following morning Moshood was at Barclay's Bank Office in Central Abeokuta to fill an application form. Luckily one of the clerical staff there was an alumnus of Baptist Boys High School. Everything went smoothly and he was interviewed later that day. His WASC result was good and he would be hired, the Branch Manager informed him. Moshood was very elated but there was something else; the position of clerical duties had been filed up at the Abeokuta Branch but the Barclay's Bank, Ibadan Office was ready to hire the young man, would he be ready to relocate to Ibadan? The manager, a Briton, explained to Moshood he knew most Nigerian parents would not allow their wards to live far from them but at nineteen the young man should be given to cut his independence now rather than being tied to the apron strings of his parents. Anyway, he told Moshood to go home and discuss with his parents whether to accept the job offer or not but after five days, if the young man didn't show up, the job offer would be cancelled. Moshood, without discussing salary thanked the white man and left. On his way home, he began to ruminate over life in Ibadan. He had never left his birth place of Abeokuta since he was born except the day he went to Ibadan with his school principal and the Queen. He was both excited and sad; excited to see how life would be in a city like Ibadan, sad for he would be leaving his loved ones behind especially his sick mother
He broke the news to his father immediately he got home. Pa Alao Salaudeen would have loved Moshood to work in Abeokuta but now the family needed money so he advised the young man to accept the offer.
"Ibadan is not very far from home," he told his son. "You can always come to see us every weekend."
"Yes, Papa," Moshood replied.
As usual, Moshood was in Simbiat's house that evening to break the news to her.
"I'm happy for you," she said smiling.
"I'll be going back to the manager to let him know about my decision" Moshood replied. "But I need to go back with two letters of reference."
Simbiat assured him her uncle would be glad to sign one of the references while Moshood decided to go back to Deacon E.S.Akinsanya, his Principal at Baptist Boys High School for the second letter of reference. Deacon Akinsanya congratulated him for securing a banking job and advised him to remember the son of whom he was and protect the good name of his alma mater. As usual, the devoted Christian reminded young Abiola of his morning sermons as principal and his popular maxim to all his students: "Awa ni Ogun rere" meaning "We have a Godly heritage" and counseled his ex-student to imbibe those qualities as he stepped into the real world.
The following week, Moshood was back at the Manager's Office. He was well received and after filling some employment paper works, he was given a letter of employment; he was to report at Barclays Bank Ibadan Branch on December 13, 1956.
"Will you be visiting me often now that I'm leaving town?" Moshood asked Simbiat when they finally met later that day.
"Only if you don't invite all these your other girls too," She replied coyly with a smile.
"C'mon, y'know you're the only one I love."
"Liar!" Simbiat cast a glance at him smiling
The two love birds burst into laughter. A day to his departure, Papa Salaudeen called Moshood into his private room and laid hands on him to pray. Later, his bedridden mother called him to her bedside and also offered her own motherly prayer. But she did more than that, she left her son with what appeared to be her last words. Moshood was moved to tears. The following day, Moshood left for Ibadan.
He had been given a sketch diagram of how to reach Barclays Bank Ibadan Branch and in no time he located the Bank. He was received by the Branch Manager, another Briton. He was introduced to his other co-workers and was given his schedule of duties. He would be lodged in a company guest house for forty-five days according to his letter of employment and must source for his own accommodation before the expiration of the forty-five days. While at the company's guest house that night, he could not sleep; his mind was constantly at home thinking about his sick mom. When finally he was able to sleep, he had a terrible dream. When he awoke, he was sweating profusely. The first thing he did on getting to office that morning was to ask his boss to excuse him to go back to Abeokuta to pack his remaining personal belongings. He was obliged. As he set out on his journey from Ibadan back to Abeokuta, he had a premonition of a bad incident awaiting him at home. No sooner did he reach home than he saw a group of people in front of the Abiola compound wearing long faces discussing in hushed tones. He knew without hesitation that his mother Mama Olobi Aduni Wuraola Zukifiliat Abiola had passed on. He made straight for his old man's living room and met him surrounded by neighbors, close acquaintances, distant relatives and his stepmothers consoling Papa Alao Salaudeen.
Moshood began to cry.
"Your mother died at about 12 midnight last night," Moshood was informed. "Her body is opposite the room over there." One of his stepmothers volunteered pointing to the opposite room.
"You've to grow up now and be like a man o," one of his close relatives counseled as Moshood headed to the opposite room to take a final look at his mother.
Later that day, the corpse was commuted to mother earth in accordance with Islamic rites by Papa Salaudeen's "mullah" friends. Simbiat, Moshood's young lover was around to console him. Thereafter, Moshood returned to his job at Barclay's Bank at Ibadan after informing his father he would not be able to make it for both the Fidau passage rites on the 4oth day of his mother's death according to Islamic passage rites. He was nineteen years and four moths old when his mother died while Papa Salaudeen Adenekan Abiola himself was seventy years old when he lost his wife of nearly fifty years. There are no family records of the exact age of Abiola's mother when she died in 1956 but she was probably in her early sixties; few years behind her husband.
Notes:
List of Alake or Kings of Abeokuta since its founding
Sodeke: Founder of Abeokuta: 1829-1845
Somoye: Became a Regent: 1845-1846
Sagbun Okukenun: Became a Regent: 1846-1854
Alake Okukenun: 1854-1862 (First Alake when the title was introduced)
Somoye: Became a Regent 2nd time: 1862-1868
Alake Ademola I: 1868-1877
Alake Oyekan: 1877-1881
Alake Oluwaji: 1881-1891
Alake Oshokalu: 1891-1898
Alake Gbadebo I: 1892-1920
Alake Samuel Ladipo Ademola II (KBE): 1920-1962
Alake Samuel Adesina Gbadebo II: 1962-1971
Alake Samuel Morounfolu Oyebade Lipede: 1972-2005
Alake Adedotun Aremu Gbadebo: 2005 to date.