Date Published: 11/03/09
THE CONVICTION OF CHIEF BODE GEORGE MIGHT AS WELL BE ONLY SYMBOLIC (PICTORAL) By Temple Chima Ubochi
They that possess the prince possess the laws (John Dryden)
Laws grind the poor, and rich men rule the law. (Oliver Goldsmith)
When men are pure, laws are useless; when men are corrupt, laws are broken (Benjamin Disraeli)
Laws are like spider's webs: if some poor weak creature comes up against them, it's caught; but a bigger one can break through and get away. (Solon)
Over 90 percent of embezzlement is not found by internal auditors, but found by whistleblowers. The embezzlement is not a weakness in the auditors. It just takes someone to call them out (Margarita Lenk)
How is the mighty falling? Chief Bode George and five other persons accused by the EFCC over allegation of N85 billion frauds at the Nigeria Ports Authority, NPA, have been sentenced to 28 years imprisonment without an option of fine. Bode George was so powerful just few years back as such that his conviction would have been unthinkable then. Even now, he still has large followers. Most PDP supporters in the court room burst into tears as Justice Oyewole pronounced the judgement while others tried to provoke security men around the court into a fight.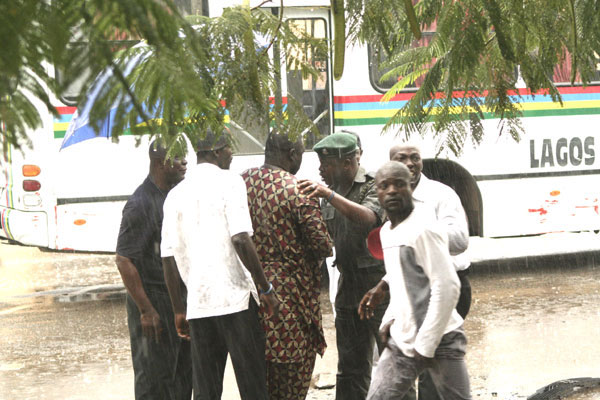 Area boys loyal to Bode George at Ikeja High Court, Lagos
Bode George was convicted on October 26, 2009 by Justice Olubunmi Oyewole of the Ikeja High Court on 35 out of the 68-count charge bordering on contract splitting, inflation, abuse of office and disobedience to lawful order. Justice Oyewole sentenced all the six accused persons to two years each on seven counts of abuse of office and another six months for 28 charges bordering on disobedience of lawful order. The judge held that all the accused persons were guilty of splitting numerous contracts as members of NPA board from 2001 to 2003. According to the judge; there were incontrovertible evidence that all the six accused persons intentionally and knowingly condoned the splitting of contracts.
Also, Justice Oyewole held that Bode George and his co-accused disregarded lawful order passed to them by the Ministry of Transport stipulating a new approval limit of contracts in all government parastatals including the NPA. According to the judge, all the accused persons in their evidence acknowledged receiving the said order from the Ministry of Transport but chose by their own volition to disregard the order. He, however, held them not liable for contract inflation.
Look at what they have done to the chief; he has not eaten food since he was taken to Kirikiri few days ago, he has been made desolate and inconsolable.
I agreed with someone who wrote: "In Nigeria, justice is mocked. Tafa Balogun was sentenced to 6 months suspended sentence for stealing 103 million dollars of Police funds; a case of a dog eating the bone hung round his neck for safe keeping. Now Bode George has been sentenced to 30 months for inflating contracts to the tune of 100 billion naira. Tomorrow, they will hang a tire round the neck of a pickpocket for pilfering 20 naira. Is that not funny. Why would a guy who stole to forestall gastronomic emergency be roasted over a slow, inhuman barbecue, while a thief, who stole to assuage his greed gets a slap on the wrist. And no one is talking of forfeiture of the stolen wealth or restitution".
Before we get carried away by this judgment, let's stop and think. This conviction is just symbolic than anything anybody can bet on and it (the conviction) has more to do with the demeanour of the presiding judge, rather than the effort of Waziri's EFCC or the prosecutors. It was the Ribadu Committee Report on NPA that nailed Bode George and the others. Those who insinuated that Ribadu, as the EFCC chairman, was a willing tool used by Obasanjo to persecute and prosecute his imagined or real enemies, need now to judge whether they have been fair to the gentleman! Because, Bode George was one of the closest persons to Obasanjo, when the latter was president and still Ribadu had the pluck to write the report that nailed him. This proves that Ribadu discharged his duty diligently, without fear or favour. He might not have got everything all right, but, nobody is perfect. Before Ms. Waziri starts taking all the credit, she should remember who made this possible in the first place. A Chinese proverb says "when eating the bamboo sprouts, don't forget who planted them".

As far as this government is concerned, the war against corruption is stalled. This Bode George's case might as well be over soon. Bode George became over-bearing and supercilious to those who made him and they decided to teach him a lesson, soon, they would forgive and resuscitate/rehabilitate him.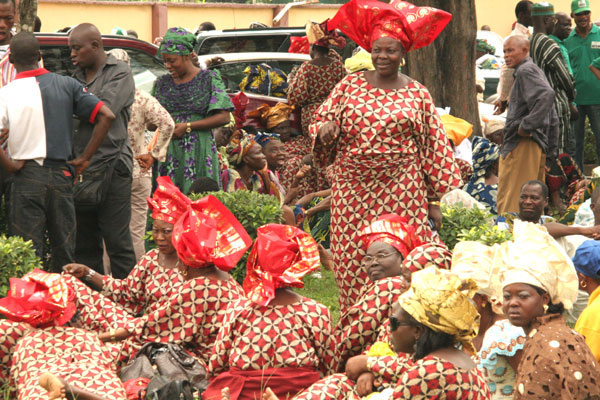 Bode George supporters in Aso Ebi at the Ikeja High Court, Lagos, they went home disappointed as Bode George goes to Kirikiri
Bode George would get bailed and then the case moves to the Appeal Court where it would be stuck. Appeal Courts have proved to be the easiest places to influence judgments; the judges of the appeal courts are now the weakest and the most corrupt links as far as dispensing justice in Nigeria is concerned, they are more venal than judges of other courts. At courts of appeals, cases are adjudicated by judges, just like at the Supreme Court, making it easier for people with connection and money to influence some of the judges who would adjudicate their case. Suffice it to say that perverting of justice is more prevalent at the appellate courts and be rest assured that Bode George and his co-travellers would exploit that, he got the money, the clout and the connection. This conviction took him unawares because, he must have under-estimated the uprightness of the judge.
The Judge who jailed George has distinguished himself as a fearless and courageous judge. Whether as a student or as a lawyer, he is an upright person, straight-forward, strong-willed and incorruptible man! Justice Oyewole attended the former University of Ife, now Obafemi Awolowo University, Ile Ife, Osun State, in the early 80s. He is an indigene of Osun State. Someone described him as one of the most trusted radical student activists during his days at Ife. He ran for the presidency of the student union executive and lost. But, he was a member of the Students Representative Council (SRC). Oyewole was a principal mobilising officer for NANS during his university days. He has handled many EFCC's cases. He was the lawyer who found Emmanuel Nwude and others including Mrs. Anajemba guilty for defrauding a Brazilian bank to the tune of $264 million. He convicted the Pastor of the Christ Praying Assembly (CPA), Reverend Emeka Ezeugo, a.k.a. Rev King, for murder, sentenced him to death by hanging. He is also presiding on cases bordering on advance fee fraud involving a Lagos lawyer, Mr. Fred Ajudua amongst others.
Bode George is not only short, but, wicked. He's one of those who gained almost everything from Nigeria right from birth, but decided to destroy the bridge once he has crossed it, so that those coming behind would be stuck in the middle. He's at ease with denying others what he was in position to dispense. Our paths crossed in 1990 and Bode George as a member of a group I had to face to "reach for the skies", denied me the opportunity (although the blame goes to the group as a whole), that would have changed my life positively forever. Had Bode George and his co-travellers then decided otherwise (in my favour), I wouldn't have been who, where and how I'm today. But, all the same, I bear no grudges against him or any of those persons. Through the years, I've learnt and accepted that in life, one can not always win or lose. Suffice it to say that Bode George has no "milk of human kindness for the downtrodden" in him, he's one of those who believe that a person from poor background or without a god-father cannot and should not make it in life.
Bode George's relative collapses in Court.
Bode George is a person who forgets who he was or where he was coming from and to my understanding, he always bites the hands which feed him. That's why he was left all alone and in the "cold", despite the fact that he had larger-than-life posture just about two and half years ago, despite the fact that he was the head of Yar'Adua/Goodluck ticket campaign and despite the fact that he's Obasanjo's confidant. Bode George is not more corrupt than any of the corrupt ex-governors still bestriding the political landscape, spewing out cacophonies in one way or the other. Bode George is not guiltier than Ibori, Orji Uzor Kalu, Peter Odili, Lucky Igbinedion, Turaki, Fayose, Nyame, Akume or even Anenih, but, only he has been convicted so far. His situation accentuates the Igbo saying that "if the lizard forsakes the tree, it ends up in someone's hands (ngwere hapu ukwu osisi, aka akpara ya)". To make a general statement here: It is only when all the corrupt ex-governors/corrupt government officials are convicted, that Nigerians would know that this administration is getting serious in its war against corruption. Bode George's conviction is good for Nigeria, it's commendable, but, it didn't go far enough. A man cannot steal N10, 000 and is jailed for 20 years while those who stole billions of naira are sentenced for only 2 years, which they may not even serve. That's unjust!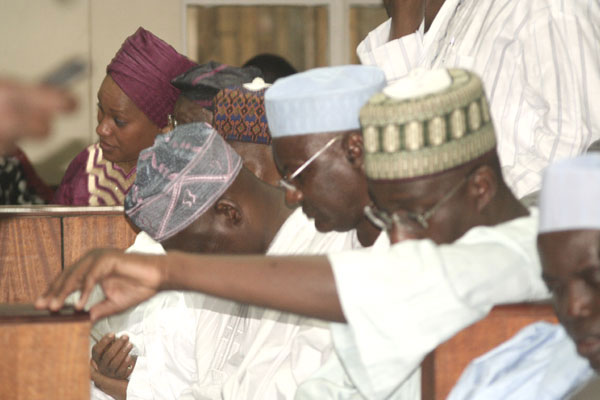 Bode George and his Co travellers sentenced to 2years jail.
On that Day of Judgment, Bode George and his co-travellers clad themselves in all-white attires, hoping for acquittal and owambe party later. Bode George was basking beside his beautiful new wife. The most painful aspect of his conviction would be his staying away from his beautiful wife for two year. Nothing is tormenting him more than that possibility. Based on what little I knew about him, he was a chronic womanizer, I can't tell whether he has given up that habit, but, old habits die hard. Based on what I knew then, Bode George would give everything to regain his freedom so as to be with his Roline; for him, it would be unthinkable to spend two years behind bars without his wife, because, in his thinking, within such a period, "a lot of water would pass under the bridge".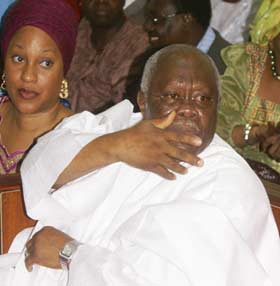 Chief Olabode George with wife Mrs Roline Bode George
Chief Bode George and the five others would spend the weekend in jail having failed to secure bail. This shows that no condition is permanent.
THE THANXS IS ALL YOURS!!!