ELEGY FOR PROF. E. E. EZEWU: TEACHER, MENTOR
by Uba Maximus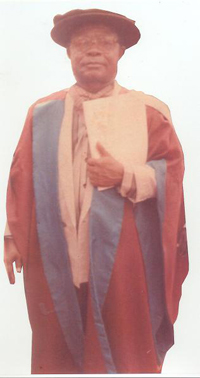 Had he lived till the month of July which is but four months away, he would have probably be celebrating his 70 birthday with his wife, children, grand children his numerous students who have made something out of their lives as well as with friend and well wishers. But death according to Ernest Che Guvera is a frequent occurrence whose time not even its nearest neighbour knows when it will strike. Born July 1939 in Ughelli in today's Delta State Prof. E. E. Ezewu attended the prestigious Government College Ughelli, he then proceeded to Paris where he obtained a Diplome D' Arts in Dramatique in 1971. He returned to Nigeria and enrolled at the University of Ibadan for a degree in French. Desirous to be a trained teacher, he returned to the University of Ibadan where again he took a Post-Graduate Diploma in Education, and without break acquired an MA in Sociology of Education an another M phil and a PHD all in Sociology of Education. Till date Professor Ezewu still remains the only student who achieved this feat at the Faculty of Education of the Prestigious University of Ibadan.
Working career took him to Ughelli in 1972 where he was a Senior French teacher at the Government College Ughelli. He quit classroom teaching in 1975 and transferred his services to the Ministry of Education where he functioned as Senior Inspector of Education / Ag Principal Inspector of Education. He left the Ministry in 1980 having achieved the enviable height of Acting Chief Education Officer Bendel State Teaching Service Commission. Prof. Ezewu changed services to the Faculty of Education University of Ibadan where he was Co-ordinator Department of the Teacher Education and subsequently in 1983 he was made Head of Educational Foundations. He quit University of Ibadan in 1986 and transferred his services to the University of Port-Harcourt he was saddled with teething the newly created Department of Educational Foundations. He became its head of department in 1988 and Dean Faculty of Education in 1991. He was also a rep of the faculty for several years at the University Senate, and was for several years a UNESCO Education Scholar.
This writer could vividly remember in 1984when he walked into the class, many thinking he was a Post Graduate student, took him less serious until after the lecture when he introduced himself as Prof E. E. Ezewu, the man whom we have read at least five of his works on Sociology of Education, no gain saying that many were perplexed on his simplicity, intelligence, productivity and sense of communication. A former student in the Faculty who communicated the death of the Erudite Professor to this writer, Edwin Ogblogbo, currently a doctoral student at the University of Lagos said he heard the sad news at the University of Ibadan where he went to check for materials last week incidentally the University of Ibadan was where Prof. Ezewu did all his academic training and began his lecturing career. Edwin had in text message described the death of the Erudite Professor as a huge loss to the development of Post Graduate Education in Nigeria. "He lived for us all, he gave us knowledge, he ensured you got it without intimidation, he made all of us scholar, we will surely miss him, Edwin said".
Another student Dr. Long John Peters in an e-mail sent from London said "Professor Ezewu was an exceptional teacher of Teachers, he organized his ideas and presented them very simply in class such that even a dummy could pick something. He would always and unlike his colleagues to go extra mile to ensure that his students don't just walk away empty after classes but took something home, he was compassionate and firm". Mrs. V. Odoemena of the Federal Ministry of Education who was also Ezewu's student also said "Professor Ezewu was not the conventional Lecturer of today. He made scholars out of students, he recognized the potential in every student totally nurturing them for more than twenty years in Nigeria, he led the Faculty of Education to frontiers in the field of Education. Besides he was notable as an external examiner, a keynote speaker and also produced numerous graduate and Post-graduate students who claimed him as a mentor, today many of these students are Professors, Lecturers and teachers in their own right in Nigeria, Europe and the United States".
At the time of his death, Prof. Ezewu was reputed to have authored over 200 books on Teacher Education, Primary education and Secondary education. At the tertiary education level, he has to his credit over 20 publications while his conference papers were over one hundred. Some of his well read books include Principles and Practice of Continuous Assessment 1981, Sociology of Education 1983, Taxonomy of Educational Objectives 1984 and Social/Psychological Factors of Human Learning in Schools 1981. He also authored Ecology and Education 1997 and jointly did over twenty other text books with other renowned Professors of Education. Information available from his daughter a teacher at the Nigerian Law School Mrs. Meva Ayo Jemialu said the renowned Professor will be buried this weekend at his family residence at Imohwe Layout Off Ughelli/Patani Road Ughelli in Delta State. Proffessor Ezewu is survived by a wife and seven children. He will be most remembered by his family whom he showed love, protection and direction, his students whom he continually told that "degree in Education is perhaps the best thing in the world as it is not as restricted as Law, Engineering and others", his friends whom he showed loyal, understanding and continual friendship and the field of Educational development where he devoted the time of his life writing, talking and producing world class students who has continued to make him proud. Not left out among those who will miss him are members of the University of Port-Harcourt and the University of Ibadan communities where he was easily identified as a productive person, a teacher per excellence, a good man and one who is devoted and dedicated to his work. Adieu my Profesor Ezewu and rest in the bosom of the Lord till we meet to part no more.
Uba Maximus, a former student of the deceased sent the piece from Mbaise Imo State.