Date Published: 06/23/11
New Lamido of Adamawa's Despotic Actions by Hassan Hussain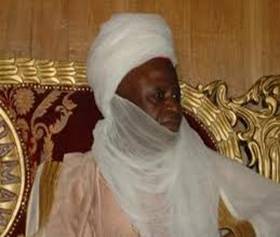 Lamido Adamawa, Alhaji Barkindo Aliyu Mustapha
There is great tension mounting in Adamawa State today. This one is not from bad Government of Governor Murtala Nyako or political, but from royalty. Since time immemorial, traditional rulers are revered because they are custodian of our culture and they are fathers to all. Traditional rulers are not known to be high-handed and brutal. They do not discriminate against their subjects or use force on those they rule. For more than fifty years, the Late Lamido of Adamawa.Alhaji Aliyu Mustapha was the Chairman, Council of Traditional rulers and the Lamdo,the King in-charge of Adamawa Emirate Council. The late Lamido ruled with a sense of justice and equity. He was in good terms with the variant tribes whether Kilba, Lala, Ga'anda, Verre, Batta and virtually all the ethnic groups within the enclave of the Adamawa Emirate Council.
It is on record also that the various districts under Late Lamido Aliyu Mustapha [May His Soul rest in Peace] were flourishing and prospering in agriculture, sensitization on civic duties, respect and regard for each other and one another. There was no disturbance of any kind or grumbling, complain or despotism during his reign. People and the masses of any background loved the late Lamido. From his fellow traditional rulers,who are many in the state, Emir of Mubi,Hamma Bachama,Hamma Bata,Murum Mbula,Kwandi Nunguraya,Gangwari Ganye,Amna Shelleng all deferred to the Late Lamido Aliyu Mustapha.
I do not think, this is the case today with the current Lamido, Barkindo Aliyu Mustapha. He has been having a running battle with everybody. They said, he read to a Degree Level and even has LLB, but this does not show in his conduct and actions. Apart from brutality on the masses using long convoy of vehicles, unnecessarily between Yola town proper and Jimeta-Yola,the real capital of Adamawa State using mobile Police men, harassing the less-privileged with whips and mis-using gun buts, he is fond of intimidating district heads, extorting money from them and confiscating farmlands wickedly from the poor.
From Fufore to Gurin,Mayo-ine,Girei,Song,Gombi,Ngurore,Mayobelwa,Karlahi,Pariya,Wurrobokki,the citizens are displeased with his brutal despotic actions. He does not have regard for human relations and respect for rights and privileges of others. Whether he knows this or not, I do not know. He seems to be in a different world. In the past when the Late Lamido Aliyu was visiting a district, all subjects, all natives whether Moslems or Christians would come out and mobilize and that particular town would be agog with drums beating, dances and streets literally swept.'Baba Ya Zo','Barka da zuwa'literally translated 'Daddy has come','You are welcome' That was the fame of the Lamido Aliyu Mustapha, but today if the citizenry know that this current Lamido Barkindo Aliyu Mustapha is coming to a certain district, you will hear curses'Allah Ya tsine masa'.They will desert the town and vamoose to their farms or locate one market day and force themselves to go to the very market. This problem of bestiality and barbaric is not only visited on the masses beating innocent citizens on the streets, because the'Lamido'is passing, but his kin and kith brothers are not spared.
The Uban doma of Girei,the District Head of Girei,who is also Delege of Adamawa,the younger brother of the Late Lamido Aliyu Mustapha, has suffered unprecedented and undeserving humiliation and excruciating painful harassment for no reason, other than schizophrenic fear from the new Lamido Barkindo. On top of removing him illegally from being a district head without recourse to justice, he has continued to blackmail him on the pages of newspapers, with spurious reasons that are unfounded. The new Lamido has to be investigated how he is arm-twisting district heads and extorting money from them threatening to depose them like the Uban doma Girei,if they do not 'understand'. The District of Mayobelwa has suffered the same fate. He has been removed.
In addition to these atrocities, which are not in conformity with the normal orderly northern Nigeria traditional rulership, he has participated actively in politics, canvassing votes for others in the immediate past presidential elections. It is unbecoming of traditional ruler of this calibre,a first class traditional ruler and of the Modibbo Adama dynasty that received the Flag from Sheikh Othman Danfodio.He stripped one traditional title holder of his esteemed title, when the traditional title holder accused him of meddling in politics. What a shame! We never witnessed or experienced such a thing when the Late Lamido was alive.
Leadership is given by God, Almighty. We should know, how we treat our subjects or those below us in status, so that when the next circle comes, we do not bite our families. What about sending the wives and other children of the former Lamido,out of the palace at mid-day?A certain powerful northern traditional ruler did this type of thing several years ago and at the tail end, he was deposed ignominiously.
The new Lamido of Adamawa, Alhaji Barkindo Aliyu Mustapha is overdoing things. It seems, he prefers material things than true love for his people. The washing of dirty linings between him the Uban doma is unheard of.I suggest he should be suspended as the chairman of Council of Traditional rulers of Adamawa State for extremities bordering on gross misconduct.
The Uban doma family which is part of the Royal blood is ruling class too.If not now,later.It can be the child or grandchildren of the Uban doma.The worse is that the new Lamido Barkindo Aliyu Mustapha goes about boasting that his children as citizens are eligible to acquire lands in their own right. No one is questioning that, but there should modesty, ethics and protocol in everything. Kings hardly eat in public glare. Hardly do we see princes take part in public brawl. But here is a highly placed individual who enjoys controversy without squirms.
We have never experienced anything like this in the history of the Adamawa Emirate Council.I am ashamed, I am a Fulani man from Adamawa Emirate.I am reluctant to go home to Yola.I may be whipped on the streets of Jimeta-Yola for not stopping and rushing out to crying because the 'new Lamido'is passing. Who says traditional rulers, have not lost respect?
HASSAN HUSSAIN, an Adamawa Emirate Council indigene, a Fulbe, but based in Abuja, decrying the current rulership of the new Lamido Adamawa wrote from No.7 Casablanca Crescent,Abuja,Federal Capital Territory of Nigeria,E-mail:hasshussain@yahoo.com