Date Published: 01/10/11
DANGER ALERT: Ohakim's Critics in Diaspora Beware By McLord Obioha.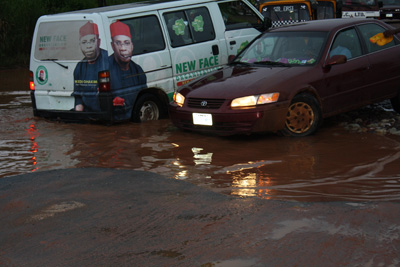 Let me start this rebuttal by identifying myself to those who do not know me very well. My name is Mclord Obioha. I was born in Aba where I attended both Primary and Secondary school and lived most of my youthful life. I am from Orlu Senatorial zone in Imo state. I live happily in New York City with my children and wife who is from Mbaise, Imo State. I started my journalism career in 1975 as a reporter with the then NTV Channel 6 Aba under the tutelage of senior colleagues such as Phillip Okereke (Network News), Chudi Onuzor, Tobechi Ndukwe, Innocent Igwe, etc. During my days in television, I was variously NTA's, Imo State Government House reporter, Roving reporter, Reporter, Local Reports, Editor, "From Imo State Assembly", Assistant News Editor, NTA Aba, Owerri Office. My last job was as the Producer/Anchor of the intrepid, 30 minutes investigative newsmagazine, "A Matter of Truth" which was similar to CBS 60 Minutes. My viewers in those days know that I would rather quit my job than shy away from reporting news of genuine public interest and truth. I have been an accredited member of the Nigerian Union of Journalist since 1975. Before I joined NTA, I turned down University of Nigeria, Nsukka's offer of admission to study Animal science because it was not my calling.
My wife and I obtained our BA and Master's Degrees in journalism from Kentucky, U. S. A. My wife and I were arguably the first to publish the first and truly Nigerian monthly newsmagazine in the U.S.A, called THE NIGERIAN followed by AFRICAN NEWSREEL, The Newspaper for Africans in Diaspora. Here is Wole Soyinka commenting on our editorial stance that led to the christening of a New York City street near Nigerian Consulate as Kudirat Abiola's Corner: "Your editorials are not only principled, but unexceptionally argued. They are comprehensive yet succinct and uphold the best tradition of Nigerian journalism…keep up the good work."
I have taken great pains to reveal my identity so that people will be able to appraise my credentials and asses my credibility as the author of that detailed and analytical report on "How Gov. Ohakim ruined Imo State" that is generating debate in beer parlors, meetings, newsgroups, websites and news houses worldwide. I wrote that article not as a journalist but as a citizen of Imo State who cannot keep quiet while some infidels and passersby run down my own dear state. Since that article appeared, I have read several commentaries following it. Most of the rejoinders were educative, encouraging or enlightening while some ranged from pathetic, paralytic, psychotic, to sheer pedestrian hence this rebuttal. At first, I thought of ignoring some of these chatters because I know where they were coming from but on a second thought and for the sake of my admirers, I am taking the pain once again to expose another ugly development that is currently going on in Imo State which many are not aware of.
I want to alert our brothers and sisters in Diaspora who write articles that are critical of the Governor of Imo State, Ikedi Ohakim to beware. He is out for blood to consolidate his stay as the Governor of Imo State. His reach now is beyond Imo State. I have been reliably informed by some colleagues of mine whom I have always considered as impeccable sources that these critics run the risk of being chased down by governor's hatchet men when they visit home, while those on the internet can be devoured by his vicious, powerful killer machine on the net. My source told me to notice the short time it takes for his paid goons to devour any critics--almost the same time that a posting appears on the net. Make no mistake about it, Ohakim is a very smart man. Contrary to what people ascribe to him from being the so called former secretary of the ill-fated and infamous 419 Association to writing off his diminutive stature—a major mistake most of his opponent make--he is endowed with fast, crooked thinking. He knows the power of advertising, and the press. In Owerri today, there are ubiquitous billboards proclaiming his "achievements." One has an inscription, "Suffer a little and enjoy forever." He has hired the best writers in the land and equipped them. Pini Jason, once a reputable journalist is a case in point. Even those who used to be on the other side of the aisle are now in his corner. Many will be shocked to know that the people they argue with on the internet are in fact Ohakim's paid staff, my source confided in me. Ohakim has the most effective Directorate of Information and Propaganda machine in Nigeria today. What do they do? These paid hack writers prowl the internet, "googling" for any voice of dissent against his "Excellency". When next you see or read an article written against you, look no farther for the author. It was written directly from Owerri or by your fellow Igbo living and working in the USA or any of the western democracies. Names like "John Obinna", "Chinedu Osinulo" are not real names. They are pen names of people who write rebuttals against Ohakim's critics. Some of them double as members of the foreign branch of his New Face Organization who live in the USA, UK and other foreign countries while camouflaging their real day job. As a compensation for their dirty job overseas, Ohakim pays their mortgages and vacation for their families. Notice how he picks his Special Assistants from here. One day, I will, like Wikileaks unmask these people who are scuttling our march to progress in Nigeria. They are not your unlettered Mom and Pop at home. The very same highly educated people who studied in the USA and UK are covering up the rot and malversation that is going on in our state today. They are similar to our Legis-looters who killed the Freedom of Information Bill. How can our embryonic democracy thrive in a country san freedom of press -which is sine qua non in a progressive society? Freedom is like a parachute. It works best when open. In Owerri today, people are scared to express themselves for fear of harassment. Even the press has been browbeaten by Ohakim's influence and control.
It is on record that of all the responses to my article, only three rebutted what I wrote. Let me take few seconds to pay unfeigned tribute to those who have, despite all the huge resources that the governor invests on his campaign of calumny, been a bulwark to any attempt to suppress voices of dissent in our state today. Space and time cannot permit me to remember everyone but I cannot fail to mention just few names. Emenike Nwankwo, Ikenna Anokute, Oderaigbo , etc. I was particularly enthused by the erudite and cerebral posting of Dr. Emenike Nwankwo who counseled Frank Ekeigwe to discredit my report with fact instead of attacking me. Write on brother! You clearly distinguished your PhD from those bought from the internet. As for those who are on the wrong side of history today supporting all these corrupt leaders, I refer them to this emotional story. Once upon a time, there was an Imo crooked politician/contractor who constructed a sub standard, dilapidated road that inadvertently led to an accident that killed his relative "Pikin we shoot catapult for inside market, how im no se im papa or mama no de there? One day, these selfish agents will look back and shed crocodile tears on how they ruined Ala Igbo in their mad rush and craze for filthy lucre while other states progressed. Their conscience and posterity will ask them what they did when corrupt leaders pillaged Imo. Othman Dan Fodio once said that conscience is like an open wound and only truth shall heal it.
Late Dr. Nnamdi Azikwe once characterized journalism as a thankless job. Again, real journalism is not for anyone who can just write. It requires more than just good writing. Yes, a good journalist must have a good command of the language but he or she must also be ready to suffer all forms of indignities, even death in the pursuit of truth. I have been harassed, threatened and detained by the powers that be. I was in Umuahia when my senior colleague, Agwu Okpanku, Features Editor, "The Daily Star" of "Killing Biafra" fame, died that night under a cloud of suspicion and cobweb of doubts. Chido Nwangwu, the publisher of today's Houston, Texas based USAfricaonline.com was there with us at NTA Aba when the kitchen was hot. He is a living witness to my record then. Journalism runs in my blood and it is a profession I love and for which I'm willing to if need be, die for in the pursuit of truth. I recall the comment of Mike Ahamba, SAN during my Send off party to USA at Ambassador Hotel, Aba to study what else, but journalism, "It is one thing to be a dedicated journalist but it takes a strong mind to be a courageous journalist as McLord Obioha." Freedom is not free. A man dies who cannot express himself. Courageous journalists and unfettered press make that freedom possible. They do so with pains and even with their lives. Remember Dele Giwa. He left his footprints on the sand of time and when the history of our country will be written, he will merit more ink than perhaps todays Babaginda, Abacha et al who will be dumped at the footnote of history.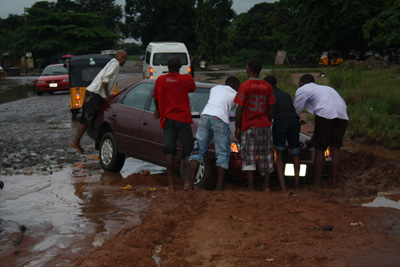 A good and reputable journalist should take pains to not only write well with facts and figures but must separate facts from fiction. Facts are sacred but comments are free. The article I wrote on Ohakim's government was based on my own personal experiences plus incontrovertible facts that are well documented but carefully concealed from public view. I know some of the people I mentioned in that report personally. I have met Bob Njemanze, Onyeagocha, Udenwa, Alan B, etc. I was with Magnus Orjiakor. I leave it up to the people to ascertain or rebut what I wrote about them, not a third party or government paid fake agent to do that for them. I went to Gov. Ohakim's home town to see his old house and his new magnificent, palatial palace in his hometown, Okohia--just few blocks away from his boulevard. I drove through Amaraka when it rained, I experienced traffic nightmare at Orji and Egbeada "Fly Over", under construction, Nworie River dregding, Ugiri community where mothers were clearing the road after a thunderstorm fell down trees, Okigwe unmotorable roads to see the abandoned, ill-fated water scheme, Shoe Industry Owerri, which is overgrown with weeds. I visited Orlu Medical School which has been in a state of decay since former Gov. Udenwa deposited the last equipment he got from America. I was there when President Goodluck Jonathan visited and all the lights suddenly came on at Wetheral and Okigwe roads. I have photos to prove these claims, but let me just leave you with the photo of your fellow Imo citizens suffering to dig out their car from one of the gullies on one of the roads which his "Excellency" built or maintains. It's right there in the heart of Owerri at MCC/Chukwuma Nwoha road. Another of the photo is New Face Van stuck in "Nworie River" of Ohakim's ill maintained road. The caption of this photo should read—you guessed right—THE REAL NEW FACE OF IMO STATE TODAY. There you have it people, his Excellency smiling at his progress. I still hope that I will be the first African to win a Pulitzer Prize with this photo. Whoever coined the wise saying that , "Pikin we shoot catapult for inside market, how im no se im papa or mama no de there" was right afterall. Ohakim , Na kwa echeki-O! as Eze Njemanze once told our FORMER, late Gov. Ikwechegh before he left his post. It shows that No condition is permanent!
I was disappointed when Ohakim government spokesman, Mr. Osinulo said that I was rehearsing old facts. So, what's wrong with restating what is obvious for posterity? Even if I rehearsed already known facts, is that a spirited defense? Does that make the mess and the problem Ohakim created any less severe or go away? I expected him to explain the reason behind all these failed projects. Failed Oguta Wonder lake, failed Agro Nova, failed Shoe Industry, failed Okigwe Water Scheme, failed Imo Airline, failed 10, 000 jobs for youths, failed Road, failed interconnectivity Multilane Freeway, failed Oak Refinery, etc. Just recently, the Association of Imo State Journalists released a press statement in which they "rehearsed" and condemned almost all the same projects that Ohakim abandoned. Does anybody still remember what happened to Avutu Poultry, AdaPalm and other Industrialization of Imo state scheme which Mbakwe started but died in the hands of our so called present and past corrupt governors? What happened to Abadaba Lake, in Obowo, the tourist attraction that no one talks about anymore?
It is unfortunate that "Osinulo" who claims to live in New York and is "a regular reader of (McLord's) newspaper here in New York" spelt Pulitzer wrongly which clearly showed that he does not live in the USA. I want to particularly warn him and his likes that there are technologies now to track down liars who claim to be where they are not. I did a Geo Internet Protocol and found out that he does not live in New York. "US" is not "us". I'm a member of a silent pressure/lobby group that is currently cataloguing the names of these corrupt people who will be denied visas by the US embassies when they attempt to come here to deposit their filthy loot and ill gotten wealth.
My professor in Public Relations and Propaganda class taught me that the easiest way to know paid writers and their lies is to watch their tone and language. They shoot from all corners with no facts to substantiate their airs and graces. At first, you may think they are saying something reasonable but if you go beyond the facade of those jaw breaking grammar and highfalutin language, you will see the emptiness in their thesis. Sample: "Your joining the clowns of Nigerian "brownbag" journalists who get paid to damage peoples reputation by writing from scripts with no proper investigation is not only a damage to your family reputation but to the profession itself" Where are the facts? Zero, Zip. Zilch, None, Nada. Yet, another infantile tantrum: "Let us take the case of Eze Festus wife where the kidnappers were finally arrested in Anambra state. My question is whether Mr. McLord interviewed the kidnappers who were arrested to find out who politically motivated them." How sweet the life and work of a paid goon. They will say anything to convince their master that they are working for their pay. How do you think they got the name praise singer? Let's analyze the logic behind what this goon said in defense of his daily bread: That criminals are stationary and do not move from one place to another to avoid detection. Who could be more mobile and itinerant than one running away from the law? See what these faceless, hired writers do---all for a day's pay? May I remind this hired pen that interviewing these so called paid kidnappers is not "investigative journalism" as he branded it. It falls within the style of reporting called in-depth reporting. And by the way, there is no such thing as "investigative journalism". It is called investigative reporting. Journalism is a profession and there are three styles of reporting, namely "investigative, in-depth and interpretative reporting.
One faceless writer who masquerades between several fake names like "John Obi" "James Obinna" and "John Obinna" had the effrontery to ask me to explain how I came about my figures about the allocation that Imo received from the Federal government of Nigeria. I stand by my story that the total amount that Imo has received from Federal Government since Ohakim came into power stood at N400 billion. Former CBN Director, Mr. Soludo was even the one who disclosed that the state received a sum of N100 billion as special grant plus additional N12 billion to control erosion at Dikenafai and other areas ravaged by erosion in the state. If the government spokesman, "Osinulo" and "James Obi" et al dispute my figure, let them tell their boss to come up with the official figure instead of directing us to the government fraudulent websites. Who do they think we are? Some gullible? Do they see stupid written all over our faces? If we were to rely on government scripted version of information then, there would be no need for investigative reporting. This is the same government website that Ohakim used to con innumerable exasperated job seekers of N2, 000 applications each to a nonexistent 10,000 jobs? Look at the level of unemployment in Imo state today. Apart from having the highest in the country, the only employment in that state for our youths today is unfortunately prostitution. Why not? They couldn't go back to their university which the governor renamed after his crooked boss who made him a commissioner. It has just been reopened after four months of closure.
As for my very good friend, Frank Ekeigwe who knows how much I hate greed and graft but chose to deceive his readers when he alleged that "I was working for Rochas Okorocha", I leave it up to him to explain how he concocted such a nefarious allegation. Throughout my years as Imo citizen, I have not met anybody called Rochas Okoracha. It was only recently that I saw his face on the pages of the newspaper. I consider it not only insulting and downright asinine for him to clothe me in such undeserving robe. He owes me an unfeigned apology for this "slip" of the pen.
If there is any more reason to believe that lies and rumors have faster legs than those of truth, this is it. No sooner Ekeigwe's vomited this tortured logic than one Ohakim Blackberry "New Face agent" jumped on it and swallowed it hook line and sinker. Hear him: "Mazi Frank has said it all. This Mclord Obioha went home to bury his mother but unfortunately spent more than four months, got financially broke and Rochas Okorocha came to the rescue with bags of Ghana Must Go. Do you blame him for (sic) he must write rubbish to justify his rescue. This guy should be a multimillionaire for who knows how much he was paid by Rochas." --Signed Obinna.
These guys will do anything to defend their daily pay. They now have no respect for the dead. May God help us! Adi kwa ama ama, I did not borrow a penny from anyone to bury my mother in Nigeria.
Regards,
McLord Obioha.