Date Published: 10/11/10
Scroll Publisher, Editor Win United Nations Award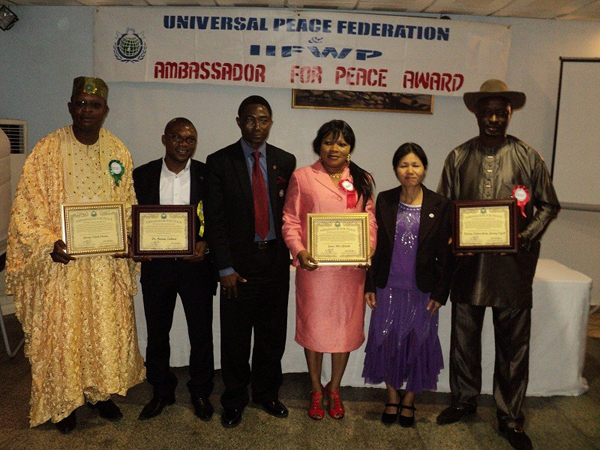 UN Ambassadors
To celebrate its World Peace Day, United Nations Universal Peace Federation, UNPF, honoured the Publisher and Editor of Scroll Publishing Limited, as Ambassadors in Abuja
This is why September 29, will be evergreen in the minds of staff of Scroll magazine, a national weekly news journal as the United Nations Universal Peace Federation, UNPF, a non-governmental, inter-religious and cultural organisation promoting peace moves in the world honoured them for a cover story published recently.
The ceremony which took place in Wuse 2, Abuja, under the chairmanship of Olaleye Alao, Secretary General/National Coordinator, UNPF, Nigeria had guests seated as early as 4:00 pm.
The recipients: Janet Mba-Afolabi, Publisher/Editor-in-Chief of Scroll, a CNN African Journalist of the Year award winner and George Elijah Otumu, Associate Editor, were honoured as Ambassadors of Peace in an occasion which had representatives of the diplomatic communities, media, family and friends.
Other awardees are Aminu Zakari, Executive Director, United Nations Observer, Centre for Climatic Change & Environmental Studies and Jimmy Enyeh, publisher of National Waves magazine.
Responding on behalf of the media award recipients, Afolabi promised to continuously fight for the sustenance of peace in the world through courageous reporting on injustices in the society. She said "On behalf of the media awardees of UNPF, we are grateful for being counted worthy of this award. Personally, I have made it a principle to ensure that I actively condemn the injustices in our society. This award is significant to me because it is of the same value as when I won the CNN African Journalist of Year-Print Category in General Print in the year 1999."
The event which came to an end two hours after had all the invitees treated to buffet, while the awardees were hosted to a cultural festival at the Transcorp Hotel during the Independence Anniversary Celebration of Nigeria/ Korea.
George Elijah Otumu
Associate EDITOR
www.scrollnigeria.com