Date Published: 09/07/10
PRESS RELEASE
Multi-Nationals shift responsibility over the death of a Nigerian Employee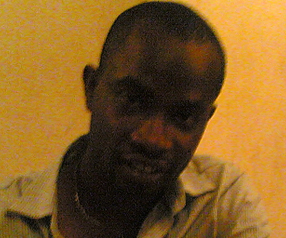 Ben Okakpu
On 31 st July, 2010, Mr. Ben Okakpu, a staff of AMOSCO Nig. Ltd fell from the ship JACK RYAN into the sea and has since not been rescued. The incident occurred in Akpo which is an off-shore drilling point off Port-Harcourt, which is also referred to as OML 130. Mr. Okapkpu is a graduate of mechanical engineering from Nnamdi Azikiwe University and had worked with AMOSCO for about 3 years.
Before this incident Mr. Ben Okakpu had been employed by AMOSCO Nig Ltd to work aboard a ship called JACK RYAN. The ship is owned by Transocean Ltd and is engaged in off shore oil drilling.
On the day the incident occurred Mr. Ben Okakpu fell into the sea along with two of his colleagues who are foreigners. Transocean only rescued the two expatriates while leaving Mr. Okakpu behind. These persons were rescued within 1 hour after the incident. Immediately after rescuing these two expatriates, Transocean then waited 3 hours for a helicopter to arrive before making any rescue attempt on Mr. Okakpu.
When the Okakpu family did not see their son on the date of his expected return from his off-shore post they made several frantic attempts to secure information as to his whereabouts from both Transocean Ltd and AMOSCO Ltd. All these attempts met a brick wall. During this same period several national dailies published stories in which the events of 31 st July, 2010 were chronicled. This only served to fuel the anxiety of the Okakpu family as the dailies never indicated the identity of the person said to be still missing.
From the circumstances leading to the disappearance of Mr. Okakpu it would appear that Mr. Okakpu was neither provided the necessary safety gear that would have guaranteed his safety at sea nor was he given the training required to enable him survive any accident that would occur while at sea. The officials of Transocean who were contacted by the Okakpu family instead of attending to the problems of the anxious family stonewalled claiming that their company had nothing to do with the Okakpu family.
The Okakpus were then forced to retain lawyers to act on their behalf. Only then did AMOSCO Nig. Ltd and Transocean admit that Mr. Ben Okakpu fell into the sea while at work. Having failed to rescue him for more than three (3) weeks AMOSCO and Transocean have now classified Mr. Ben Okakpu as dead.
Lawyers to the Okakpu family have since written letters demanding that both AMOSCO and Transocean provide details of efforts to locate and rescue Okakpu after the incident but they are yet to receive a positive response.
Up till now, the Okakpus are yet to receive their son's corpse.
Please find attached all correspondence in respect of this matter and pictures of Mr. Ben Okakpu.
Signed:
For: FESTUS KEYAMO CHAMBERS
OLUMAYOWA OLUWOLE, ESQ VITALIS AHAOTU, ESQ.
Counsel Counsel