Date Published: 06/10/11
N1.47 Billion Scandal, Massive Looting, Disregard for due process rock Maritime Academy Oron …Rector Nseyen Ebong may be forced out after 11 years ...May face EFCC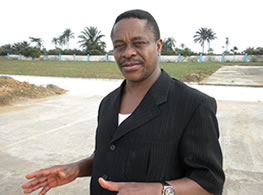 NSEYEN EBONG, RECTOR, MARITIME ACADEMY OF NIGERIA
A cocktail of allegations involving massive misappropriation, wanton looting of public funds and disregard for statutory due process in the awards of contracts , is currently rocking the 33 year old Maritime Academy of Nigeria, Oron, in Akwa Ibom State.
In the eye of the storm is the Rector, Mr Nseye Ebong who has been head of the academy for over 10 years, defying every circular from the office of the Head of Service concerning retirement.
Pointblanknews.com learnt that the decay in the institution is so profound that since inception since 1978, the academy offers only three Higher National Diploma (HND) programmes and five at Ordinary National Diploma (OND) level.
It was gathered that Ebong, who has been receiving a lot of knocks from a group called Oron Eminent Persons Forum, may be forced to exit the stage next week, but has positioned a crony, a Deputy Director, Kevin Okonna, to take 'care of business' while he is gone.
Top sources at the academy hinted that Ebong who has neither gone on annual leave nor deferred his leave since 2001, allegedly uses seven firms to execute dodgy projects . Most of them abandoned mid way despite the fact that over 75% of project cost plus consultancy fees have been paid.
Top on the list is Architectural Consultants with office at 12 Udosen Uko street, Uyo. Ebong has huge interest in this company. This firm first picks up millions of naira as project consultants for project designs, engineering specifications, provision of tender documents, fixes how much the project is worth etc. It also turns around to bid for the same projects, wins, and gets over 75 per cent payment upfront.
According to the forum " For 8 years no project has ben commissioned by any minister or ministry's representative…that a situation in which a consultant designed a project, provided engineering specifications , fixed the amount it is worth, provided the tender documents, received payment for these services, and turn around to bid for the contract, won the award of such contract, recommended for funds to be released for execution, executed the contract, supervised it finished and applied for a Certificate of Job completion, shows that the Recor, Mr N.E. Ebong is the one fronting the consultants as his agents, proxy or privy "
Other proxy firms used as consultants are Demenuel Ventures Nigeria limited, U Out Enterprises, and Uduaku Ventures Nigeria Limited.
Some of the projects executed by Architectural Consultants which sources insist, need to be looked into by the Economic and Financial Crime Commission (EFCC) and the ICPC , are the construction of the abandoned Nautical Complex worth N548,487,190.13,(consultancy inclusive) the 300 seat library and resource center awarded for N267.941.709.70, construction of 3 bedroom semi detached bungalow for N25,166,283.26, ( Demenuel got N2.796.253.70 as consultancy fee); supply of a 800 KVA power generating set for N20 million, the multi million naira construction of new female cadet hostel, the rehabilitation of physics/electronics laboratory phase1, construction of 200 capacity male cadet hostel, and a new female cadet hostel.
Architectural Consultants also got the construction of 2 Nos Bedroom boys quarters for N12,491,946.56. U-Out Enterprises picked up a princely N1.447,719.36 as project consultants. Uduaku Ventures handled the renovation of Quarters 3 for N8,369,286.19 and the purchase 9 Toyota Hilux jeeps at N12 Million per unit even though the market cost is N4.5m. However the firm supplied six.
According to our a petition to President Goodluck Jonathan, signed by the president of the Oron Eminent persons forum, Okon Antai " There is no uniform rate applied when approving consultancy fee as it is arbitrarily fixed , and it ranges from 10.25% to 16.8%...Though actual work executed have not gone up to 30%, the consultants applied for and was paid 75% up front. …Of over N145 million earned as consultancy fee for 2009 by Architectural Consultants , only a paltry sum of N20,000 was paid as income tax to the government.'
The whole drama, Pointblanknews.com sources said forced the Registrar , Sayid Adamu, to resign his membership of the procurement Planning committee and the tenders board .
It was further gathered that Adamu had consistently kicked against Ebong's style and the way he uses consultants to rip off the academy. So in September, 2010, he threw in the towel in a bid to extricate himself from the twisted bidding and award style of the Rector.
In his letter to the Rector, and chairman Governing council, Adamu accused officials of Architectural Consultants who, behind his (Adamu) back, brand him as 'disloyal' to the Rector and management . The firm , according to him, had concocted lies about his person in some petitions to the ICPC and EFCC, in an attempt to get him out. He said " Of recent is the blackmail and lies planned and executed against me by the consultant at the ICPC Abuja, he also did the same at the EFCC …I am not comfortable working with the consultant(Architectural Consultants) anymore. I am also tired of being suspected , set up and attacked by all manner of people who feel they are protecting the management as if iam not part of the management"