Date Published: 11/28/10
Andy Uba eyes senate seat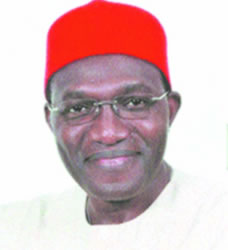 Andy Uba
Major stakeholders in Anambra state are reportedly mounting pressure on a former governor of the state, Chief Andy Uba to vie for the State's south senatorial seat.
Pointblanknews sources confirmed that at least three delegations of high ranking political leaders from Anambra South senatorial zone have met with Andy, advocating him to vie for the seat which was relinquished by his elder brother, Ugochukwu, in 2007, when he was vying for the governorship seat. The seat is currently occupied by Senator Ikechukwu Obiora.
In June 2007, after 17 days in office as governor, the Supreme Court in a landmark judgment voided Andy's election on the grounds that governorship election ought not to have held in Anambra in 2007, since the tenure of Mr. Peter Obi, whom the Court of Appeal in February 2006 declared winner of the April 2003 governorship election, had not elapsed.
After a string of unsuccessful attempts to make the Supreme Court reverse its decision, and the refusal of the then national leadership of the Peoples Democratic Party (PDP) to allow him fly the PDP flag in line with party tradition, Andy, a PDP trustee, defected to Labour Party (LP) and came third in the February 2010 governorship election in Anambra State. In a rare show of sportsmanship, he became the first candidate to pay Obi a congratulatory visit.
However with the emergence of Dr. Goodluck Jonathan as president, and the ouster of Prince Vincent Ogbulafor as PDP national chairman, Andy returned to PDP and has reportedly began to worm his way back into reckoning.
Offered a retired permanent secretary-turned politician: "We want Andy to go to represent us in the senate because we believe he has so much to offer. Aside his humility, the young man remains one of the most selfless politicians in Anambra State and, of course, the biggest team player we have. An asset we don't want to lose.
"When he was contesting for governorship in 2007, he put pressure on his elder brother, then incumbent senator, Ugochukwu Uba, not to seek re-election, so that another family can go to the senate. Again, after the Supreme Court removed him and the late President Umaru Yar'Adua offered him a ministerial portfolio, he declined, instead preferring Prince John Emeka to fill the slot," said the politician, adding, "in this clime this is quite rare."
A former senator told Pointblanknews: "Since the creation of PDP, I doubt if there is anybody that has contributed more to its success in Anambra and the South-east zone than Andy. He is a brand name with which we hope to sell PDP in the face of the onslaught by Peter Obi's APGA (All Progressives Grand Alliance).
"We in PDP really need a strong candidate who can deliver Anambra South, as it has become obvious that Peter Obi's current ambition is to decimate PDP strength in the National and his state Assemblies. We are also banking on the belief that since Anambra people have seen that Obi is not the saint they thought he was, support would naturally swing the way of Andy, particularly in the south senatorial district," he added.
Contacted, an associate of the former governor who sought anonymity, confirmed he was aware that the former governor was being approached to run for a seat in the senate, adding that "but the decision to run or not rests squarely on his shoulders and I don't see any need to speculate since the decision would sooner than later become public knowledge."