Date Published: 10/31/10
2011: North Adopt Atiku, IBB, Gusau, fight back...You Are Not a Bonafide Northerner, North Tells Saraki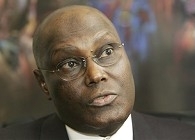 Atiku Abubakar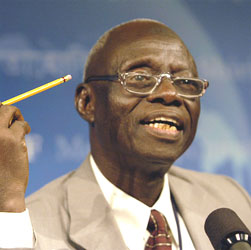 Adamu Ciroma
After weeks of high level horse trading, a fragmented north may have settled for former Vice President, Atiku Abubakar as the regions standard bearer in next year's presidential election.
Pointblanknews.com learnt that even though the leaderships of the Northern Elders Forum, Arewa Consultative Forum and the Northern Union agreed on the choice, some Governors, top government officials and some emirs still sit on the wall.
The deal which was brokered by Adamu Ciroma and key actors in the G15 group, is however getting knocks from the Ibrahim Babangida, Aliyu Gusau, and Bukola Saraki flanks.
Pointblanknews.com sources hinted that even though Babangida said he would abide by the decision, his agents have embarked on lobbying of some governors and leaderships of the states Houses of Assemblies.
According to our sources, the moves by Babangida and Gusau has stalled plans to make the choice of Atiku public.
The G15 had met in May 2010, with Ciroma, Gusau, Babangida, Atiku in attendance. At that meeting, the resolution of the northern governors was reviewed, and decision reached that whoever was picked, every aspirant should respect the choice.
However, as it stands, Babangida has made in roads, and has a key block of second term governors in the bag. Checks revealed he has no less than 10.
Pointblanknews.com also gathered that the region decided to settle for Atiku because he has a better appeal.
Said the source " they have decided to make Atiku the candidate but they are having problems making it public because the Babangida and Gusau blocs are pulling a lot of strings. Don't forget IBB has made some in roads, as it stands he has no less than 10 governors, including the swing states."
The source added" IBB was knocked off because of his baggage. The calculation by the Ciroma group is, they would need someone with democratic background and cross appeal. IBB they feel, will be a hard sell in the southwest where the Goverenors have adopted President Goodluck Jonathan"
It was further learnt that the inexperience of Gusau and his background put him behind Atiku who could be marketed in the south west and was Vice President.
According to one of our sources" Saraki is the least favourable. The argument is simple, he is not "northern" enough for those in the north east and north west. Babangida has June 12, the Dele Giwa murder still hanging over his head"