Date Published: 09/10/11
Our politicians have corruption in their DNA
…Jonathan Goofed on Justice Salami
…Okonjo- Iweala Is an Agent of the Imperialists, she's not above board
…Single Tenure Won't Put Food on Our table, it is Selfish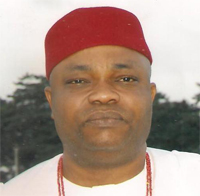 Dr. Bastos Chikezie Nwadike
Dr Bartos Chikezie Nwadike was Presidential candidate for the Peoples Mandate Party (PMP), in the 2007 presidential elections. He founded the Leadership By Example International and is president of Ozuigbo, a pan Igbo group.

Corruption

Nigeria' s corruption can best be described as nihilism. What does a Governor need over N6 billion as security votes, for what...why. It's all corruption. Our public officials have nihilistic tendencies and we must stop it.

Immunity clause

There is nothing wrong with it..it is only that it is abused. Our politicians don't live up to the tenets of the office they occupy. It is not about the clause it is about the judiciary. If there is a need for an independent prosecutor, the judiciary can put that in place. The judiciary can interpret the clause. The constitution says as per impeachment, it cannot not be questioned or tried by any court of law. But in the case of former Oyo Governor, Rasheed Ladoja, versus the House of Assembly, the judiciary showed courage and went ahead to interpret section 239 of the constitution. If the House of Assembly can reasonably impeach the Governor, and as a result of interpretation, Ladoja was recalled because they didn't fulfill in good conscience by jurisprudence and by natural law, all requirements to impeach him. they sat at D' Rovans Hotel outside the authorized house of assembly and without the required 2/3 majority. Based on that , people like Anambra's Peter Obi , Joshua Dariye went to court. Because there is immunity clause doesn't mean a Governor can pull out a pistol and shoot someone. It is then left for the judiciary to approve the appointment of an independent prosecutor to prosecute the governor for homicide.

The Salami/ NJC/ Katsina-Alu Saga

President Jonathan goofed once again..he appears to accident prone. Because his decision causes pain to humanity. He should have followed the law. That if there is erring member of the Judiciary, the NJC should sit over it and recommend to the president ..did not say the President should sack the person,.then the President will in turn recommend to the Senate, and the senate will use 2/3 majority to remove the subject matter. The president did not wait for the senate to sit, he appointed an acting president court of appeal, and swore him in in acting capacity. That's is wrong. Must be condemned. He should have recommend and the subject matter continues in office until the senate seats. They didn't need the police to storm Justice Ayo Salami's residence...because they knew they did the wrong thing. It is subterfuge for a hidden agenda we must stand against his removal..violation, not done right.

Leadership

It is wholistic. You build roads, flyovers, free education but you need to relate to the people as humans. Feel their pulse. Unless you capture these ingredients and indices and encapsulate them in your leadership vision you won't make a good leader. Leadership is about achievements and human relations. Taking your kinsmen into confidence, carrying them along, point the destination to them...it's like your brother lives in one of the Abuja suburbs, and you own three or four cars in your posh home in Maitama or Asokoro, including a Rolls Royce . Every Sunday your poor brother comes to town in a bus to visit you. You give him some cash, and some supplies. You don't know where he lives. He will appreciate you as a leader when you visit his ghetto. More than 40 million Nigerians don't have garri to drink tonight. they go home and give their mother N10,000 as if she will use it to eat fro three months.most of these people you see in Abuja their mother don't have what to eat tomorrow but they are here drinking beer and isi ewu, with girl friends, spend tens of thousands at one sitting.

Single tenure

It was not part of President Goodluck Jonathan's campaign promises, so why bring it up now.it is wrong to bring issues that were not canvassed during campaigns. I don't know what gives him the impression this will reduce expenses. He has campaigned and won an election,and now he is talking about election expenses ...who spent more money than his campaign organization. Nobody. It was one of the most money guzzling elections in the history of Nigeria. He should face the issues of food, infrastructure, power, etc. Tenure is irrelevant, we need jobs. It is inexcusable.

Okonjo-Iweala as Supervisory minister

It is ridiculous, to erroneously upgrade a minister who has equal status , and make him or her first among equals. It will decrease productivity .chief Obafemi Awolowo was finance minister, and vice chairman federal executive council. He ran the economy during the war without borrowing a kobo. He was not an economist, he was a lawyer. After the war, Adamu Ciroma, ran the economy, he is a historian...General Gowon said at that time that the problem was how to spend the money, it was successful. Running a successful economy is not based on theories, many that can't work here. This misguided celebration about the current finance minister is simply appalling. There are several Nigerians who can do a good job without this undue fanfare and upgrade. It is a misnomer, will lower productivity, others will see themselves as second class and may sabotage the goals. Most of the leaders in Asia with good economies were not all economists. Okonjo iweala played a role during the Olusegun Obasanjo's administration, Nigerians had their misgivings.

Her Role in the debt buy back deal
In my community association in IMO state, we will not empty the coffers of the association to go and pay debt, and we remain broke. The deal was give and take. We paid back over $12 billion... America is still owing. She did it because she is an imperialist agent. She worked for the imperialists. When Ex President Obasanjo removed her as minister of finance, and reassigned her to the foreign affairs ministry, she did not blink an eye, but stayed in the name of serving the nation. Why was she removed. Of course there was a commission in that deal. There was a company that facilitated the deal, and of course people know the owners of the company. This woman had collected her salaries in dollars. About $2billion was paid as commission to the company that facilitated that debt buy back. The company is owned by her siblings..it's not a secret no more.If you check the records of the Paris Club and World Bank you will find the owners. Some can say it was legitimate, but I don't think so. I think it smacks of corruption. One of the magic wand she came with was to pay back the debt arguing that we were paying so much in interest , therefore okay to just pay back. President Obasanjo bought into it, and decided tom pay back. Was not strategic to pay all back.Her siblings are part owners of the the company that brokered the deal. Of course something must have accrued to her. Obasanjo got angry because the way he celebrated her was amazing because he believed she had the magic wand. Why was she reassigned. Obasanjo got pissed off when he smelt corruption, no need changing his winning team. She was winning by paying back. It was celebrated. So why the sudden change of mind. he will tell us someday, and I will vindicated . When She was removed as chairman of the economic team , she left. Knew the game was up. She benefited from the deal, and Obasanjo found out...they got 10 per cent.

Power
The power sector needs a revolution, political will. President should not pay lip service...you can't do it one fell swoop..should be zoned..if I were president I will phase the provision of power till we cover the nation.

Insecurity

Problem is the contradiction of society. Let's look at the fundamentals..what is Boko Haram all about. We should be made to knw. Not enough to tell us the crime they commit. If we know them, we will solve it. It is like a liberation theology. There are issues bothering on doctrine or injustice,.state must address the issues. Look critically at the issues. Of course their acts are dastardly but we must look critically. If I were Jonathan I would have sacked the IG, DG SSS, and NSA, chief of army staff, and internal affairs minister...President should sack these men, and take this issue seriously. He must show readiness to confront the issue, dress in battle gear.

Free Education

Awolowo did it..wasn't from the moon..said if he was elected he would do it again. If he did it, and we saw it that's it achievable..it's a fait accomplish. We have the resources...those who have his depth, vision, ambience, erudition, and focus of Awolowo can still do it. I represent that school of thought.