Date Published: 06/15/11
I Am Not A Violent Man-Gov. Suswam
Says:
I Did Not Forge Any Certificate
Opposition party Are Desperate and they Rigged Elections in My State
Benue People Are Happy With My Administration
I Have Nothing Personal Against Akume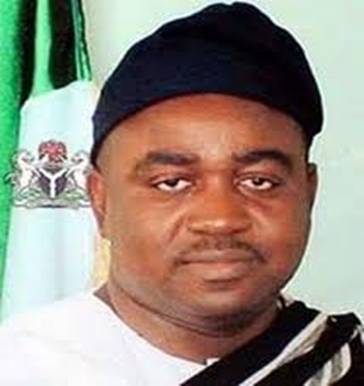 Governor Gabriel Suswam

Governor Gabriel Suswam was a member of the House of Representatives from 1999 to 2007 where he served variously as Chairman House Services Committee and Federal Capital Territory, FCT. He was elected Governor of Benue State first in 2007 and was announced winner in the just concluded 2011 Governorship election for a second term. In this interview with pointblanknews.com, Governor Suswam debunked allegations linking him with political violence and intimidation in the state and certificate forgery. He also talked about his vision for the next four years and projects he had commenced and completed in his first tenure. Read on…
1. What To Expect in the Next Four Years

We want to consolidate. We plan to continue the fight against poverty in the state through creation of wealth. We are improving rural accessibility so that those engaged in commercial activities would have easy access to from the rural areas with farm produce. We are opening up access to the sub urban and urban areas for increased commercial activities. We want to create wealth ...want to empower them so as to reduce poverty. We will guarantee their loans through collateral provision...We will provide loans with minimal, affordable interest rates.. Benue is an agricultural state so we need to lay emphasis on those who are farmers. We want to ensure they make profit. For example we want to ensure they can process their produce at their base. Instead of transport cassava down to the urban area in raw form we want to empower them so they can process before transporting them. This will ensure they make high profit, via added value. It also enables them produce more. Most of them are peasant farmers with very little capital. We want to assist them. Provide funds from banks at reduced rates they can afford. We have N 1 Billion through a Program set up by the Federal Government. We have also set up marketing boards to serve the farmers. The Board buys up the products and markets them. They are assured at all times they will have m
Market for their produce. Once there is a market they are encouraged. But if they have no guarantee they can sell all they produce or harvest they will remain at subsistence level.

2. Roads

We are focusing on roads using some of the best road construction firms around...Dantata and Sawoe, PW, Rockbridge, etc. across Benue. Most of our roads are 70 per cent complete. We have the Logo-Katsina-Ala, Gbeji-Zaki Biam, completed the Adikpo- Jatoka-Vandekya, Oshongo-Konshisha, Gwei- Gwei West, Oju Local Government through Obusa-Idede, etc, most of the major roads cut across two or three ,coal governments some have been completed . We have also done a lot in the urban areas. Most of the ongoing are 70 per cent completed.

3. Water

We have three major water treatment plants in Makurdi. We have the 100,000 cubic meters a day which is 98 per cent complete, there is the 15,000 cubic meters in Otukpo about , which 95 per cent complete and the 15,000 cubic meter a day plant in Katsina-Ala. We have also done a great deal of rural electrification in 107 villages, with 48 completed so far.

4. Education

When we came in I discovered that in the area of science the children of Benue were completely behind. We decided to turn 30 schools into pure science schools. Bought a lot of science equipment. We want to recruit members of the NYSC who are science majors to teach in these schools. We also built three science and technology schools in each senatorial district. These special schools will take care of technicians who are not in conventional universities. They will be trained in various very marketable and lucrative trades. We are also paying attention to tertiary institutions. We have provided a lot of infrastructure in primary and secondary schools..But we need to do more. As for Bursary awards, what we met was N 5000, but we have concluded arrangement to increase it. In the present circumstance we think it is too meager. We are taking statistics of actual students so we don't pay non students. We are commencing the payment of the new rate this year with the new students, se we can keep track .
5. Revenue Base and Minimum Wage

It has been tough because Benue state is one of the least in terms of internally generated revenue and federal allocation. On average we get about N 2Billion a month, while our recurrent expenditure consumes about N1.4Billion per month. At the end we are left with a little over N600 Million. The good thing however was that we were getting our share of proceeds from the excess crude from time to time. But that has stopped for quite some time now. We were able to prudently apply those monies so we were able to put projects in place ... Before 2011 runs out we would have completed all of our pending projects. The minimum wage has become law so it's incumbent on states to pay. But there are issues. For us to pay certain things need to be done. Like I said, our wage bill is N1.4 Billion, so if we are to pay the the minimum wage , then there has to be a review of the revenue sharing formula. We are appealing to the Federal Government to take a look at the sharing formula ... I am willing and ready to pay but there has to be some improvement in revenue...I cherish the work force in my state and would ensure they are adequately compensated.

6. The murder of the Action Congress of Nigeria (ACN) member.

It is very unfortunate, may his soul rest in peace and pray God grants the family the fortitude to bear the loss of a gentleman. It is very sad that the opposition is playing politics with this unfortunate incident with no regard for the feelings of the immediate family. This was a man who didn't run for any elective position, he didn't stand in my way, I had won my election , so if I had won my election what was the motivation ? Why accuse me and my party for this crime?
Why murder someone after I had won. I was highly provoked many times by miscreants sponsored by the opposition. They will block my way, beating my car with brooms, I didn't ask anyone to attack or harm them. So why, why?... This was an armed robbery attack; a lot of people were shot at that spot including members of the PDP from Nasarawa. Who ordered the shooting of those?. According to the security reports, the robbers operated there for about five hours, and you know the road is so notorious for such. The former Governor( Senator George Akume), was attacked on the same road , someone in his convoy was killed, almost within the same radius. It didn't happen in Benue but Nasarrawa . I am not a violent person and won't hurt a hen because he is in opposition.
There are reports by the police and State Security Service(SSS) on the incident. The opposition is just desperate to give me a bad name . His death was a very sad and regrettable incident for all of us. We are supposed to be sympathizing with the family not play politics with his death. They went about with his photos, at news conferences accusing me..why, why? They made direct accusation. If someone was killed and they accuse you of doing it, they must be able to substantiate. Yes I made a report to the Inspector General of Police, they invited them for questioning. It is just sad. I think if you desire to lead the people you don't go about inciting the public, making wild unsubstantiated allegations, you must act responsibly, and maturely. I think in the interest of the people they should accept defeat and join hands to develop the state. They should jettison partisanship because there's a lot of work to do.

7. Allegations of Massive Rigging by the Peoples Democratic Party (PDP) in Benue

It is just ridiculous. Let's take a look at the statistics. Across Benue turnout was between 40 and 50 per cent. But in the local governments where the opposition won it was between 60 and 70 per cent...These were Gboko, Buruku and Tarka. In Tarka , I had 2000 votes, they had 23,000. While total registered voters was 39,000. In Zaki Biam where we won we had 100,000 registered, we got about 46, 000, so who rigged?. They are making so much noise. The elections did not start with the Governorship. In my constituency the whole members are PDP shows we are on ground. They won massively in the former Governor(. Akume) 's area we did not complain. But where ever they lost they allege there was rigging. Can you believe that the ACN governorship candidate ( Prof. Steve Ugbah), got over 300,000 in those three local governments People voted genuinely for me because they can see what the administration has done and are still doing. We defeated them at all levels in the state. In Nasarawa where the opposition won the governorship, it was clear they were more popular when you consider other elections, but not in Benue. Check this out...of the 11 House of Representatives seat we got 8, of the two senate seats we got one, of the 28 House of Assembly seats , we won 8, and during the Presidential election, we delivered 695,000 votes they got 233,000 votes for their candidate. Shows the people are happy with us. The victory was overwhelming. But a few believe since they didn't win, they have to discredit the outcome by all means. Come over to Benue and see for yourselves...we will take you around. The voters are satisfied. But I want to urge the opposition to stop playing politics with the destiny of the good people of Benue; our focus should be how to better their lot. I have no personal problems with members of the opposition. We just have different views on how to move the state forward. I and the former Governor parted ways because we deferred on sundry issues...I backed President Goodluck Jonathan, he did not. We parted ways and he left the PDP. The ACN governorship candidate ( Prof Ugbah), we are from the same local government , he is an elder brother to me. I have nothing personal against him. The people are standing by me and God is with me. There has been so much falsehoods and propaganda, but if we contest 20 times we will be victorious 20 times courtesy of the Benue People. There is a paradigm shift in Benue from politics of falsehood to truth and performance.

8. Allegation of High School Certificate Forgery
I left secondary school in 1982, and proceeded to the School of Basic Studies ( SBS), Makurdi. After SBS, I was admitted to the University of Lagos to study Law. Got in 1986 and left in 1989. Went to Law School in 1990, left in 1991. Did my NYSC, and started practice in Lagos. Later left for Abuja to set practice with a partner. In 1999 I got elected to the National Assembly, and re elected in 2003. Later I decided to go for my Masters on Public Administration ( MPA) at the University of Abuja. I sent my personal assistant to go and complete my registration. On his way he was attacked by robbers along the highway, the car was taken with all my originals. So I wrote to different schools ...to Law School, WAEC and the University of Lagos for certified copies. Unilag and Law School sent me copies but WAEC did not. After a month they sent me a wrong result which I sent back. That was in 2005. And so I forgot about it because I did not have any need for it. So when I became Governor, one chap started sending messages to my Aide De Camp ( ADC), that I should settle him because he forged a result for me. Felt it was ridiculous. So I ignored it. But later he started sending these allegations to media houses, but most did not use it because it lacked credibility and was just silly. Then the opposition got a local magazine to publish the allegations by this criminal. I had to get the police involved, they arrested the guy. The matter is in court. If I finished secondary school in 1982, and left Unilag in 1989, elected in 1999 and 2003, why would I forge a result in 2005?..Sounds crazy. You can subpoena WAEC for my result...I have even asked the principal of my secondary school Government College , Makurdi, to paste my result on the schools notice board for all to see. I not bothered because it's false , just a ploy by opposition to reduce me in the eyes of the people but the ploy has failed.