Date Published: 01/06/10
The Rotimi Amaechi Interview: Why I am seeking a Second Term
Says:
I am not bothered about Godfather's
Jonathan has my full support
ACN and CPC are not formidable parties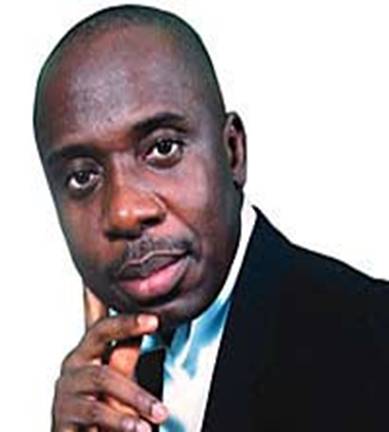 Rt. Hon Chibuike Amaechi, Governor of Rivers State
Few hours after declaring to run for a second term in office, Rivers State Governor, Chibuike Rotimi Amaechi spoke to Pointblanknews.com on why he is seeking re-election, his relationship with his estranged political associates, why he has not achieved his target on development, and his relationship with President Goodluck Jonathan, among other issues.
Why are you seeking a second term in office?
Basically to complete the projects that we started and were unable to complete because of time. Take the monorail for instance. Because of funding it is not moving at the speed we planned it to move coupled with the fact that we expanded the scope and length of the rail. This was initially planned to be six kilometres, but has been upped to 21 kilometers. This means that the time frame also had to increase. It is now to be completed in 2012, if we have funds. The kind of funds we got in our first year in office isn't the type we are getting now.
What was responsible for the dip in the funds accruing to Rivers State?
It is common knowledge that some of our oil wells were moved to Akwa-Ibom State, Abia and Bayesla States. We are in court challenging this move which has tremendously affected the funds coming into Rivers State, and consequently the number of projects we are doing and the time frame for their completion. Then there is this resolve not to lose focus on our investments on education. We shouldn't rest on our oars in terms of the infrastructural aspect, which we are completing now, but also tackle the content and curricula, in addition to the training of the teachers.
Aside these, what other areas are you planning on working on, if re-elected?
We are looking forward to completing our investments in power. By July, we should have completed investments in the area of generation which should get us to 500 megawatts. Even at that, we need to tackle distribution-how to convey the generated power to peoples' homes. Basically, the need to consolidate informed my decision to seek re-election. I had promised myself that I would not use consolidation as a basis to seek re-election. I had thought that, with the kind of fund we had in my first year, I would have completed all the projects I had in mind within my first term. You'll see the state littered with all kinds of projects at different stages of completion, just because of the paucity of funds.
Are you then implying that you wouldn't be embarking on new projects, if re-elected?
Far from it! Of course we are going to start some new projects, but our focus will be to complete those ongoing ones, the ones we started.
There are people in the state who consider themselves godfathers and have not hidden their dislike for you as a person and your style. How do you intend to carry such people along?
Even though I am not bothered, that doesn't mean I don't have a lot a respect for them in the sense that the people you mentioned have been leaders of the state. However, to be carried along, they have to, first; make themselves available to the change agenda. If you see the current slogan it is "Change you can see." It is not a matter of change for the sake of it, or that I will come in and change. We are saying, "We have commenced the change agenda." If you ask the man on the street, he will say, "Oh, this was not the kind of Port Harcourt I met in 2006 or 2007. This is a new Port Harcourt, where single-lane roads have been dualised, power situation has improved, and corruption has reduced tremendously. The upswing or reduction of corruption is determined by the leader. If the leader does not give a hoot about corruption, naturally everybody will see graft as a way of life. But if you frown and respond appropriately to corrupt officials, then most people will not go about stealing public money. It is now obvious that we are increasingly seen to mean business. That if you are found to have stolen public money, you will face the music. I have constantly maintained that the only way to move Nigeria forward is to punish those who steal our money. Rule of law, I must say, is not only about making laws and adhering to them. It should also be about sanctioning those who break these laws. Our opponents can credit us with the fact that we are not afraid to come down hard on those who break the law in Rivers State, no matter how highly placed they may seem to be.
So, are you offering these godfathers any arm of fellowship?
Of course, they are from Rivers State. However, importantly, they have to first key into this "change we can see" agenda. This agenda implies that the governor has to move forward, change, and not be part of the past. We need to be part of a present and a better future.
There are people who see your projects as very ambitious. What, in the first place, nudged you into starting such projects?
That is what our people need. You check the roads, the traffic is so heavy. So, how do you decongest the roads? Do you put more vehicles on the roads? It is by opening up more roads and introducing other means of transportation. If, for instance, you introduce mono-rail, the trains convey about 40, 000 persons in an hour. That means that a lot of persons can park their cars at home and go by mono-rail.
You were talking of fighting corruption. Why then has EFCC been a constant visitor to your state?
EFCC has not been a regular visitor to my state. I think they tried once or twice. They tried that with my SSG and Chief of Staff. Then again, when some persons feared I wasn't supporting the President, but I said, "You can't!" First, you have to prove that we are corrupt, and secondly, there is a judgment by a high court that you should go and discharge and you have not discharged. There was this protest when I was in America, which some claimed I sponsored. Since then we have not seen EFCC.
What, in your opinion, might have fuelled the suspicion that you were not supporting President Goodluck Jonathan?
Honestly, I don't know, other than that some people just sit back and just gossip.
You were in the news about the time in question for organising your colleague-governors in the South-south to endorse President Jonathan.
To them, that wasn't enough. They expected me to be shouting myself hoarse. Honestly, I don't know why.
What would you say are the chances of President Jonathan in the forthcoming presidential election given the mounting opposition to his ambition?
Well, I don't know what you mean by mounting opposition, but I think we would win. PDP is still the most acceptable party in the country. It is the only national party in the country. You check. Please tell me where else you have ACN apart from the South-west part of the country. CPC is only in some parts of the north. So it goes without saying that the popular party wins.
In other words, President Jonathan is sure to win?
Once he emerges at the primaries, by the grace of God, every hand will be on deck to deliver him.
What is your take on the consensus arrangement by a group of presidential aspirants from the north?
We have to wait for the primaries. This would speak for itself.
Who then is your preferred candidate?
I have never hidden my feelings about my supporting President Goodluck Jonathan. They (Jonathan and Vice President Namadi Sambo) just left my state a few days ago. Let us wait for the primaries.