EX-GOVERNOR TURAKI SELLS OFF $80 MILLION OIL BLOC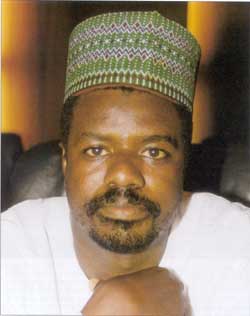 Former Governor Saminu Turaki
Former Jigawa State Alhaji Saminu Turaki is shopping for prospective buyer(s) for his crude oil bloc OPL 252 and OPL 292 allocated to him by former President Olusegun Obasanjo in appreciation of a solid backing for the failed third-term Presidency bid. Turaki's two oil blocs are estimated to be worth over $80 Million.
The former Governor whose trial begins at the Federal High Court, Abuja on October 16 2007 on charges of embezzling and laundering over N36 Billion is said to be making desperate moves to sell off the oil prospecting license in order to stave-off possible revocation of the allocation by the Government of Nigeria.
Sources told Pointblanknews.com that Turaki made a temporary relocation to an Apapa based Command Guest House a couple of weeks ago where he held meeting series of negotiation with interested local and foreign prospective buyers. The deal has not yet been fully closed as the embattled ex-Governor hopes to maximize profits on the coveted holding blocs.
The usually reliable sources said that Turaki has not enjoyed good relationship with the Obasanjo caucus lately. And that he cannot predict what fate could befall him at the Abuja High Court hearing.
In particular, he was said to have been "emotionally disturbed" to learn that ex-President Obasanjo personally intervened on behalf of some notable individuals detailed in
Turaki's confessions to the Economic and Financial Crimes Commission, EFCC. One such key actor in the distribution of the huge cash from the Jigawa Government coffers was disgraced former Governor of Anambra State, Mr. Andy Uba whom Turaki said received N10 Billion contribution to the Obasanjo third-term campaign fund.
It was said that Obasanjo's intervention without prior consultation with Turaki became a major source of embarrassment to the ex-Governor. Turaki was said to have taken the issue "very personal" concluding that Obasanjo is leaving him in the cold. Obasanjo was said to have prevailed on the EFCC through the Musa Yar'Adua Presidency to stop a deep probe into allegations made by Turaki against Uba and other key personalities involved in the Obasanjo third-term project.
Source hinted that Obasanjo's intervention may have finally truncated every possible move being made by the EFCC to prosecute Andy Uba. It was said that the former President had argued that if Uba is sucked-in over the Turaki allegations other "heads would roll as well."
Although was later said to have invited Turaki for a meeting at his Ota Farm for "serious talk" on the so-called confessions to the EFCC. Sources said that Obasanjo told Turaki that he (Obasanjo) was surprised that Turaki had to implicate others while being interrogated. Turaki was said to have told Obasanjo that he merely tried to set the records straight. The former Jigawa Governor, it was learnt, left Ota farm for the Command Guest House located somewhere in Apapa where he has been hiding after being granted bail. He was said to have told some close confidants that he would do what he has to do now that there is no assurance of friendship and support from Obasanjo whom he felt was maintaining double face.
Sources said that Turaki knows that Obasanjo would not intervene to make sure that his oil bloc allocation is not revokes hence desperation to dispose off the two lucrative oil licenses.