HOW DONALD DUKE MISAPROPRIATED N16 BILLION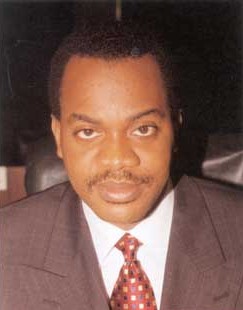 Donald Duke
The legacy of former Governor Cross River State, Mr. Donald Duke, is now being closely scrutinized and when the exercise is over, he may end up falling short of the carefully package image of incorruptibility. Damning documents have shown up to deconstruct the myth that Duke, the youngest Governor at the beginning of the present democracy in Nigeria was not totally ignorant of corruption. At least he has been allegedly linked to misappropriating close to N16 Billion, money belonging to the people of Cross River State.
Duke, the music loving former Governor who dazzled his state with Christmas carnival and was once spared by the Economic and Financial Crime Commission, EFCC, in Nigeria, like a saintly alter boy, is being accused of employing less than scrupulous means to put up for sale choice properties belonging to the state that he once governed. He also was said to have used extra legal means to divert government money N18Million every month to his wife's non-governmental charity called Enterprise Nigeria Foundation with headquarters in Plot 15E, Muri Okunola Street, Victoria Island and a branch office in Suit c9, Amin Building, Calabar.
Before former President Obasanjo decided to personally present Umaru Musa Yar'Adua as his successor to the Nigerian Presidency, Duke was well known to be one of his preferred choices for the plum job. But various "actionable reports" from the intelligence community combined to shatter Duke's carefully scripted image as Nigeria's "Mr. Integrity."
Pointblanknews.com initial investigations revealed that Duke benefited heavily from the reviewed cost of actualization fund from the well promoted Tinapa project. From the initial project cost of N25 Billion, Duke successfully cajoled and convinced the powers that be to upwardly review the cost to N65Billion. It was said that the actual construction cost was incongruous with the final financial commitment obtained from the financiers.
There was very little surprise, therefore, when Duke started investing in plush real estate like the Admiralty Towers now being leased to net-worth clientele such as Shell Petroleum and other blue chip multi-nationals. The monthly on this three luxury apartment located at 9A Gerard Avenue, Ikoyi, Lagos goes for as much as $5,000.00 monthly rent. Duke is reaping in multiple folds his financial stakes on politics and other personal business initiatives funded with money suspected to have been embezzled while he was Governor of Cross River State.
Investigations revealed that beyond Donald Duke child-like and deceptive ignorant look that he may have propped up and cultivated many cronies and family members whom he used as channels for taking away money from the people of the largely impoverish coastal state of Cross River State. He had very smooth and unchallenged rein on the psyche of the usually peaceful people of the state. It is believed that he must have taking close to N1,291, 000,000.00 Billion realized from the sales of company that used to be owned by the State Government. Apart from the fact that the properties were under-priced, the meager proceeds from the sales are yet to be reflected in the state's account. Citizens of the state where he once ruled want to hold him accountable "but he is sleek and slippery."
There is a lengthy list of financial sins that are being laid on the pitiable soul former Governor Duke. One such other transgression is said to have involved his wife, Onari Duke who was said to have collected money totaling N480 Million for her private NGO, Enterprise Nigeria. the money was never appropriated for such purpose by the State House of Assembly. This was aside another N18 Million allegedly paid to the same NGO with Guaranty Trust Bank cheque number: 00000714 for the month of November 2005.
There are allegations of shoddy and poor business know-how in the ways he handled the economics of Cross River State. This is accentuated by the absence of wisdom concerning the sale of the Metropolitan Hotel, a process that was teleguided and predetermined to favor Donald Duke and family. The hotel had been rehabilitated in 1999 at the cost of N400Million. When it was later put up for sale by the Duke administration, there was no shortage of potential buyers. General Anthony Ukpo was one of those who expressed interest in acquiring the Hotel. Sources said that Ukpo had made the highest bid of N600Million. His offer was turned down. It still beats everyone's imagination that Duke administration turned down N600Million offer and decided to sell the hotel for a paltry N200Million. An auditor with the Cross river State said "it was a bad business decision. The ownership of the hotel has now been traced to Duke himself in a soon to be released document.
The ex-Governor who was said to be fund of making heavy withdrawals from Local Government funds usually paid in bulk through the State Government account employs bullish tactics to silence Local Government Chief Executives from making him accountable. According to sources, he was always invoking executive privileges to deep his hands to the joint accounts that was maintained with Guaranty Trust Bank.
For example, in July 2005, Duke made an unauthorized withdrawal of N63, 505,013.70 from the Local Government Joint Account as loan repayment for Tinapa. In August 2005, the former Governor also made an unauthorized withdrawal of N70, 028,538.81 from the joint account of Local Government from Guaranty Trust Bank in favor of Citizen International Bank for Tinapa loan repayment and many other unauthorized withdrawals of Local Government funds for Tinapa loans repayment.
Those critics of Duke's style of administering Cross River State when he captained its affairs questioned the yardstick of inquiry that the EFCC had earlier used to clear the ex-Governor of culpable financial misconduct. They want a re-visit of the Donald Duke years.