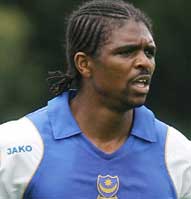 Portsmouth management have given the Super Eagles captain, Nwankwo Kanu, June 30 deadline to sign the one-year contract offer or consider himself not a player of the club any longer.

The Atlanta '96 Dream Team captain was offered one-year contract with the possibility for an extension if they play up to 20 games in a season but the Nigerian international who had insisted on a two-year deal had kept the Pompey management in a dark.
Only recently, manager Harry Redknapp had expressed fears that his leading scorer last season might dump the Pompey due to the torrent of offers from other clubs, stressing that it might not be easy to find his replacement.

However, after waiting patiently for the former Inter Milan and Ajax striker since the end of last season, the management has specifically given him up till June 30 to decide his future with the club.
An executive of the club, Peter Storrie, who made the disclosure added that Kanu's teammate, Svetoslav Todorov, was also included in the next week's deadline, stressing that either they sign the offer or go on week-to-week deals.

According to Storrie: 'Toddy and Kanu have got until June 30 before their existing contracts run out. After that they can sign what's on offer or go on week-to-week deals. The deals are there, it's really up to them if they want to stay with us.'

Meanwhile, Redknapp has said he would not wait until transfer deadline before signing the strikers he has line-up this summer, adding that he had learnt his lessons with the experience he got from signing Kanu.


"Finding strikers is the hardest thing in the world. Last year we didn't have a fit striker on the books with three weeks to go before the start of the season. I got Kanu in only a couple of days before the first game. I don't want to be in that situation again, because if you haven't got strikers, you've got no chance," he noted.